Welcome to Smugglivus 2010: Day 9
Throughout this month, we will have daily guests – authors, bloggers and publishers alike – looking back at their favorite reads of 2010, and looking forward to events and upcoming books in 2011.
Who: Carolyn Crane (aka CJ aka Little CJ – her evil alter-ego), author of the Urban Fantasy Disillusionists trilogy. CJ, and her excellent blog The Thrillionth Page has been one of our standbys ever since we started The Book Smugglers. So, we were understandably ecstatic when she became a big-time author (and by the way, her books are AWESOME), and of course had to have her over for Smugglivus 2010 (even if she IS one of those multiple revision guest bloggers – ahem).
Recent Work: Book 2 in her Disillusionists Trilogy, Double Cross, came out this year – check out Ana's rave review HERE. And both of us loved her debut and first novel in the series, Mind Games.
Please give a warm welcome to the diabolical Carolyn Crane!

It's actually a little pathetic anybody would ever ask me for a year's fave books roundup. because I am the slowest reader of all time. I am glacial. I camp out with the sentences! But some reads that stick out for me from the year:
Nalini Singh's Archangel's Kiss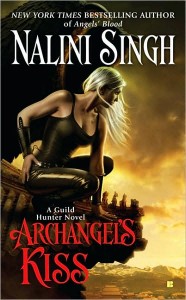 I'm in awe at how Nalini Singh has managed to create these archangels, making them so powerful and old that they border on monstery (well, some don't just border). Even the hero walks this edge. It's really unique. I feel like Nalini Singh is showing me things about the concept of power, and the assumptions and mindsets it creates—not to mention corruption, obliviousness, evil, etc.
Also, I loved the shining nobility and compassion of the heroine, Elena; her nobility reminds me a little of Buffy's nobility, though not in a derivative way. Such a bigness to everything, the cranked up personalities and stakes. A creative and excellent series.
Tracking the Tempest by Nicole Peeler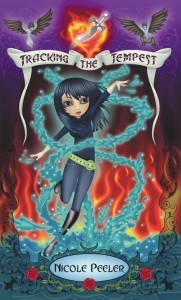 Nicole Peeler creates these fabulously indelible characters out of the weirdest creatures. Uber-powerful gnomes. Barghests. Iffrits. Kelpie seahorse types. And at the center, Jane True, Selkie halfling. A noble, honest, funny heroine. I'm really loving this series, and I'm huge into the reality balance here—you have all these strange creatures, but the level of emotional reality and honesty is high. Emotional honesty and reality is something I need from a UF, and not all of them do it. (full disclosure: Nicole also a galpal!)
This is a world that works brilliantly on multiple levels; The level of archetype, the level of romance, and the very maddening level of political intrigue and powerlessness, and page-turning mystery action satisfaction.
His at Night by Sherry Thomas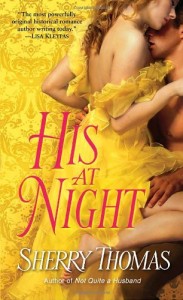 Oh, historicals. I love historicals. One of the things I most prize in a historical is that delicious sense of anticipation you get for things being revealed, or figured out – the fun of the eureka moment -and this book so delivered on those moments, over and over.
The hero is this sort of Regency James Bond who has pretended to be an idiot his entire adult life. The heroine is a desperate woman kept in this kind of Gothic isolation by an evil uncle, and she entraps the idiot, as she just has to get OUT of there. Uh. I keep writing and deleting sentences so as not to spoil the fun.
Joanna Bourne, The Forbidden Rose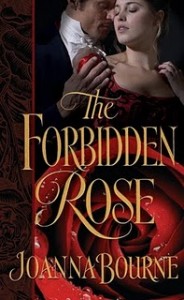 I almost saved this book for a rainy day, or my deathbed or something because I knew it would be good, but I didn't know it would be quite so good. Dense and thrilling, Forbidden Rose is set against a vivid backdrop of Revolutionary Paris. The hero is an English Spy, the heroine a French aristocrat, both in disguise and constant danger because of who they are. And they are each carrying out tricky and dangerous operations and…and…and Did I say thrilling? Hot? Amazing? I never wanted this thing to end. Though it's fiction, there's a first-person history feel about this book I crazy loved.
Predictions for 2011: what lies ahead!
I know by now everybody must have been totally impressed by how many of my predictions set forth on last year's Smugglivus post came true. My powers of prognostication so awesome! So, I thought I'd make another round of predictions.
THE PREDICTIONS FOR 2011
2011 Technology
Several new features will become available for ereaders.
Mouthreader app – This add-on will equip your ereader with sensitive facial recognition technology. If it detects you are moving your lips while you read, it lets off a horn sound, following by a shaming loud voice: "What's up with you moving your lips while you read!"
The next hot Apple product
The next hot Apple product will not be a reader, as some have suggested, but a new social media phenomenon: iKerfluffle, a comprehensive system of kerfluffle creation, escalation and real-time reportage.
iKerfluffle 1.0 – will be an app tracks and traces kerfluffles, giving users just the out-of-context highlights they need to keep up, as well as the names and bios of the main culprits and victims.
iKerfluffle 2.o – After that, Apple will offer the exciting iKerfluffle 2.o, which will allow users to send a shock to those who they feel are wrong. The shocks will travel through mobile set to users' hands! ZAP!
For example, on the recent pedophile/Amazon book scandal, if people had iKerfluffle app 2.0, they could choose to shock either the pedophile-loving, free speech nuts, or the wild-eyed book banners! And everybody could shock the pedophile guy.
Free iKerfluffle escalation widgets. Amazingly, Apple will be offering iKerfluffle widgets for FREE, and they will conveniently link to iKerfluffle 1.0 & iKerfluffle 2.0.
For authors, there will be the "negative review insulterator" which tracks reviews and automatically responds insultingly to anything below four stars – even when you're away from your desk.
For everyone else, the "all-occasion iTaunterator" widget automatically adds personal attacks to posts, articles, and reviews.
The "Morning Surprisinator" will randomly post insults to blogs you visit while you are sleeping.
2011 Books
These exciting, long-awaited, brand-new mashups will be released to an eager public:
Twenty Thousand Leagues Under the Sea – with a giant killer squid!
The Tell-Tale heart – with a still-alive zombie body part!
The Turn of the Screw – with ghosts!
Moby Dick – with a giant killer sperm whale!
2011 Geopolitics
It will be discovered the GDP of most Westernized nations has fallen not because of the economy, but because everybody has been on Twitter all this time.
Joss Whedon will continue to wield his gift of story creation in such miraculous form that animals begin to instinctively sense his goodness and follow him, the Pope will nominate him for sainthood, and his work will inspire people to act in a self-transcendent way, paving the road toward world peace. Yet, he will not get a series, or, if he get a series, the network will instantly cancel it.
President Obama will go on national TV and explain to a concerned and confused nation once and for all what Steampunk is.
Happy Smugglivus!
Hey everyone, Happy Smugglivus to you! Here's hoping you find joy around the Smugglivus pole. [Feel free to insert dirty joke of your choice here.] Also, thanks so much for making this such a wonderful year for this debut author.

Thank you, CJ!