Welcome to Smugglivus 2010: Day 27
Throughout this month, we will have daily guests – authors, bloggers and publishers alike – looking back at their favorite reads of 2010, and looking forward to events and upcoming books in 2011.
Who: Malinda Lo, YA fantasy author of Ash, a kickass retelling of the classic Cinderella story.
Recent Work: The aforementioned Ash, a beautiful story in which Cinderella falls in love not with Prince Charming, but with another girl (Ana's review HERE). Malinda is also the author of the upcoming Huntress, which looks MADE OF AWESOME.
Without further ado, we give you Malinda Lo!

I read so many wonderful books in 2010, but the ones that stuck in my head are the books I admire because I admire the craft that went into writing them. Like many writers, I can't help but read like a writer most of the time, which means I can read a passage and then say super nerdy things out loud like, "Oh my God, how did she manage that transition so seamlessly?" (Cue flipping back to reread the section in question.)
Here are the books that floored me in 2010 with their writerly craft:
White Cat by Holly Black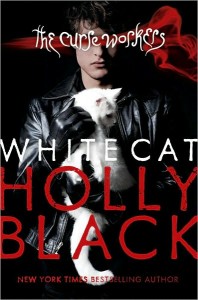 Usually I approach first person present tense novels with trepidation — it is definitely not my favorite style of writing, because I find that it almost always sounds contrived and affected. But in some cases, first person present tense narration is used in a way that makes perfect sense. Holly Black's White Cat is one of those books.
First, there's story — White Cat has it in spades. The story is a mystery wrapped up in lies and misleading memories. The fact that Black pulls it off so seemingly effortlessly makes me want to reread the book and take notes on how she does it.
And then there's her writing. Black's style in White Cat is spare and tight, but it's also layered and full of surprises. I just opened the book and randomly found this scene on page 55, which I love:
Then she hugs me lightly, and I can't help but notice that. My hands rest on the small of her back and I can feel her warm breath against my neck. With her, I could learn to be normal. Every time she touches me, I feel the heady promise of becoming an average guy.
I think that this kind of spare but meaningful prose is so hard to write. If you haven't read White Cat yet, and you enjoy crime fiction and potentially unreliable narrators, read it now. You won't be disappointed!
Ship Breaker by Paolo Bacigalupi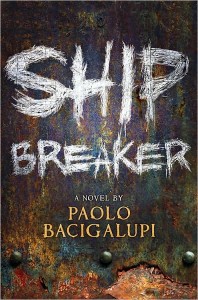 The thing about Paolo Bacigalupi's YA science fiction novel Ship Breaker that really got me was its world-building. It is set in a future in which the Gulf Coast is in ruins, oil is scarce, and the gap between rich and poor seems to be even bigger than it is today. In other words, it's set in a future that all of us could easily imagine.
The main character, Nailer, is a teen boy who works scavenging metal off rusted ships half-sunk in the Gulf. He is used to a hard life, but he hasn't yet been destroyed by it. When he sees an opportunity to leave that life behind, he takes it.
There were a number of things I really admired about Ship Breaker. First, the characters in the book are diverse in terms of race, and the girls in the book are diverse in terms of gender presentation. Girls do things in this book — many different things — and the boys don't think it's a big deal. I loved this.
But also, as I said before, the world is so three-dimensional. It is really a masterful example of imagining a future and bringing it to life on the page. There's slang and various bits of background that the reader comes to understand through context, not info dumping. The descriptions of the cities are very detailed, but not overwhelmingly so. You get the sensation that you're being shown a particular scene, and if the camera would just pan to the left, even more wonders would be revealed. I'm not surprised that Ship Breaker was a finalist for the National Book Award!
The Passage by Justin Cronin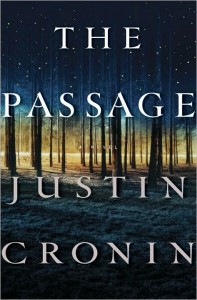 This giant book got tons of hype when it came out at the beginning of the summer. I picked it up because I was curious how a writer of literary fiction (which Cronin was) would approach a story that is firmly based in genre — and the vampire genre, at that.
It's about a military experiment gone wrong, in which a virus is accidentally released that essentially turns people into vampires. (I'm simplifying here.) And it's about one little girl who may be the key to ending the plague.
When I began reading the book, I was immediately sucked in by Cronin's writing, which is taut and sharp. But I was also sucked in by the characterization. I was amazed by how each character was so clearly, carefully introduced. Cronin obviously knows each character (and there are a lot of them) inside out, and he manages to relay backstory about each of them — often through flashbacks — that doesn't seem to slow down the pacing.
A lot of times people say that thrillers don't need to have good characterization — that's not why we read them. But I don't agree. I think that The Passage is clearly a thriller with very good characterization. That's what I admire most about it. OK, and I like the fact that the vampires are not sexy sparkly guys, too.
What I'm Looking Forward to in 2011
In 2011, I'm really looking forward to reading Red Glove, Holly Black's follow-up to White Cat! I also can't wait to read The Vespertine by Saundra Mitchell, because I love gothic historicals, and I adored her first novel, Shadowed Summer.
I also have a novel coming out in April 2011: Huntress, which is a prequel (of sorts) to Ash. It's set in the same world as Ash, but hundreds of years earlier, and doesn't have any crossover characters.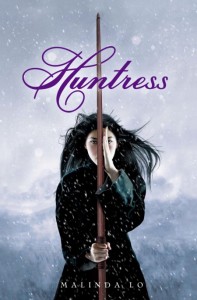 Huntress is about two girls, Kaede and Taisin — one of whom will become the first huntress in their Kingdom — who are called to journey to the land of the Fairy Queen in order to save their homeland. It began as my take on the hero's quest (you know, the Joseph Campbell thing), but it soon became its own story. It's about finding your place in the world. It's about the power of love and how it changes you. And it's about girls using weapons!
Huntress is partially inspired by Asian cultures, and because my friend and fellow author Cindy Pon also has an Asian-inspired YA fantasy coming out in April 2011 (Fury of the Phoenix, sequel to Silver Phoenix), we decided to band together and go on a book tour celebrating diversity in YA fiction. We've invited several YA authors to join us in five cities, which we'll be visiting in May 2011. We'll soon be announcing our full author line-up, but if you want a sneak peek at the cities we'll be visiting, you can check out our website at www.diversityinya.com. I'm excited for our tour!
Happy Smugglivus everyone!

And a Happy Smugglivus to you too, Malinda!
Now, for the giveaway:
Giveaway Details:
Malinda Lo is happy to offer a signed ARC of Huntress along with a signed UK edition of Ash to one lucky winner. All you have to do is leave a comment here – the contest is open to residents of the US and Canada ONLY and will run till Saturday January 1st 11:59 P.M. (PST). One entry per person, please. We will randomly pick the winner and post it on our January 2nd stash. Good luck!