Welcome to Smugglivus 2010: Day 10
Throughout this month, we will have daily guests – authors, bloggers and publishers alike – looking back at their favorite reads of 2010, and looking forward to events and upcoming books in 2011.
Who: Gemma Malley, British writer, author of the celebrated Declaration Trilogy, whose first book The Declaration, was reviewed HERE.
Recent Work: The third book in the trilogy, The Legacy, as well as a stand alone novel The Returners, reviewed HERE.
Ladies and gents, Gemma!

What a year it's been! Manic writing at the beginning of the year, then The Returners came out, then final edits to The Legacy before that came out in the Autumn… And since then it's been more writing, writing, writing…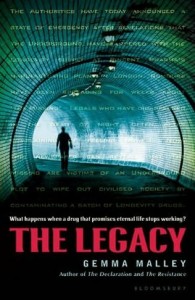 Which means that reading has sadly taken up far too little of my time this year – I can never read when I'm writing in case ideas and styles slip into my subconscious. So work, and two children under four, have rather put paid to any idea I might have had of lazy afternoons on the sofa with a pile of books next to me and nothing better to do… And I miss it. Terribly! However, I have managed to read a few great things… I discovered Marcus Sedgwick having appeared with him on the BBC Radio 4 Open Book show (you can listen on The BBC) and devoured REVOLVER.
Major Pettigrew's Last Stand by Helen Simonson was one of those books that I picked up on recommendation and simply couldn't put down – the most engaging protagonist and a wonderful story. Then I went back through my 'classics' shelf because it had been too long, and re-read The Outsider (Camus) and Bleak House (Dickens) – existentialism and great story telling; my kind of books. And I read Maggie O'Farrell's The Hand That First Held Mine, which is beautifully written and really stays with you.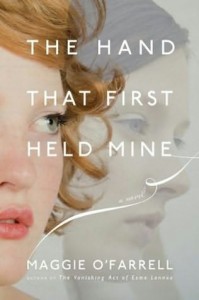 As for next year? Well, next year is the year of the mind, quite literally – I am researching the brain and morality for my next trilogy which is set in a world where evil has been quite literally taken out of the human equation via brain surgery.
The Evolution of Morality (Joyce) and The Accidental Mind (Linden) have already had one thumbing through and I'll be reading them more intently over Christmas. Then there are all the books I've bought and not read this year – The Thousand Autumns of Jacob de Zoet by David Mitchell, which I am itching to start, and Ian McEwan's Solar which I have heard so many things about and can't wait to read for myself.
Hopefully I'll get some time over Christmas to curl up with one of them at least.
Have a wonderful 2011…

Thank you, Gemma!