"On The Smugglers' Radar" is a new feature for books that have caught our eye: books we heard of via other bloggers, directly from publishers, and/or from our regular incursions into the Amazon jungle. Thus, the Smugglers' Radar was born. Because we want far more books than we can possibly buy or review (what else is new?), we thought we would make the Smugglers' Radar into a weekly feature – so YOU can tell us which books you have on your radar as well!
On Thea's Radar:
Haven't posted this cover yet, and I cannot WAIT for the release! No synopsis yet, though.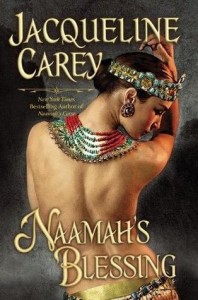 Aaaaand came across this while stalking Jacqueline Carey's website – featuring authors like Neil Gaiman, Diana Gabaldon, and of course, Jacqueline Carey.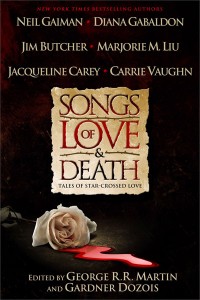 IN this star-studded cross-genre anthology, seventeen of the greatest modern authors of fantasy, science fiction, and romance explore the borderlands of their genres with brand-new tales of ill-fated love. From zombie-infested woods in a postapocalyptic America to faery-haunted rural fields in eighteenth- century England, from the kingdoms of high fantasy to the alien worl
…more

IN this star-studded cross-genre anthology, seventeen of the greatest modern authors of fantasy, science fiction, and romance explore the borderlands of their genres with brand-new tales of ill-fated love. From zombie-infested woods in a postapocalyptic America to faery-haunted rural fields in eighteenth- century England, from the kingdoms of high fantasy to the alien world of a galaxy-spanning empire, these are stories of lovers who must struggle against the forces of magic and fate.

Then, there's the new Avery Madison book from Kim Harrison (yay!):
Seventeen, dead, and in charge of heaven's dark angels—all itching to kill someone.

Madison Avery's dreams of ever fitting in at her new school died when she did. Especially since she was able to maintain the illusion of a body, deal with a pesky guardian angel, and oh yeah, bring the reaper who killed her to his untimely end. Not exactly in-crowd material. It's amazing that her crush, Josh, doesn't think she's totally nuts.

Now Madison has learned that she's the dark timekeeper, in charge of angels who follow the murky guidelines of fate. Never one to abide by the rules, she decides it's time for a major change to the system. With the help of some unlikely allies, Madison forms a rogue group of reapers who definitely don't adhere to the rules of the heavens.

But as she grapples with the terrifying new skills that come with being a timekeeper, Madison realizes she may not be prepared for what lies ahead—unless she gets some seriously divine intervention.

The second book in Leah Cypess's Mistwood series has a cover, too! I loved the first book, so am pretty excited for this one: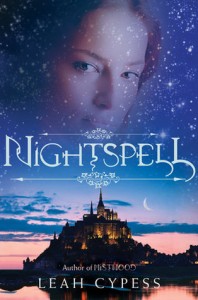 A stand-alone companion novel to the much-acclaimed MISTWOOD. When Darri rides into Ghostland, a country where the living walk with the dead, she has only one goal: to rescue her younger sister Callie, who was sent to Ghostland as a hostage four years ago. But Callie has changed in those four years, and now has secrets of her own. In her quest to save her sister from herself, Darri will be forced to outmaneuver a handsome ghost prince, an ancient sorcerer, and a manipulative tribal warrior (who happens to be her brother). When Darri discovers the source of the spell that has kept the dead in Ghostland chained to this earth, she faces a decision that will force her to reexamine beliefs she has never before questioned – and lead her into the heart of a conspiracy that threatens the very balance of power between the living and the dead.

Aaaaand saw this whilst perusing goodreads.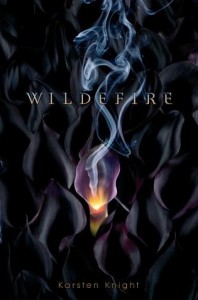 Ashline Wilde never received an instruction manual on how to be a 16-year-old Polynesian volcano goddess. If she had, it might have contained helpful warnings such as:

• Dreaming about your (thankfully) mortal boyfriend may cause your bed to spontaneously combust
• Oven mitts should be worn at all times during heavy make-out sessions

Instead, Ash has to learn these life lessons the hard way as her dormant powers erupt at the most awkward times. In the wake of a hometown tragedy, Ash transfers to Blackwood Academy, a boarding school nestled in California's redwoods, where a group of fellow gods-on-earth have mysteriously convened. As if sophomore year couldn't get any worse, her storm goddess older sister, the wild and unpredictable Eve, resurfaces to haunt Ashline. With a war between the gods looming over Blackwood, Ash must master the fire smoldering within her before she clashes with her sister one final time, which leads us to life-lesson #3:

• When warm and cold fronts collide, there's guaranteed to be a storm.

On Ana's Radar:
Loads of awesome-looking book on my radar this week. I saw this book: How I Stole Johnny Depp's Alien Girlfriend over at Tempting Persephone and I really, really want it.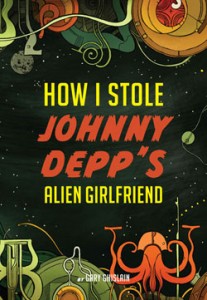 "?David Gershwin's summer is about to take a turn for the weird. When his dad's new patient Zelda tells him she's from outer space and on a quest to take Johnny Depp back to her planet, he knows he should run away screaming. But with one look from her mean, green eyes, David's hooked, and soon he's leaping across rooftops, running from police, and stealing cars just to stay by her side. He might not be a typical hero, but David's going to get the girl even if it takes him to the ends of the earth—or beyond."

The next book on my list is one that has SUCH a striking cover, that I can't help but to want it!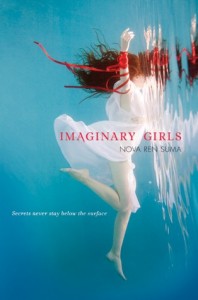 Chloe's older sister, Ruby, is the girl everyone looks to and longs for, who can't be captured or caged. When a night with Ruby's friends goes horribly wrong and Chloe discovers the dead body of her classmate London Hayes floating in the reservoir, Chloe is sent away from town and away from Ruby.

But Ruby will do anything to get her sister back, and when Chloe returns home two years later, a precarious and deadly balance waits. As Chloe flirts with the truth that Ruby has hidden deeply away, the fragile line between life and death is redrawn by the complex bonds of sisterhood.

Imaginary Girls is a masterfully distorted vision of family reminiscent of Shirley Jackson, laced with twists that beg for their secrets to be kept.

This one has been recommended to me by a LOT of people, so I need to get this SOON: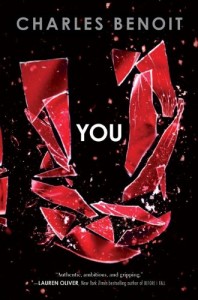 This wasn't the way it was supposed to go.

You're just a typical fifteen-year-old sophomore, an average guy named Kyle Chase. This can't be happening to you. But then, how do you explain all the blood? How do you explain how you got here in the first place?

There had to have been signs, had to have been some clues it was coming. Did you miss them, or ignore them? Maybe if you can figure out where it all went wrong, you can still make it right. Or is it already too late? Think fast, Kyle. Time's running out. How did this happen?

You is the riveting story of fifteen-year-old Kyle and the small choices he does and doesn't make that lead to his own destruction.

In his stunning young-adult debut, Charles Benoit mixes riveting tension with an insightful—and unsettling—portrait of an ordinary teen in a tale that is taut, powerful, and shattering.

And this anthology looks great too, with so many authors that I love: by Ellen Kushner (Editor), Holly Black (Editor), Terri Windling (Contributor), Cory Doctorow (Contributor), Cassandra Clare (Goodreads Author) (Contributor), Emma Bull (Goodreads Author) (Contributor), Charles de Lint (Contributor), Will Shetterly (Goodreads Author) (Contributor) , Amal El-Mohtar (Contributor), Steven Brust (Contributor), Alaya Dawn Johnson (Contributor), Jane Yolen (Contributor), Janni Lee Simner (Goodreads Author) (Contributor), Sara Ryan (Contributor), Dylan Meconis (Contributor), Tim Pratt (Contributor), Annette Curtis Klause (Contributor), Delia Sherman (Contributor), Nalo Hopkinson (Contributor), Christopher Barzak (Goodreads Author) (Contributor), Neil Gaiman (Goodreads Author) (Contributor), Patricia A. McKillip (Contributor), Catherynne M. Valente (Contributor):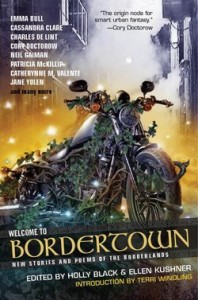 "…Holly Black and Ellen Kushner have sold another volume of stories in the venerable and beloved Bordertown series. This was a series of linked stories and novels about a world in which the Kingdom of the Fairy returns to Earth, connected by a mystical gateway, and about the goings-on in the Bordertown that sits in between the world of humans and the world of magic, a town where technology and sorcery only work intermittently and runaways, rejects, nutcases and heroes gather…"

And because I love me some fairytale retellings and this one is by Eloisa James, I have to have it!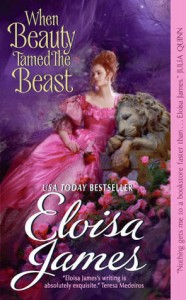 What about YOU? Any books on your radar?