Today, we are proud to be a stop on Ivy Devlin's Low Red Moon blog tour with a guest post from the author on her inspirations and influences for writing the book.
About the book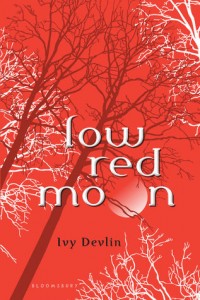 Avery Hood is reeling from the loss of her parents–and the fact that she can't remember what happened to them even though she was there.

She's struggling to adjust to life without them, and to living with her grandmother, when she meets Ben, who isn't like any guy she's ever met before.

It turns out there's a reason why, and Ben's secret may hold the key to Avery finding out what happened to her parents…

But what if that secret changes everything she knows about–and feels for–Ben?
Publisher: Bloomsbury
Publication Date: September 14 2010
Hardcover: 256 pages
The Book Trailer
On Inspirations and Influences
I got the idea to write Low Red Moon because I love the fairytale Little Red Riding Hood, and have always wondered–"What if????" about it. That, and growing up around a forest–I love the city, but there's something about being in a deep, quiet forest that's almost magical.
As far as influences–I confess, I've read very little paranormal fiction, or even much science fiction or fantasy–but I think there's something about the idea of being human–but not human–that calls to all of us (even those of us well past our teen years!).

You can read more about the author and reviews of the book on her website.