"Inspirations and Influences" is a series of articles in which we invite authors to write guest posts talking about their…well, Inspirations and Influences. The cool thing is that the writers are given free reign so they can go wild and write about anything they want. It can be about their new book, series or about their career as a whole.
We are delighted to have Molly Harper visiting us again today! We had Molly blogging with us a few months back about her hilarious Jane Jameson Chick-lit/UF series and when we heard she had a new book coming out – this one a pure undiluted Chick-lit – we were more than happy to invite her again to talk about wha inspired And One Last Thing….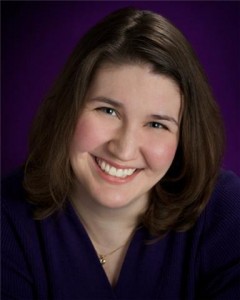 Ladies and gents, please give it up for Molly Harper!

As with all good things, AND ONE LAST THING… started with a daydream about Hugh Jackman.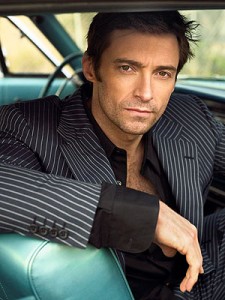 I was heavily pregnant with our second child and watching Swordfish. I had horrible indigestion and couldn't sleep. It was the only non-infommercial entertainment available. Don't judge me.
If it helps, I was appropriately creeped out by John Travolta's skeevy soul patch.
At the end of the movie, Hugh's character drives off into the sunset with his daughter, looking for a home. And I thought, the woman who ends up with Stanley as a neighbor is one lucky fictional lady.
And being pregnant and hormonal and just a little obsessive, I started building this fictional woman's world. She lives on the water. A mysterious guy who just happens to look like Hugh Jackman lives next door. He's a renter and he not very open to talking to her… or anyone for that matter. All attempts at neighborliness are rudely rejected.
Until one night, there's a storm. She gets caught outside in the rain, likely doing something that could get her hurt or, at the very least, humiliated. When the cranky neighbor comes out to help her, she notices that he still has power, while hers has gone out.
"That's ridiculous!" she grumbles. "You're a renter, for goodness' sake!"
"A renter with a generator," he tells her.
"Oh, sure, bring logic and forethought into it!"
And that was the very first exchange between Lacey and Monroe. Now, I just had to figure out who Lacey was, who Monroe was, why they were living in seclusion, and what it was going to take to get them together.
Easy, right?
Lacey became a homemaker whose life is magazine-perfect until she finds out her husband, Mike, is cheating on her. Because she is responsible for Mike's company newsletter, she has his mailing list. She uses it to send a mass e-mail to everyone they know, including parents and clergy, to tell them exactly what sort of "administrative support" Mike's secretary has been providing. When the e-mail goes viral and Lacey becomes front-page news, she retreats to the family vacation cabin in the middle of nowhere.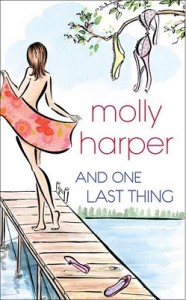 Monroe became a cranky cop-turned-crime writer who just wants some peace and quiet so he can work. He's gone through the drama of having recently divorced ladies move in next door before, and makes it clear to Lacey that she can take any well-intended baked goods and shove them. But a badly-timed skinny dipping incident, combined with a screen door to the face and the aforementioned thunderstorm, eventually cement a friendship that becomes something infinitely more fun and satisfying.
The only catch was that I was between books on my "Nice Girls…" series, focusing on vampire librarian Jane Jameson. It would be several months before the third book was due. And as much as I loved Jane and company, I was a little burnt out writing about people who could only go out at night and never ate solid food. I thought it would be refreshing to write about humans for a while.
I emailed my agent, Stephany, to ask her what she thought of the idea. I'd written lots of notes and scenes and thought I would be able to write the book while I was on maternity leave from my position as an editorial assistant for a medical society. She said, "If you think you can write a book and take care of a newborn, go for it."
One of my favorite memories about the days leading up to Carter's birth, is lying on the couch, having false labor contractions, and distracting myself by reading passages aloud to my mother while she folded laundry. As my mom says, "Some moms and daughters play cards and board games while waiting for a baby to be born, we do this."
After we brought Carter home from the hospital, I settled into a routine of putting Carter down for his nap, loading the dishwasher or washing machine and then writing. My husband, David, worried that I was working too hard, sacrificing too much sleep. But I found that I was less stressed, less lonely, than I'd been when I was home with our daughter, because I was having interesting, albeit imaginary, conversations with adults during the day. It was the fastest I'd ever finished a rough draft.
David also worried that people would think he was an inspiration for Mike, the philandering husband. So I reminded him that with his experience as a police officer and general awesomeness, he was actually the inspiration for Monroe. When he found out that Monroe had been forced into retirement because a gunshot wound to the hind end, he exclaimed, "Oh, so it's better for everybody to think I've been shot in the butt?"
So, reading public, I want to make it very clear, my husband's buttocks are intact.
Then again, his internet access is also intact. I should probably keep him from looking at this blog…

About the author: Molly Harper is a former newspaper reporter and humor columnist. She studied print journalism at Western Kentucky Unversity. She lives in western Kentucky with her husband and children.
Check out Molly's web site at mollyharper.com. For a daily dose of snark, friend her on Facebook or follow her blog at singleundeadfemale.blogspot.com.
Thanks Molly!
And now, for the giveaway!
GIVEAWAY DETAILS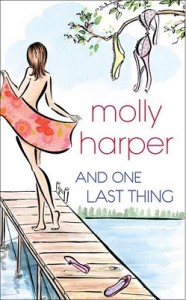 We have ONE COPY of And One Last Thing…. to give away! The contest is open to EVERYONE and will run until Saturday, September 18, 11:59PM (PST). To enter, leave a comment here. We will randomly select the winner and will announce it on Sunday in our weekly Smugglers Stash. ONE entry per person please. Good luck!