For the past few weeks, we have been celebrating all things YA with loads of reviews, interviews, guest posts and giveaways.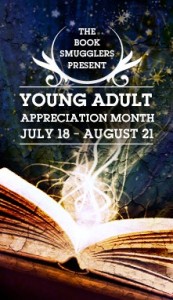 Now it is time to open the floor to YOU, so that you can be part of the party as well!
Over the course of the day, this post will be open to anyone with a blog to join in the fun. All you have to do is add your blog name (and the title of your post between parenthesis or at least an indication of what it is about!) and the url of your post in the form below and voila! All the posts will be listed here for everybody to read. Your post can be a review of a favorite oldie, a review of a new (or new to you) YA novel, a post reflecting on the genre, or even a piece on why you DON'T read YA. Anything at all…as long as it is about YA.
So, let's get the party started!