"Inspirations and Influences" is a series of articles in which we invite authors to write guest posts talking about their…well, Inspirations and Influences. The cool thing is that the writers are given free reign so they can go wild and write about anything they want. It can be about their new book, series or about their career as a whole.
Today's guests are Adam Jay Epstein and Andrew Jacobson, writers of the lovely and fun MG novel The Familiars. The book tells the tale of 3 familiars – magical animal companions – the cat Aldwyn, the blue jay Skylar and tree frog Gilbert and how the fate of their loyals (magical human companions) and possibly of the whole land depend on them. The novel releases in early September and is also soon to be made in a major motion picture, produced by Sam Raimi. We are delighted to have the authors here today talking about their influences and to give away two copies of the book.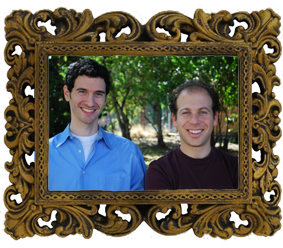 Without further ado, Adam and Andrew, everybody!

Sometimes, you don't realize how someone influences and changes your life until years later. When I was in seventh grade, I had an English teacher give me an assignment to write the first ten pages of a sequel to Pearl Buck's The Good Earth. Now, I knew very little about Chinese farmers other than what I had read in the book. But it didn't seem to matter. Over the next few nights, I felt as if I was Wang Lung with new plights, hardships and victories. By the time I had finished the assignment, I felt as if something special had happened, as if the story had written itself.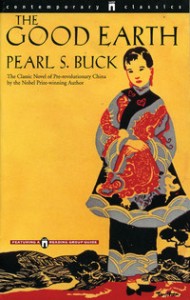 A week later, the teacher handed back the graded paper. There, on the top, was a bright red A+ from a teacher who wasn't even keen on giving As. It was a boost of confidence, an affirmation that I could write creatively and convincingly. It felt great.
Then, I went to my next class. Science. And I let the paper slip from my mind.
Eight grade. Ninth grade. Tenth grade. Didn't think about it.
Then to college. Other things occupied my thoughts.
It was in my junior year, when I was starting to consider being a writer,that I thought back on that paper. And her bright red A+.
"I could do this," I thought to myself.
I never got to thank my 7th grade English teacher for her encouragement and that assignment. So, I will now.
Thank you, Mrs. Winer.
–Adam Jay Epstein
*******
I grew up in the early 1980s in one of those idyllic suburban towns with only one movie theater – the kind that played the same movie for up to a year at a time. When I was just 4, that movie was "Star Wars." It had been re-released in theaters in 1981, and it was not just the first movie I ever saw on the big screen, but the second and third and fourth, too. To further my obsession, I also collected every last action figure and vehicle from the "Star Wars" trilogy that I could get my hands on. I remember my mom even bribing me to take swimming lessons with the promise of a Boba Fett Slave 1 starship. And taking medication for chronic childhood ear aches always went down a little easier with a new x-wing fighter or Jabba the Hut palace.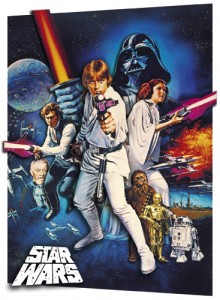 My favorite hobby as a kid was playing shows with my action figures. I spent countless hours in every corner of the house with a Han Solo in one hand and a Darth Vader in the other. That's where my imagination was born, I think. Making up stories about good guys and bad guys, jedi knights and evil lords. It wasn't just "Star Wars," either. I had superheroes, GI Joes, and WWF wrestlers joining the living room adventures, as well. Then I started translating those epic tales to paper, in the earliest days without using quotation marks for dialogue!
I guess I've always been drawn to hero's journeys. Whether it's Luke Skywalker, Frodo Baggins, Harry Potter, or Peter Parker, the possibility of even the most ordinary everyman becoming extraordinary is a timeless and irresistible tale. And "The Familiars" is a story not so different: about the unlikeliest of heroes rising up against insurmountable odds and finding greatness within them.
–Andrew Jacobson
About the authors: ADAM JAY EPSTEIN spent his childhood in Great Neck, New York, while ANDREW JACOBSON grew up in Milwaukee, Wisconsin, but the two met in a parking garage out in Los Angeles. They have been writing for film and television together ever since. This is their first book.
One day, Adam asked Andrew, "Are you familiar with what a familiar is?" And from that simple question, Vastia was born, a fantastical world filled with the authors' shared love of animals and magic. They wrote every word, sentence, and page together, sitting opposite each other.
Adam Jay Epstein lives in Los Angeles with his wife, Jane, their daughters, Penny and Olive, and a black-and-white alley cat who hangs out in their backyard. Andrew Jacobson lives with his wife, Ashley, and their dog, Elvis, four traffic lights away.
About the book:
Running to save his life, Aldwyn, the street-wise orphan cat, ducks into a strange store. Moments later Jack, a young wizard-in-training, comes in to pick out his familiar – a magical animal companion. Aldwyn's always been clever. But magical? Apparently Jack thinks so—and Aldwyn is happy to play along. Anything to get out of town!

Once home with Jack in Stone Runlet, Aldwyn thinks that he's got it made—a life of ease with a boy who loves him. He just has to convince the other familiars—the know-it-all blue jay Skylar and the friendly tree frog Gilbert–that he's the telekinetic cat he claims to be.

Then, after the sky lights up with an omen, the unthinkable happens. Jack and the other young wizards are captured by the evil queen of Vastia. Together Aldwyn, Skylar and Gilbert must save them—but how?

On their thrilling quest across the land, the familiars will face dangerous foes, unearth a shocking centuries old secret, and discover a mysterious destiny that will change them all forever.
You can read more about the book at the website The Familiars.
GIVEAWAY DETAILS: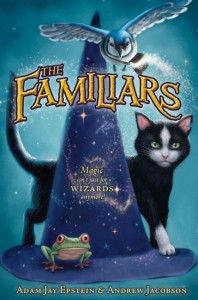 We have TWO ARCs (Advanced Reading Copies) of The Familiars up for grabs. The contest is open to ALL, and will run until Saturday, August 21st at 11:59 PM (PST). To enter, simply leave a comment here letting us know which animal would you pick as a familiar. ONLY ONE ENTRY PER PERSON, PLEASE! Multiple comments will be disqualified. We will announce the winners in our Sunday stash. Good luck!