"Inspirations and Influences" is a series of articles in which we invite authors to write guest posts talking about their…well, Inspirations and Influences. The cool thing is that the writers are given free rein so they can go wild and write about anything they want. It can be about their new book, series or about their career as a whole.
Hello everyone and happy Monday! Today, our guest is Lucy Christopher , author of the award-winning Stolen and the newly published psychological thriller The Killing Woods. We invited the author to take part on this year's Halloween Week festivities with a post about scary inspirations.
Give it up for Lucy, everyone!

Scary Things That Have Inspired Me To Write:
First thing I got to say is this: I don't watch horror films. I'm terrified of them. When I was writing my PhD thesis I had to watch the Aussie horror film, Wolf Creek, because it is set in the same desert as my novel, Stolen, and also has a kidnap story – but I couldn't really do it. I watched it mostly in fast-forward, even then skipping sections in order to make cups of tea! So, to write a post on horror/thriller films and books that have inspired my writing is tricky! What I will say instead is that it is REAL things, not the fictional ones, which inspire me the most to go SCARY with my words. Let me outline some of the things that have scared me into going creepy in my sentences:
1). Walking in the Woods at Night
This is one of those primal things – I'm sure that burrowed down deep inside all of us is a fear of being alone in woodland at night. At night, and alone, woodland sounds are louder, the dark amplified. When I was researching The Killing Woods I asked two of my friends to walk with me in thick moonlit woodland. We'd only walked about ten minutes into the trees when we saw the flickering light of a campfire. Immediately, we huddled closer, asking the questions: Who is out there? What are they doing? Why would someone else be in the woods at this time? Needless to say, we turned tail and fled home to cups of cocoa.
2). Spiders
I don't know what it is about these guys. My conscious, logical mind KNOWS that spiders are entirely useful and necessary to the great ecosystem that we are a part of, but some part (again, primal probably) of me recoils at the movement of their sideways scuttle, comes out in a sweat at the thought of them on me. Perhaps it is because they're not easy to see … spiders could be lurking, anywhere, ready to dart into sight at any moment. I like the idea that spiders are both useful and scary: a dualism that interests me when I write.
3). Portrayals of serial killers in films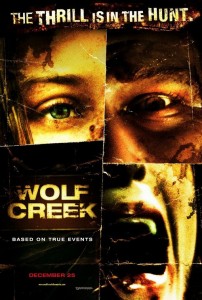 This gets me every time, and probably the real reason I couldn't watch Wolf Creek. Films bring the possibilities of our worst fears to life, and I guess I'm scared of the idea that a serial killer, much like a spider, could be out there, lurking, creepily watching you through your window at night. Primal, urgent fear is a good emotion to tap into while writing.
4). Some ghost film I watched on Christmas Eve when I was about 8 years old.
For some reason, my mum let me stay up late. We were flicking channels and a film set in an old, haunted house came onto the screen. I can't remember much about this film, only that at one point freakish ghouls rose up to the ceiling and started circling around the protagonists, cackling and wailing as they did, their long greenish hair strung out behind them and their faces distorted. In hindsight, it was probably a very tame (if not, poorly executed!) ghost film, but it was probably also the first thing I'd ever seen on TV that really scared me. I went to bed in tears, scared of letting any part of my body drape over the side of the bed for fear that some thing underneath might grab it. This fear of something grabbing me as I slept stayed with me for years afterwards.
5). Don't Look Now
I thought I would put a real live BOOK as the fifth thing that scares me, but I tried to think of something – Clive Barker's short stories, Steven King's books, Edgar Allan Poe's stories – and nothing really scared me all that much. This surprised me because I am such a wimp with scary films. So why don't books scare me too? (As an aside – perhaps this could be an interesting blog post at some time? Why are films more scary than books?).
Don't Look Now is a film that scared, and stuck with me (still does!). But, it's a lame scary film, right? I mean, there aren't even any graphic scenes, serial killers, axe murderers, or flying green-haired ghouls in this film. Even so, something about this film creeps the collywoddles out of me – is it the slow and suspenseful mood music that builds and builds, the repetition of the enclosed, stifling streets of Venice that the characters get lost in, or is there something else sinister – that I can't quite put my finger on – that director, Roeg, managed to inject into this film? Either way, I'm not proud of it but – yes – I actually screamed out loud during one particular scene in this film. Can you guess which one? Overall, it is the pervasive powerful atmosphere of this film that I would love to emulate in my writing … even if it's just a little, tinsy, bit.

Thanks, Lucy!
About the author: Lucy Christopher is a British/Australian author best known for her novel Stolen, which won the Branford Boase award 2010 in the UK, and the 2010 Gold Inky in Australia. Her second book, Flyaway, was shortlisted for the Costa Book Awards 2010. Her new book, Killing Woods is out now. Read more about the author on her website. Follow her on Twitter and Facebook.