Hello everybody!
Kathryn McKenna, Children's Marketing & Publicity Assistant for Simon and Schuster UK is back with another fabulous swag of upcoming titles to giveaway.
Please give it up for Kat!

That's right… we're back! The Book Smugglers have very kindly agreed to have us (us being Simon & Schuster UK – or rather, me, Kat – publicist for the children's team) back for another round-up of what to expect from Simon & Schuster UK in the coming six months. in December we brought you the highlights for Jan-June 2010, and now we're going to cover July-December 2010. I may have snuck in something for January 2011 that I just can't keep to myself too…!
As many of you know by now, I love our list – I think we've got some really exciting titles coming up. We do serious quality control here on every title, making sure that we're publishing the best reads, for all genres and age ranges, because we love reading as much as you do! I think the proof is in the pudding, as my desk is piled high with… 16 books – because they don't fit on my bookshelves at home! I'm sure you all know the feeling.
Anyway, onto the books – read on for just a few of the highlights that we think will suit YA fanatics in 2010… and if you get to the end, once again we have a tantalising competition to entice you further!
Passing Strange by Daniel Waters (July)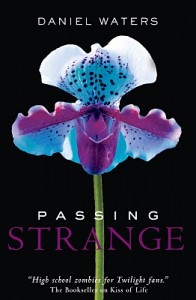 Many of you probably already know Daniel Waters – he was way ahead of his time when he wrote his first book, Generation Dead, back in 2008 – the paranormal, "black and purple covers" saga was just barely starting, and Daniel was already tapping away about (alive) funky goth heroine Phoebe and her slightly… dead high school colleagues. The premise of the series is fairly simple: teenagers in the tri-state area just don't stay dead. They come back to life, but they come back different – they stutter and their reactions are slower – affectively they are zombies. Termed 'living impaired' or 'differently biotic' by the ever politically correct government, there are lots of conspiracy theories to explain this new phenomenon. But as their numbers keep on growing, so does the discomfort of the living people in the community.
Passing Strange is the newest instalment (following Kiss Of Life last summer), told from the point of view of Karen – a dead, cool (and dead cool) teenager who becomes mixed up in a high profile murder… These books are not only as fun as they sound, they hold an underlying message that never stops being relevant – difference comes in all shapes and sizes, and so does prejudice. The way that prejudices against the 'living impaired' is illustrated in this series is smart and subtle, but makes it perfect and relevant for almost all teenagers.
The Chosen One by Carol Lynch Williams (August)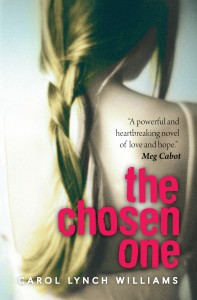 The premise of The Chosen One is fairly simple – a story set around a polygamist cult. But while it is simple in its premise, it is complex, thought provoking and moving it its delivery. Kyra is a thirteen year old girl, raised in a polygamist community in which men have many wives, wives have many children, and the freedom of the residents is constantly restricted. Kyra begins to question her feelings towards her life as the novel continues – growing closer to fellow peer Joshua, who she is not allowed to have a relationship with, and discovering a library bus nearby the community – books are banned, but when Kyra turns the first page of an illicit read, her eyes are opened wide to a forbidden joy…
When Kyra is told that she must marry her 65 year old uncle, Hyrem, by decree of The Prophet, things take a sinister turn. There are scenes that will shock, and it is not a wholly pleasant read, but don't let that put you off at all. The Chosen One is un-put-down-able despite the at-times hard reality of it. It's the kind of book that you want to tell every single person you know about, and is reminiscent of Meg Rosoff, Laurie Halse Andersen, Margo Lanagan. This is my 'passion plea' of the second half of 2010 – Kyra's story is full of moving nuances, the writing is gorgeous, and the book will stay with you longer after you close the back page.
Night of the Solstice by L.J. Smith (September)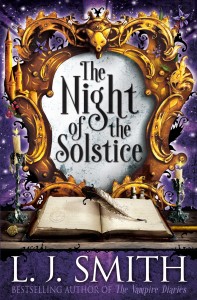 Let's be honest, L.J. Smith has had a pretty good year. With The Vampire Diaries storming onto television and exciting teen girls (and the rest of us!) all over the globe, publishers have been rejacketing, republishing and rediscovering the wonderful writing of L.J., and we're no exception. While our teen issues of Dark Visions and The Forbidden Game (coming this July) have been flying off the shelves, we're honoured and hugely excited to be publishing her first ever books – Night Of The Solstice, and Heart Of Valour (January 2012). Not only are they imaginative and brilliantly enchanting, the jacket looks for these are absolutely gorgeous. Bewitching, sparkling and bright, the books are a treat even before you open the pages – and once you do, you'll find that L.J. Smith's talent started many, many years ago… and now you can rediscover it for yourselves!
Shade by Jeri Smith-Ready (September)
I love Shade. Love love love. I can't think of anybody who doesn't enjoy a good ghost story, and Shade is just that. Shade is set in a world in which those aged 16 and under are able to see ghosts, at least until they 'pass on'. Leading character Aura is one of these 16 year olds – in fact she is the first 16 year old born into the shift, and as a result her ability has some slightly scarier repercussions. Shade takes a dark turn when Aura's boyfriend Logan is killed on his birthday, and while half of his siblings are in mourning and half are happy to be able to see him still, Aura is torn between clinging to Logan, or letting him go – a matter made even more complicated by the arrival of the kind, funny and mysterious Zachary…
Shade is, in all seriousness, not just another dark, paranormal read. It's incredibly convincing, heartfelt and page turning – I loved the creativeness that Jeri Smith-Ready applies, and the attention to detail on all sorts of little things, such as the 'British-isms' of Zachary, the compelling and often upsetting reactions to the death of someone you love, and the confusion brought from the fact that they are, in certain terms, still alive. A must read!!
Buffy The Vampire Slayer
I'm sure I'm not alone in saying that when I was a teenager, I loved Buffy. Looooved it. It was probably my first real 'obsession' – I was even dragged into the fandom (warts and all) which was where my initiation into the internet world began. Unsurprisingly, I'm completely thrilled that we're reissuing two bind ups (and one more in 2011) of some classic Buffy stories. Not only do they feature our favourite vampire slayer, the covers are absolutely awesome, and are sure to entice new fans whilst pleasing adoring old timers such as myself. We're planning to really promote these via the internet – blogs, fansites, and other show fansites such as True Blood and The Vampire Diaries. So if this catches anyone's eye and they'd like to take part – let me know!
Crescendo by Becca Fitzpatrick (October)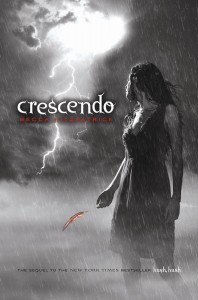 I don't think I can talk about our last half of 2010 without talking about Crescendo. Hush, Hush was a HUGE book for us in autumn 2009, and has sold over 80,000 copies in hardback in the UK alone so far. Hush, Hush was a whirlwind of excitement, from independent heroine Nora Grey to the mysterious super sexy Patch – exciting teens, young adults, and adults who probably ought to know better, this has become a brand that the YA market can't imagine being without – and Crescendo is going to make an explosive entry into the market in October!
We're thrilled in the UK to be having Becca Fitzpatrick over for a tour – including a signing at the Massive Events Eternal Twilight convention on the 23rd October! You can see more about that here. Keep an eye on www.simonandschuster.co.uk for listings of Becca's public events too! We can't wait, and we also can't wait to get our hands on a finished copy of Crescendo – but luckily I've been able to get a sneaky peek of the manuscript… and while I'm keeping my lips sealed on the details, I can promise you won't be disappointed!
The Replacement by Brenna Yovanoff (January 2011)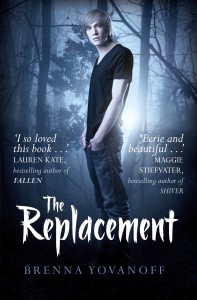 I have to admit, I've snuck this one in… it's not actually publishing until January 2011, but it is just such an amazing book that I couldn't risk leaving it out! The Replacement is another of the dark paranormal genre, but much like Shade, it is the quality and depth and thought that has gone into this book that left me slightly in love. The Replacement is told from the point of view of male protagonist, Mackie. Having a male protagonist is a surprising breath of fresh air in the world of black-and-purple, and perhaps plays a contributing factor to the change in the emotional level of the book. Mackie is a changeling, only known to his parents and his sister – or rather the parents and sister of the young boy he was swapped with as a faery toddler. Mackie cannot be exposed to iron (difficult when you want to kiss the girl with the tongue piercing) or holy ground (again, difficult when your father is a minister), but otherwise is very much ensconced in the human world – until his friend Tate's sister is kidnapped into the faery realm and he is forced to save her…
The Replacement sits well alongside other dark faery fantasy (such as Tithe by Holly Black) – but it excels in so many areas. The relationship that Mackie shares with his 'sister' Emma is beautiful, her fierce protectiveness and love for him is subtlety written but artfully felt by the reader. Mackie's frustration with little parts of integrating into the human world, his growing relationship with Tate, the horrific bad guy in the form of The Cutter – all of these details are engrossing and bewitching, scary but enchanting. As you can tell, I loved this on first read, and I urge you all to hold on for the beginning of 2011!
—-
As with last time, we're really pleased to announce that if you comment on this post and tell us what's got you excited, you'll be entered into a draw to win all eight books (Passing Strange, The Chosen One, Night Of The Solstice, Shade, Buffy #1 & #2, Crescendo, and The Replacement), as and when they're published! Post about it on your blog and drop us a link in the comments and we'll count your entry twice… that means twice as many chances to get a bucket-load of books! Thanks all for handing your time over to me once again, and I hope I've managed to fill you all to the brim with anticipation!
In the meantime for any other news you can follow us on twitter (@simonkids_UK) or drop us a line with queries and requests at childrensbooks@simonandschuster.couk. We're always looking for hidden gems in the blogging world, too… Until next time, friends, happy reading!

You heard the lady, comment away – if you blog about it, it is ok to comment again with a link! The contest is open to everyone and will run till Saturday 19th 11:59 P.M. (PST). Good luck!