"Inspirations and Influences" is a series of articles in which we invite authors to write guest posts talking about their…well, Inspirations and Influences. The cool thing is that the writers are given free reign so they can go wild and write about anything they want. It can be about their new book, series or about their career as a whole.
I am rolling out the red carpet today for our guest author is no other than John Green: Contemporary YA author extraordinaire, winner of many awards (including the prestigious Michael L. Printz Award ) and YouTube vlogger behind the infamous Brotherhood 2.0 with his brother Hank. I started reading his books this year and fell in love with them completely: Looking For Alaska, An Abundance of Katherines, Will Grayson, Will Grayson and Paper Towns have been reviewed recently. In celebration of the release of Paper Towns in the UK, we invited John Green to write a piece for this feature and to our utmost delight, he said yes.
From Wikipedia
Here is what John Green has to say about writing Paper Towns: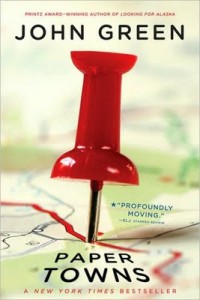 Although my books are printed on thinly sliced pieces of trees, they would be utterly impossible without the Internet, which probably inspires my writing at least as much as books do. My books would be impossible without the Internet. Paper Towns, for instance, is built around this weird cartographic phenomenon wherein mapmakers intentionally put fake places on their maps–which incidentally is common practice in maps of London, much to the confusion of tourists and locals alike. There was some research into this kind of thing before the Internet, but it took the crowdsourcing talents of the Internet to show how widespread and weird this practice was.
But I rely on the Internet not only for information but also for inspiration. Here's what I find inspiring about the Internet:
At its best, the Internet makes stuff not for glory or profit or fame but because making things for people is valuable and beautiful even if no one ever sees the thing you make. There's something very beautiful to me about the sheer amount of stuff that people create on the Internet, the endless collection of blogs and facebook fan pages and twitter updates and deviantart sites: All of us making stuff for each other, and trying to make the stuff as good and finished as possible. A really good example of this that has absolutely nothing to do with Paper Towns or anything else I've ever written is this: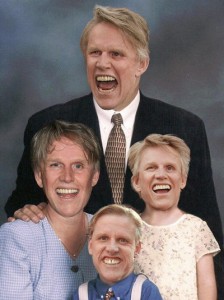 That picture is known online as "Gary Busey Family Portrait." (Gary Busey is an American film actor who is insane and drug-addled. He is our Pete Doherty.) The person who made Gary Busey Family Photo–s/he is anonymous–must have worked for many hours on this, because it is so beautifully photoshopped that your eyes believe initially that this really IS a family portrait, which is absolutely vital to the joke. The hours of pixel-by-pixel editing was motivated not by some desire to become rich or famous or beloved but because this person wanted to make something that would make us laugh–and also maybe something that would make Gary Busey question whether, you know, he should maybe sober up.
The best stories come from the same place as Gary Busey Family Portrait: They are books that exist because someone wanted to tell us a story, wanted–as William Faulkner once said–"to create out of the material of the human spirit something which did not exist before." (Faulkner, who like me was from the American South, is another big inspiration for me.) This is why I spent three years writing Paper Towns: I wanted to try to get each pixel right in the picture. To this end, I am inspired not only by photoshopped images but also by the novelists whose precision and dedication I have admired over the years. The list of writers who are better than I am is, I'm afraid, a very long one–from Toni Morrison to M. T. Anderson, from Markus Zusak to Jane Austen–but it is through marveling at their dedication to craft and respect for their readers that I am able to get up every morning and work on my writing.

About the author: John Green is the New York Times bestselling author of Looking for Alaska, An Abundance of Katherines, and Paper Towns. He is also the coauthor, with David Levithan, of Will Grayson, Will Grayson. He was 2006 recipient of the Michael L. Printz Award, a 2009 Edgar Award winner, and has twice been a finalist for the Los Angeles Times Book Prize. Green's books have been published in more than a dozen languages.
In 2007, Green and his brother Hank ceased textual communication and began to talk primarily through videoblogs posted to youtube. The videos spawned a community of people called nerdfighters who fight for intellectualism and to decrease the overall worldwide level of suck. (Decreasing suck takes many forms: Nerdfighters have raised hundreds of thousands of dollars to fight poverty in the developing world; they also planted thousands of trees around the world in May of 2010 to celebrate Hank's 30th birthday.) Although they have long since resumed textual communication, John and Hank continue to upload three videos a week to their youtube channel, vlogbrothers. Their videos have been viewed more than 75 million times, and their channel is one of the most popular in the history of online video. He is also an active (if reluctant) Twitter user with more than 1.1 million followers.
Green's book reviews have appeared in The New York Times Book Review and Booklist, a wonderful book review journal where he worked as a publishing assistant and production editor while writing Looking for Alaska. Green grew up in Orlando, Florida before attending Indian Springs School and then Kenyon College.
You can read more about the author at his (brand-new) Website.
GIVEAWAY DETAILS
We are giving away 15 COPIES of Paper Towns, courtesy of Bloomsbury PLC. The contest is open to ALL and will run until June 12 at 11:59 PM (PST). To enter, leave a comment here answering what is your favourite John Green book (or if you haven't read any, tell us about a fave contemporary YA author). Only one entry per person please! Good luck!