Today, we are delighted to bring you bestselling Spanish writer Carlos Ruiz Zafón, author of 6 novels, including one of Ana's all time favourites, The Shadow of the Wind. His first novel, the YA Horror The Prince of Mist has finally been translated into English and published last month and it is our pleasure and honour to present you with our chat with Carlos Ruiz Zafón and an opportunity to win a signed copy of The Prince of Mist.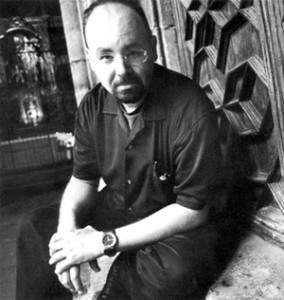 Ladies and gents, please give it up for Carlos Ruiz Zafón!

The Book Smugglers: Thank you so much for taking the time to chat with us. The Shadow of the Wind is one of our all-time favourite books and it is an incredible honour to be talking to its author.
CRZ: My pleasure entirely. I'm always in favour of a little smuggling, specially when it comes to books and ideas.
The Book Smugglers: Your book The Prince of Mist, is being published by Orion Books in English but it is in fact the first book you published, in 1993. How do you see this interest in your earlier books?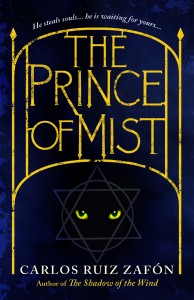 CRZ: I'm very happy to be able to finally see The Prince of Mist translated into English. The reason for this monumental delay was essentially legal. Luckily that got all solved and now English readers will be able to enjoy these earlier works of mine. Never too late.
The Book Smugglers: Both The Shadow of the Wind and The Angel's Game are atmospheric books with a touch of mystery and Fantasy – can readers expect the same from The Prince of Mist?
CRZ: Very much. In fact they'll find a lot more mystery and fantasy in the prince of mist than on these later works. Although The Prince of Mist is mainly aimed at young readers (but aspires to be enjoyed by readers of all ages) I believe that a lot of the main elements of my later work are already very much present in it.
The Book Smugglers: You started off writing Young Adult novels, and only recently started writing for adults –how was this transition?
CRZ: Smooth as strawberry jam from Fortnum & Mason's. I started publishing novels for young adults by accident, I think. I never thought I would become a young-adult author. If anything I just write for people who like to read and I'm not inclined to ask them for ID to check their ages. At some point, after having published 3 YA novels and a fourth that nobody knew how to classify, I decided to venture beyond the limits of what is considered YA literature and started working The Shadow of the Wind. To me it is just storytelling and despite the differences between these books I find more elements that unify them than separate them.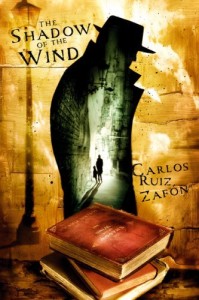 The Book Smugglers: Your books are generally found in the literary section of a book store despite their obvious connection with Speculative Fiction and Crime. How would you categorise your writing? Do you see yourself as a "literary author" or more of a genre author?
CRZ: I see myself as a novelist and to be honest I'm not very interested in these labels or in being categorized in any way or manner. I believe there're only two kinds of writing: good and bad, and you can find plenty of both in the so-called "literary" section and in the so-called "genre" sections. Quite often in the inverse proportion of what conventional thinking would suggest. At the risk of being politically incorrect, I'd say that these distinctions tend to be a bit naïve and quite often misguided by prejudice, snobbery and sometimes plain and good old fashioned cluelessness.
The Book Smugglers: Book Blogs are increasing in importance when it comes to book reviewing – especially with a number of newspapers' review sections diminishing or ceasing to exist entirely. How do you see this trend? Do you read blogs at all?
CRZ: I think any kind of exchange of ideas and communication is good. The entire market of information is being transformed and traditional journalism is evolving into new and different forms. The marketplace for opinion and subjective perspective has exploded and, despite the noise and the fury of some of it, probably that is a good thing. In the end I believe we'll just have the same essence in a different packaging, with the good and the bad.
The Book Smugglers: What books do you recommend for readers, keen for more books like yours?
CRZ: I recommend readers to be adventurous and to try things they've never heard of or considered reading before. Get out of the comfort zone and discover something new and exciting. If you'd never be caught dead in the mystery section go and read some George Pelecanos, Dennis Lehane, Michael Connelly or many others. If you only read thrillers get deep into the literary fiction aisle and let yourself be seduced. If you only read non-fiction pick up a Ian McDonald novel or a Joyce Carol Oates novel. If you only read comic books, get acquainted with the great Charles Dickens or a certain Monsieur Dumas. Pick up something at random and read a page. Feel the texture of the language, the architecture of the imagery, the perfume of the style… There's so much beauty, intelligence and excitement to be had between the pages of the books waiting for you at your local bookstore the only thing you need to bring is an open mind and a sense of adventure. Disregard all prejudices, all pre-conceived notions and all the rubbish some people try to make you think. Think for yourself. Regarding books or anything in life. Think for yourself.
The Book Smugglers: if you had to pick three authors who influenced your writing, who would they be?
CRZ: I'd need at least 300 to get started. I believe an author is influenced by everything she or he reads, analyzes and learns something from. Sometimes it is stuff you don't like, sometimes it is stuff you love, but I think you can learn from anything.
And finally a question we always ask:
The Book Smugglers: We Book Smugglers are faced with constant threats and criticisms from our significant others concerning the sheer volume of books we purchase and read – hence, we have resorted to 'smuggling books' home to escape scrutinizing eyes. Have you ever had to smuggle books?
CRZ: I make no apologies for my love of books, my friend, like I make no apologies for my love of music or architecture or any of the great things in life. If anybody has a problem with that, well, that's just too bad.

About the Author: CARLOS RUIZ ZAFÓN was born in Barcelona and is the author of six novels, including the international phenomenon THE SHADOW OF THE WIND, the most successful novel in Spanish publishing history after DON QUIXOTE. His work has been translated into more than 35 languages and has received numerous international awards, including the Edebé Award, Spain's most prestigious prize for young adult fiction.
Make-believe is Carlos' business and his books have sold over 15 million copies worldwide, with THE ANGEL'S GAME being the fastest selling book of all time in Spain. Carlos now splits his time between Barcelona and Los Angeles.
A HUGE thank you to Carlos Ruiz Zafon for chatting with us.
And good news for those in the UK. The author is touring the UK right now and will be at Foyles Bookshop on Wednesday 2nd June) and login to Twitter and follow @waterstones at 5.30pm on 3rd June for Carlos Ruiz Zafon's first ever 'Twinterview' – a live online interview via Twitter. Simply tweet your questions to @waterstones using the hashtag #CRZafon beforehand, or on the day itself. For more info check out the Waterstone's website. Carlos will answer as many questions as he can and Waterstone's post the transcript as soon as possible.
Now, for the giveaway!
GIVEAWAY DETAILS: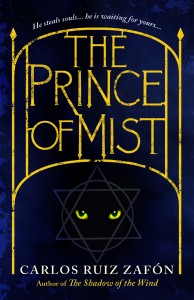 We have ONE signed copy of The Prince of Mist to giveaway. This book giveaway is open to all. The contest will run until June 4 at 11:59 PM (PST). Entry is easy – simply leave a comment here. Only ONE comment per person, please! Multiple and duplicate comments will be disqualified. Good luck!