"Inspirations and Influences" is a series of articles in which we invite authors to write guest posts talking about their…well, Inspirations and Influences. The cool thing is that the writers are given free reign so they can go wild and write about anything they want. It can be about their new book, series or about their career as a whole."
Today's guest is awesome author Jackie Kessler, writer of Urban Fantasy, Comics (she is part of the Buffyverse CANON) and Young Adult books (her YA debut Hunger will be coming out in a few months). She also pens the Icarus Project Series, a superhero series written in collaboration with Caitlin Kittredge. The new book in the series Shades of Gray (Shades of Night in the UK), comes out tomorrow in the US. Ana is a huge fan of the series and has reviewed both books.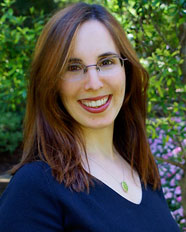 To celebrate the release of Shades of Gray we invited Jackie to talk about some of her Inspirations and Influences:

I Blame Neil Gaiman
By Jackie Kessler
Back in the early 1990s, I thought I was done with comic books. Seriously. Firstly, they were expensive, and without my dad to bankroll my sequential-art habit, all of my cash had to go to textbooks and Ramen noodles. Secondly, I was getting a little fed up with many of the storylines and some of the art. I thought I'd had enough of Good versus Evil in illustrated form. If I really wanted, I could watch Michael Keaton as the Batman again and call it a day.
And then, something happened that changed my life. Multiple choice time! What was the event that changed my life?
A) Lightning hit a row of chemicals in beakers, and all those electrified chemicals spilled on me, giving me super speed and the uncanny ability to wear a skintight red outfit and manage to look slender.
B) I was bitten by a radioactive spider, giving me the proportional strength, etc., of a spider (yuck).
C) I discovered, when I took off my glasses, that I had super strength, was able to fly, and had a weird allergic reaction to kryptonite.
D) My roommate plunked down a copy of SANDMAN #23 on my bed and told me I had to read it.
If you guessed A, B, or C, bless your geeky heart. Sadly, no, I still have no super powers (unless you count selective hearing, but I consider that an art form more than a super power).
When my roommate gave me SANDMAN #23, he* insisted that I stop everything and read it. I told him, rather wistfully, that I didn't read comic books anymore. And he said, "This isn't just a comic book. It's amazing. You have to read it." So partially to shut him up, I read it.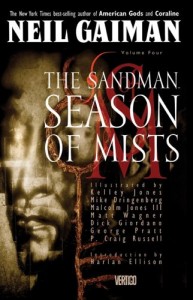 And then I went out and immediately bought A DOLL'S HOUSE graphic novel collection.
And then I got my hands on every back copy of SANDMAN that I could find. (And afford.)
That one story — from its dynamic writing to the incredible art to the way Morpheus spoke in dialogue balloons made of awesomesauce**— was enough to rekindle my love of all things comic book. I still limited myself in terms of what to buy (see the above about me being insanely poor), but man, there was nothing like looking forward to hitting the comic book shop and seeing what the new week would bring in terms of spandex, capes, and anthropomorphic personifications.
It also paved the way for my professional crush*** on Neil Gaiman. I devoured his work. I read GOOD OMENS (coauthored with Terry Pratchett, and still one of my favorite books of all time, right up there with Christopher Moore's LAMB), eagerly sought out rare chapbooks, found the occasional HELLBLAZER, and so on. When I was in the hospital with my first child, I had AMERICAN GODS to read during those rare minutes when I wasn't nursing or sleeping. I waited on a looooooooooong line to have Neil sign my ENDLESS poster (framed, hanging in my home office). I registered for the Fantasy Matters convention when I heard he was one of the keynote speakers and was second on line for autographing (I actually gave him signed copies of HELL'S BELLES and THE ROAD TO HELL. He gave me a kiss on the cheek.**** I definitely got the better end of the deal.)
Why am I a writer? I blame Neil Gaiman. On that framed ENDLESS poster, he'd written: To Jackie: Dream On! And my dream was to be a novelist. He gave me permission, you see. He made the dream not some ephemeral thing, not this fleeting notion, but rather an actual goal. There's a reason why Neil is one of the people I acknowledge in BLACK AND WHITE: he got me to stop thinking about writing as something lofty. Thanks to Neil, writing for me became a passion…one that I've been fortunate enough to also make one of my professions.
So even though Morpheus doesn't wear spandex (thank God) and the notions of Good versus Evil in SANDMAN are like nothing I'd previously read about in the Justice League or the Avengers (and didn't see with superheroes until Moore and Gibbons' WATCHMEN and Miller's THE DARK KNIGHT RETURNS), Neil Gaiman got me to love comic books again. And I'm forever grateful.
* Yes, my roommate was a guy. Okay, technically, he was a suitemate. There were five of us. But really, "suitemate" doesn't flow as well as "roommate," and if this is the part of the story that's concerning you, then you're missing the point.
** Yes, awesomesauce. Vertigo has the recipe.
*** Not to be confused with the sort of crushes I had on, say, John Taylor from Duran Duran back in the 1980s. I don't wallpaper my room with pictures of Neil. (What? That's my story, and I'm sticking with it!)
**** I still haven't washed that cheek.

From Gaiman-fangirls to another: thank you, Jackie!
And now, for the giveaway:
GIVEAWAY DETAILS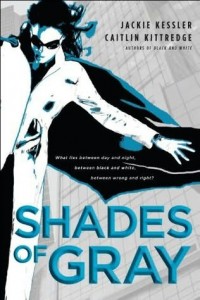 Courtesy of the author, we are giving away 1 signed copy of Shades of Gray.The contest is open to ALL and will run until Saturday June 26 at 11:59 PM (PST). To enter, leave a comment here answering who is your favourite Superheroine or Supervillainess. Only one entry per person please! Good luck!