"On The Smugglers' Radar" is a new feature for books that have caught our eye: books we heard of via other bloggers, directly from publishers, and/or from our regular incursions into the Amazon jungle. This is how the Smugglers' Radar was born, and because there are far too many books that we want than we can possibly buy or review (what else is new?) we thought we could make it into a weekly feature – so YOU can tell us which books you have on your radar as well!
On Thea's Radar:
Even though I'm not much of a literary fiction type of gal, I saw a review for this title over at Erika (the lover of Jawas) at her blog, Jawas Read, Too and immediately added it to the wishlist: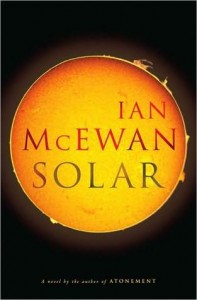 Michael Beard is a Nobel prize–winning physicist whose best work is behind him. Trading on his reputation, he speaks for enormous fees, lends his name to the letterheads of renowned scientific institutions, and half-heartedly heads a government-backed initiative tackling global warming. While he coasts along in his professional life, Michael's personal life is another matter entirely. His fifth marriage is crumbling under the weight of his infidelities. But this time the tables are turned: His wife is having an affair, and Michael realizes he is still in love with her.

When Michael's personal and professional lives begin to intersect in unexpected ways, an opportunity presents itself in the guise of an invitation to travel to New Mexico. Here is a chance for him to extricate himself from his marital problems, reinvigorate his career, and very possibly save the world from environmental disaster. Can a man who has made a mess of his life clean up the messes of humanity?

A complex novel that brilliantly traces the arc of one man's ambitions and self-deceptions, Solar is a startling, witty, and stylish new work from one of the world's great writers.

From the delightful Kris of Voracious YAppetite, I heard about new line Carolrhoda Lab – the new imprint of Carolrhoda books, dedicated to "distinctive fiction for Young Adults." Here are a few of the titles they have slated for their fall launch – they look AWESOME:
The absolute value of any number, positive or negative, is its distance from zero. So what's the absolute value of a friendship? Of love? Just how far apart are we, anyway?

Lily: "For three years, I'd been trying to hold on to Simon and pull him up against me. He was a bar of soap in the shower, though: slippery as hell, and one false move—squeeze a little too tight—and he's gone. And picking up a wet bar of soap in the shower is pretty difficult."

Noah: "Lily has these big brown eyes. It sounds corny, but they totally get me. They make my stomach and heart flip five times a piece. So I looked away quickly, because I have a tendency to kind of stare at her if I don't catch myself. It's been like that forever."

Simon: "I never thought much would change with Lily being my girlfriend. I mean, she and Noah were the only people I hung out with much anyway, so now I'd be kissing her and fondling her and she'd be kissing me and fondling me. Not much of a difference, really."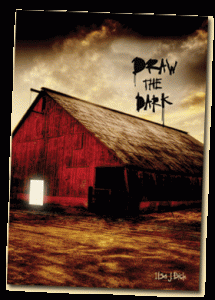 There are things the people of Winter, Wisconsin, would rather forget. The year the Nazis came to town, for one. That fire, for another. But what they'd really like to forget is Christian Cage.

Seventeen-year-old Christian's parents disappeared when he was a little boy. Ever since, he's drawn obsessively: his mother's face…her eyes…and what he calls "the sideways place," where he says his parents are trapped. Christian figures if he can just see through his mother's eyes, maybe he can get there somehow and save them.

But Christian also draws other things. Ugly things. Evil things. Dark things. Things like other people's fears and nightmares. Their pasts. Their destiny.

And some things the people of Winter would rather forget—like murder.

But Winter won't be able to forget the truth, no matter how hard it tries. Not as long as Christian draws the dark…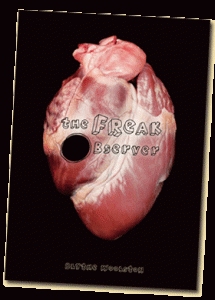 For eight years, Loa Lindgren's world ran like one of those mechanical models of the solar system, with her baby sister, Asta, as the sun. Asta suffered from a genetic disorder that left her a permanent infant, and caring for her was Loa's life. Everything spun neatly and regularly as the whole family orbited around Asta.

But now Asta's dead, and 16-year-old Loa's clockwork galaxy has collapsed. As Loa spins off on her own, her mind ambushes her with vivid nightmares and sadistic flashbacks—a textbook case of PTSD. But there are no textbook fixes for Loa's short-circuiting brain. She must find her own way to pry her world from the clutches of death.

The Freak Observer is a startling debut about death, life, astrophysics, and finding beauty in chaos.

Also (courtesy again of Kris), there's the new Cory Doctorow. I have a love/hate thing with Doctorow – I think he's a brilliant dude, I agree with his politics, and I learn a lot from his work. BUT his writing is very transparent – in Little Brother, his characters were all very…well, Cory Doctorow. That annoys me (characters should not just be talking heads for one's own viewpoints!), but as I tend to agree with those viewpoints, I'm much more forgiving. And, like I said, one can learn a lot of crazy technological magic from reading a Cory Doctorow piece. So…I'm in. (Plus, I love both macroeconomics AND video games):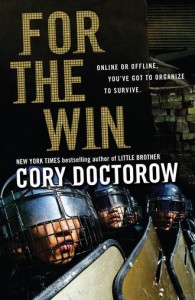 Millions of people around the globe are engrossed in multiplayer online games, questing to win virtual "gold". Meanwhile, others run electronic sweatshops in the world's poorest countries, where countless "gold farmers" harvest virtual treasure for their employers to sell to First World gamers. In India, Mala's leadership skills in virtual combat have earned her the title of "General Robotwalla." In China, Matthew is defying his former bosses to build his own gold-farming team. Leonard lives in Southern California, but spends his nights fighting virtual battles alongside his buddies in Asia. All of these young people will become entangled with the mysterious young woman called Big Sister Nor, who will use her experience and her connections with real-world organizers to build them into a movement that can challenge the status quo.

Thanks to Ana dearest for sending me these two books: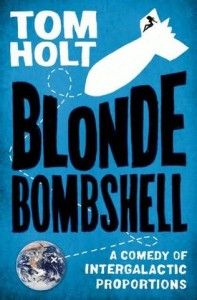 The year is 2017. Lucy Pavlov is the CEO of PavSoft Industries, home of a revolutionary operating system that every computer in the world runs on. Her personal wealth is immeasurable, her intelligence is unfathomable, and she's been voted 'Most Beautiful Woman' for three years running. To put it simply – she has it all.

One thing, however, is not quite right in Lucy's life. She doesn't realize it yet, but she is in fact a bomb.

And not just any old bomb. Lucy is a very big, and very smart bomb, and her mission is to blow up the planet known as Earth.

I *love* this cover. Up close, you can't tell there's anything on it but dots, but when you hold the book at a distance/angle, you can see it.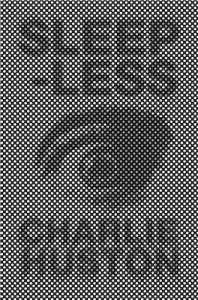 From bestselling author Charlie Huston comes a novel about the fears that find us all during dark times and the courage and sacrifice that can save us in the face of unimaginable odds. Gripping, unnerving, exhilarating, and haunting, Sleepless is well worth staying up for.

What former philosophy student Parker Hass wanted was a better world. A world both just and safe for his wife and infant daughter. So he joined the LAPD and tried to make it that way. But the world changed. Struck by waves of chaos carried in on a tide of insomnia. A plague of sleeplessness.

Park can sleep, but he is wide awake. And as much as he wishes he was dreaming, his eyes are open. He has no choice but to see it all. That's his job. Working undercover as a drug dealer in a Los Angeles ruled in equal parts by martial law and insurgency, he's tasked with cutting off illegal trade in Dreamer, the only drug that can give the infected what they most crave: sleep.

After a year of lost leads and false trails, Park stumbles into the perilous shadows cast by the pharmaceuticals giant behind Dreamer. Somewhere in those shadows, at the nexus of disease and drugs and money, a secret is hiding. Drawn into the inner circle of a tech guru with a warped agenda and a special use for the sleepless themselves, Park thinks he knows what that secret might be.

To know for certain, he will have to go deeper into the restless world. His wife has become sleepless, and their daughter may soon share the same fate. For them, he will risk what they need most from him: his belief that justice must be served. Unknown to him, his choice ties all of their futures to the singularly deadly nature of an aging mercenary who stalks Park.

The deeper Park stumbles through the dark, the more he is convinced that it is obscuring the real world. Bring enough light and the shadows will retreat. Bring enough light and everyone will see themselves again. Bring enough light and he will find his way to the safe corner, the harbor he's promised his family. Whatever the cost to himself.

It is July 2010.

The future is coming.

Open your eyes.

On Ana's Radar:
Oh, look at the cover for Indigo's book from Nalini Singh's Psy/Changeling series: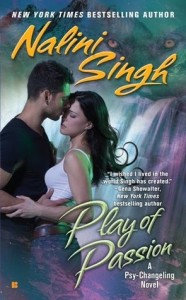 Molly Harper has a new contemporary coming out and since I LOVED her Jane Jameson's books I will be sure to pick this one up: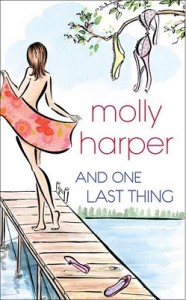 It's the story of Lacey, who finds out her husband is cheating, when a drunk florist delivers his mistress' flowers to her door. She responds by sending a mass e-mail to his friends, family, and business clients describing his affair in amazing Technicolor detail. A newly minted media punchline and the defendant in her husband's libel lawsuit, Lacey's exiled from her little Southern town to a lakeside cabin in the middle of nowhere. She meets her new neighbor, a grumpy crime writer with an unfortunate buttock-related nickname. Random nudity and romantic hijinks ensue.

I saw this on Amazon and was immediately taken by the cover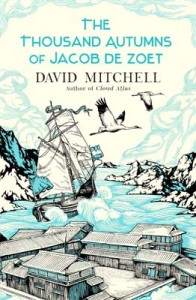 David Mitchell s novels have captivated critics and readers alike, as his Man Booker shortlistings and Richard & Judy Book of the Year award attest. Now he has written a masterpiece. The Thousand Autumns of Jacob de Zoet is the kind of book that comes along once in a decade enthralling in its storytelling, imagination and scope.

Set at a turning point in history on a tiny island attached to mainland Japan, David Mitchell s tale of power, passion and integrity transports us to a world that is at once exotic and familiar: an extraordinary place and an era when news from abroad took months to arrive, yet when people behaved as they always do – loving, lusting and yearning, cheating, fighting and killing.

Bringing to vivid life a tectonic shift between East and West, The Thousand Autumns of Jacob de Zoet is dramatic, funny, heartbreaking, enlightening and thought-provoking. Reading it is an unforgettable experience.

This one I need to thank Kaz for: a modern retelling of the Sleeping Beauty fairytale? SO there: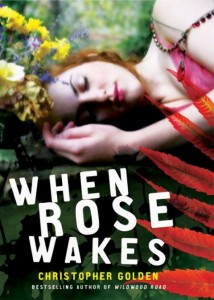 An enchanting tale by Christoper Golden about a teenager who wakes from a coma and slowly comes to realize that she is Sleeping Beauty of fairy tales.

Speaking of Kaz, she has another story coming up to be published in another anthology from the same people who did Eternal Kiss, which I adored: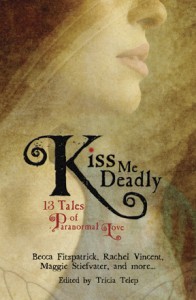 And that's it from us! What books do you have on your radar?