After many delays, we are delighted to say that our first ever post at Tor.com is up and running!
We were invited to become contributors to the site based on the strength of our joint reviews, so what better way to start our Tor journey than with one of the upcoming Orbit release, The Poison Throne by Celine Kiernan, the first book in the Moorehawke trilogy: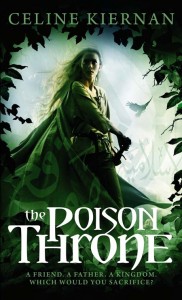 YOUNG WYNTER MOOREHAWKE RETURNS TO COURT WITH HER DYING FATHER. BUT HER OLD HOME IS CLOAKED IN FEAR. Once benevolent King Jonathon is now a violent despot, terrorising his people while his son Alberon plots a coup from exile. Then darkness spreads as the King appoints Alberon's half-brother Razi as heir. Wynter must watch her friend obey his father's untenable commands, as those they love are held to ransom. And at the heart of matters lies a war machine so lethal that none dare speak of it. The kingdom would belong to its master, yet the consequences of using it are too dire to consider. But temptation has ever been the enemy of reason.

And in true Smugglers' fashion….we sort of disagree:
Ana's view:
..the combination of the effective, captivating prose, the interesting choice of point of view, and the plethora of well-drawn characters was enough to make The Poison Throne fresh enough for me to enjoy from the get go.
Thea's view:
I'm a fan of the grittier school of fantasy, with political intrigue piled upon political intrigue, and characters a little more detailed and dimensioned. In comparison, The Poison Throne is sweet, but clearly on the Junior Varsity level.
Wanna read the rest? Go here!