"On The Smugglers' Radar" is a new feature for books that have caught our eye: books we heard of via other bloggers, directly from publishers, and/or from our regular incursions into the Amazon jungle. This is how the Smugglers' Radar was born, and because there are far too many books that we want than we can possibly buy or review (what else is new?) we thought we could make it into a weekly feature – so YOU can tell us which books you have on your radar as well!
On Ana's Radar:
I am in an "anthology" mood at the moment, saw various this past week that seem REALLY cool. The first one I saw over at SciFi Guy's: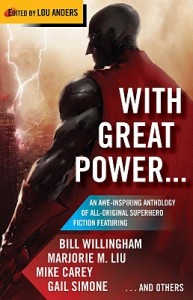 TABLE OF CONTENTS:
Introduction: The Golden Age by Lou Anders
"Cleansed and Set in Gold" by Matthew Sturges
"Where their Worm Dieth Not" by James Maxey
"Secret Identity" by Paul Cornell
"The Non-Event" by Mike Carey
"Avatar" by Mike Baron
"Message from the Bubblegum Factory" by Daryl Gregory
"Thug" by Gail Simone
"Vacuum Lad" by Stephen Baxter
"A Knight of Ghosts and Shadows" by Chris Roberson
"Head Cases" by Peter David & Kathleen David
"Downfall" by Joseph Mallozzi
"By My Works You Shall Know Me" by Mark Chadbourn
"Call Her Savage" by Marjorie M. Liu
"Tonight we fly" by Ian McDonald
"A to Z in the Ultimate Big Company Superhero Universe (Villains Too)" by Bill Willingham

Then there is this another one edited by George R.R. Martin & Gardner Dozois, which features a story by Neil Gaiman!!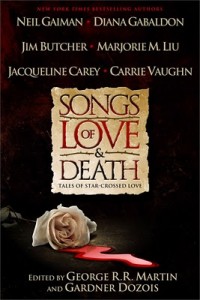 -Jim Butcher, "Love Hurts" (a Harry Dresden story)
-Jo Beverly, "The Marrying Maid"
-Carrie Vaughn, "Rooftops"
-M.L.N. Hanover, "Hurt Me"
-Cecelia Holland, "Demon Lover"
-Melinda M. Snodgrass, "The Wayfarer's Advice" (an Imperials story)
-Robin Hobb, "Blue Boots"
-Neil Gaiman, "The Thing About Cassandra"
-Marjorie M. Liu, "After the Blood"
-Jacqueline Carey, "You and You Alone" (a Kushiel story)
-Lisa Tuttle, "His Wolf"
-Linnea Sinclair, "Courting Trouble"
-Mary Jo Putney, "The Demon Dancer"
-Tanith Lee, "Under/Above the Water"
-Peter S. Beagle, "Kashkia"
-Yasmine Galenorn, "Man in the Mirror"
-Diana Gabaldon, "A Leaf on the Wind of All Hallows" (an OUTLANDER spinoff)

Speaking of Neil Gaiman, there is an anthology coming up, edited by him with an AWESOME cover: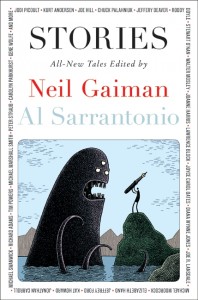 This astonishing collection of all-new tales by some of the most acclaimed writers at work today is called, simply, Stories. Edited by Neil Gaiman (Sandman, The Graveyard Book, Anansi Boys, Coraline) and Al Sarrantonio (award-winning author of forty books and editor of numerous collections), Stories presents never before published short works from a veritable Who's Who of contemporary literature—breathtaking inventions from the likes of Lawrence Block, Roddy Doyle, Joanne Harris, Joe Hill, Walter Mosley, Joyce Carol Oates, Stewart O'Nan, Chuck Palahniuk, Carolyn Parkhurst, Jodi Picoult, Peter Straub…and, of course, the inimitable Neil Gaiman himself.

Another one that I simply CAN'T, WON'T miss is a collection of stories about yes, the devil himself.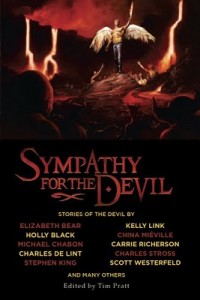 The Devil is known by many names: Serpent, Tempter, Beast, Adversary, Wanderer, Dragon, Rebel. His traps and machinations are the stuff of legends. His faces are legion. No matter what face the devil wears, Sympathy for the Devil has them all. Edited by Tim Pratt, Sympathy for the Devil collects the best Satanic short stories by Neil Gaiman, Holly Black, Stephen King, Kage Baker, Charles Stross, Elizabeth Bear, Jay Lake, Kelly Link, China Mieville, Michael Chabon, and many others, revealing His Grand Infernal Majesty, in all his forms. Thirty-five stories, from classics to the cutting edge, exploring the many sides of Satan, Lucifer, the Lord of the Flies, the Father of Lies, the Prince of the Powers of the Air and Darkness, the First of the Fallen… and a Man of Wealth and Taste. Sit down and spend a little time with the Devil.

And one about dragons!
Dragons: Fearsome fire-breathing foes, scaled adversaries, legendary lizards, ancient hoarders of priceless treasures, serpentine sages with the ages' wisdom, and winged weapons of war… Wings of Fire brings you all these dragons, and more, seen clearly through the eyes of many of today's most popular authors, including Peter Beagle, Holly Black, Orson Scott Card, Charles De Lint, Diana Wynne Jones, Mercedes Lackey, Ursula K Le Guin, Dean R Koontz, George R. R. Martin, Anne McCaffrey, Elizabeth Moon, Garth Nix, and many others.

And the only single title this week. I am very very curious about this book: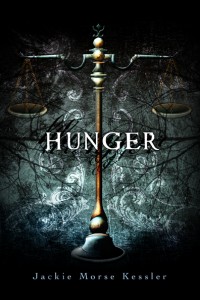 On Thea's Radar:
There's no cover for this yet, but thanks to the lovely Moonsanity for emailing us with the info that a new Steampunk Trilogy authored by Steven Harper has been acquired by Ace! From Steven Harper's blog:
Ace Books has acquired a new steampunk trilogy from Steven Harper (me). Series title: THE BRAIN PLAGUE.

In Book One, THE DOOMSDAY VAULT, Alice Webb and Gavin Michael join an underground police force in Victorian London, where they fight zombies, mad scientists, and air pirates in an attempt to save the British Empire from a terrible plague, only to discover that the cure may be worse than the disease.

Books two and three are tentatively titled THE IMPOSSIBLE CUBE and THE DRAGON MEN.

THE DOOMSDAY VAULT is due on December 1, 2010. THE IMPOSSIBLE CUBE is due on July 1, 2011, and THE DRAGON MEN is due on February 1, 2012. (In other words, I have about seven months to write each book. Whoo! My fingers will be a-flyin'!)

Anne Sowards at Ace will be editing.
It sounds fantastic; I cannot wait to get my greedy paws on these books!

And here's the sequel to The Demon King from Cinda Williams Chima – which we will be reviewing in the future. I really enjoyed the first book, and cannot wait for the second installment…although I'm not too crazy about the covers (The Demon King looked like the Orin from The Neverending Story, and this one is soooooo The One Ring To Rule Them All, isn't it?)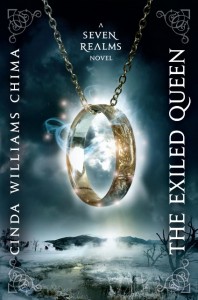 Haunted by the loss of his mother and sister, hunted by the powerful Bayar family, Han Alister makes a devil's bargain with the clans. If they sponsor his schooling at Mystwerk Academy at Oden's Ford, he will become their magical sell-sword against the power-hungry Wizard Council.

Han and his clan friend Fire Dancer undertake the dangerous journey south through war-torn Arden. Once in Oden's Ford, it doesn't take long for the smoldering feud between Han and Micah Bayar to kindle into flame. After several attempts on his life, Han knows he has to find a way to defend himself.

In the magical dream world of Aediion, Han meets the mysterious Crow, a wizard with a long-standing grudge against the Bayars. Crow offers to tutor Han in wizardry in exchange for his help. Han agrees, once again forced into a bargain he hopes he won't regret.

Meanwhile, Han's friends Fire Dancer and Cat Tyburn struggle with their own demons. Dancer is determined to become a clan flashcrafter, despite his charmcaster status. Cat carries a load of guilt, as the only survivor of the slaughter of the gangs in Ragmarket and Southbridge.

Resuming her disguise as gently-born Rebecca Morley, Princess Raisa ana'Marianna travels with her friend Amon Byrne and his triple of cadets to Wien House, the military academy at Oden's Ford. There she hopes she will find both temporary sanctuary from a forced marriage and the education she needs to succeed as the next Gray Wolf queen.

Much of Raisa's education takes place outside of the classroom. As she mingles with students of all classes from throughout the Seven Realms, she forges the kind of friendships that don't happen amid the cut-throat politics of the Gray Wolf Court. She also struggles to deal with her attraction to Amon—an attraction he seems determined to discourage.

When Han Alister asks the girl he knows as Rebecca to tutor him, she agrees. The streetlord turned wizard with the complicated past fascinates her, and he makes it clear the interest is mutual. But Han blames Queen Marianna and the Bayars for the loss of his family. As their relationship deepens, Raisa suspects that if Han knew her true identity, he wouldn't want anything to do with her.

Thanks to Ana for alerting me to this – my childhood love, Christopher Pike, has a new book. *melts*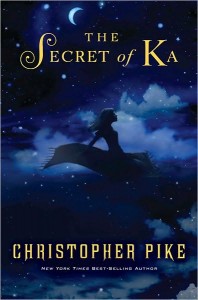 One minute Sara's bored on vacation in Istanbul. The next, she's unearthed a flying carpet that cleverly drags her to the mysterious Island of the Djinn–or genies. By her side is Amesh, a hot boy she's starting to love but doesn't yet trust. When Amesh learns the secret of invoking djinn, he loses control. He swears he'll call upon only one djinn and make one wish. The plan sounds safe enough. But neither Sara nor Amesh are any match for the formidable monster that that swells before them. It hypnotizes Amesh, compelling him to steal Sara's flying carpet–the ancient Carpet of Ka–and leave her stranded.

Discovering the Carpet of Ka has sparked a new path for Sara, one that will lead her to battle creatures even deadlier than djinn. In this fight, Sara can save mankind, herself, or the boy she loves. Who will she be forced to sacrifice?

There's also this new title from Jonathan Maberry. It looks great. Sounds great. Lots of authors I like are endorsing it. But…every book I've tried by Maberry is a dud. I'm on the fence, but think I might give this title a try.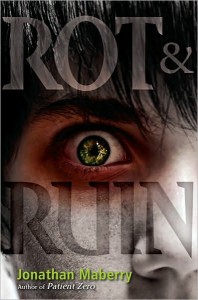 A teenager grows up in a post-apocalypic, zombie-infested America in Jonathan Maberry's Rot & Ruin.

Speaking of zombies, the sequel to David Moody's Hater, Dog Blood is out soon. I quite enjoyed Hater (even if it was a bit slow and repetitive and the title's something of a weird misnomer/cultural disconnect to my American-slang mind), so I'll be checking it out.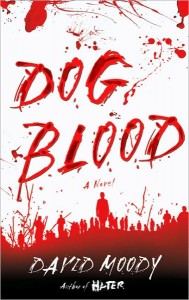 On the heels of Patient Zero and Pride and Prejudice with Zombies— the electrifying sequel to Hater where humanity fights itself to the death against a backdrop of ultimate apocalyptic destruction

The Earth has been torn into two parts by an irreversible division. Whether due to nature, or the unknown depths of the mind itself, everyone is now either Human or Hater. Victim or killer. Governments have fallen, command structures have collapsed, and relationships have crumbled. Major cities have become refugee camps where human survivors cower together in fear. Amidst this indiscriminate carnage, Danny McCoyne is on a mission to find his daughter Ellis, convinced that her shared Hater condition means her allegiance is to people like him. Free of inhibitions, unrestricted by memories of peace, and driven by instinct, children are pure Haters, and may well define the future of the Hater race. But, as McCoyne makes his way into the heart of human territory, an incident on the battlefield sets in place an unexpected chain of events, forcing him to question everything he believes he knows about the new order that has arisen, and the dynamic of the Hate itself.

And that's it from us! What about you – are there any books on your radar you'd like to share?