"On The Smugglers' Radar" is a new feature for books that have caught our eye: books we heard of via other bloggers, directly from publishers, and/or from our regular incursions into the Amazon jungle. This is how the Smugglers' Radar was born, and because there are far too many books that we want than we can possibly buy or review (what else is new?) we thought we could make it into a weekly feature – so YOU can tell us which books you have on your radar as well!
On Ana's Radar:
Let me start with a Squee! and a yay! Demon Blood, the next instalment in the Guardian series by Meljean Brook has a cover! And it is awesome because it fits well with the overall feel of the series and because it features the HEROINE which is one of Brook's strengths (her awesome female characters). In other words: another win for this series!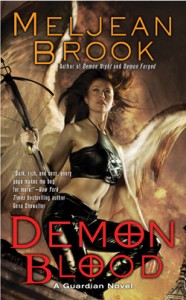 Long before she was transformed into a Guardian and trained to fight demons, Rosalia knew darkness all too well. Raised by a demon, Rosalia learned to guard her heart—and her soul—until she found a man worthy of her love. Once, she thought that man would be the powerful vampire, Deacon…until he betrayed the Guardians.

After losing everything to the lies of a demon, Deacon lives only for revenge—and is taken aback when Rosalia offers to help. A vampire who has nothing—who is nothing—isn't worthy of her attention. But Rosalia wants to do more than just look, and the explosive need between them can't be held in check. And when Deacon's vengeful quest creates a dangerous alliance of their enemies, she will be his only hope…
I am also looking forward to reading Meljean Brook's story in this anthology: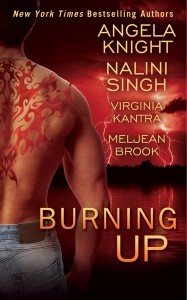 It is the first story in her upcoming Steampunk series, The Iron Seas. The story is called Here There Be Monsters:
Two years ago, blacksmith Ivy, desperate to flee London, purchased her overseas passage by agreeing to spend the voyage in the bed of the pirate captain, Mad Machen. Saved at the last minute by his rival, Ivy scraped out a new life in Fool's Cove…until Mad Machen finds her, forces her to accept a job that will create a monster, and reminds her that she still owes him the price of a journey…
I saw the trailer for this YA book over at CJ's Thrillionth Page and I am keen on reading it (The UK has a different cover):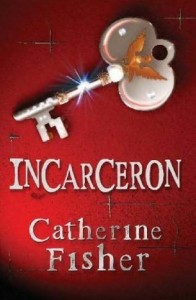 Incarceron — a futuristic prison, sealed from view, where the descendants of the original prisoners live in a dark world torn by rivalry and savagery. It is a terrifying mix of high technology — a living building which pervades the novel as an ever-watchful, ever-vengeful character, and a typical medieval torture chamber — chains, great halls, dungeons. A young prisoner, Finn, has haunting visions of an earlier life, and cannot believe he was born here and has always been here. In the outer world, Claudia, daughter of the Warden of Incarceron, is trapped in her own form of prison — a futuristic world constructed beautifully to look like a past era, an imminent marriage she dreads. She knows nothing of Incarceron, except that it exists. But there comes a moment when Finn, inside Incarceron, and Claudia, outside, simultaneously find a device — a crystal key, through which they can talk to each other. And so the plan for Finn's escape is born !
Everwild, the second book in the Skinjacker Trilogy series By Neil Shusterman is out and given how much I loved Everlost, I am getting it ASAP.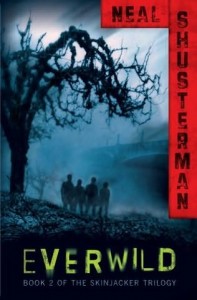 Nick, 'the Chocolate Ogre' and Mary Hightower battle for the fate of Everlost in the thrilling second book in Neal Shusterman's Skinjacker Trilogy.
And finally, I was recommended this book by Kaz Mahoney and I think it looks great: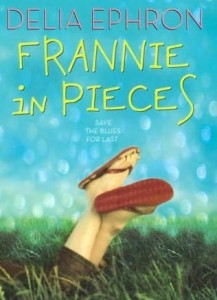 What does you in—brain or heart? Frannie asks herself this question when, a week before she turns fifteen, her dad dies, leaving her suddenly deprived of the only human being on planet Earth she feels understands her. Frannie struggles to make sense of a world that no longer seems safe. She discovers an elegant wooden box with an inscription: Frances Anne 1000. Inside, Frannie finds one thousand hand-carved and -painted puzzle pieces. She wonders if her father had a premonition of his death and finished her birthday present early. Feeling broken into pieces herself, Frannie slowly puts the puzzle together. But as she works, something remarkable begins to happen: She is catapulted into a foreign landscape suspended in time where she can discover her father as he was B.F.—before Frannie.
On Thea's Radar:
I feel so vindicated, having basically twisted Ana's arm to read Everlost, and lo and behold, she loves it. Heh. Anyways! This was a pretty big book release week, with Stephen King's newest, Under the Dome out in stores finally!!! I cannot WAIT to get my hands on a copy, as expensive as the damn tome is. And, I saw this air on SyFy the other day:
There aren't enough hours in the day, dammit! Another release this week, that looks fabulous: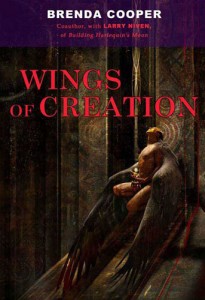 Joseph has succeeded in rescuing his sister, Chelo, from a pitched battle on the colony planet Fremont. Now he and Chelo and the love of his life, Alicia, and all of their extended family, are finally returning home. Halfway there, a probe intercepts them, sending them new coordinates and a message from Joseph's enigmatic supporter and teacher, Marcus.

War is brewing.

Joseph is wanted for escaping to save Chelo. To stay safe, Joseph must bring his family and friends to the renowned planet of Lopali, where men and women can fly, and peace and freedom abound. Or do they? Alicia has always wanted to fly, but the modifications that give humans wings kill as often as they work.

Joseph must learn to actually change humans, to free the fliers of a tyranny that has enslaved them, since their species was born. If he can do this, the fliers have agreed to help him stop the war. But it's not as easy as it seems.
Also this week, I experienced a major ARC FAIL. See, I received an ARC for In Great Waters by Kit Whitefield, and i was excited to get crackin' on it. So, I open the ARC and what do I find? The Devil's Alphabet by Daryl Gregory. No joke. The ARC was a massive misprint – but I'm not complaining! I've been drooling over The Devil's Alphabet for a while. And I'll get In Great Waters somehow…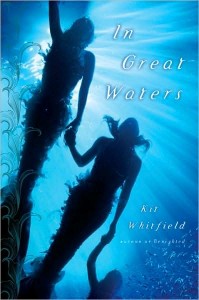 During a time of great upheaval, the citizens of Venice make a pact that will change the world. The landsmen of the city broker a treaty with a water-dwelling tribe of deepsmen, cementing the alliance through marriage. The mingling of the two races produces a fresh, peerless strain of royal blood. To protect their shores, other nations make their own partnerships with this new breed–and then, jealous of their power, ban any further unions between the two peoples. Dalliance with a deepswoman becomes punishable by death. Any "bastard" child must be destroyed.

This is an Earth where the legends of the deep are true–where the people of the ocean are as real and as dangerous as the people of the land. This is the world of intrigue and betrayal that Kit Whitfield brings to life in an unforgettable alternate history: the tale of Anne, the youngest princess of a faltering England, struggling to survive in a troubled court, and Henry, a bastard abandoned on the shore to face his bewildering destiny, finding himself a pawn in a game he does not understand.

Yet even a pawn may checkmate a king.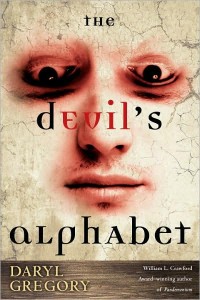 Switchcreek was a normal town in eastern Tennessee until a mysterious disease killed a third of its residents and mutated most of the rest into monstrous oddities. Then, as quickly and inexplicably as it had struck, the disease–dubbed Transcription Divergence Syndrome (TDS)–vanished, leaving behind a population divided into three new branches of humanity: giant gray-skinned argos, hairless seal-like betas, and grotesquely obese charlies.

Paxton Abel Martin was fourteen when TDS struck, killing his mother, transforming his preacher father into a charlie, and changing one of his best friends, Jo Lynn, into a beta. But Pax was one of the few who didn't change. He remained as normal as ever. At least on the outside.

Having fled shortly after the pandemic, Pax now returns to Switchcreek fifteen years later, following the suicide of Jo Lynn. What he finds is a town seething with secrets, among which murder may well be numbered. But there are even darker–and far weirder–mysteries hiding below the surface that will threaten not only Pax's future but the future of the whole human race.
And finally, this upcoming book from Guy Gavriel Kay looks awesome (thanks to Aidan of A Dribble of Ink for the heads up).
In the novel, Shen Tai is the son of a general who led the forces of imperial Kitai in the empire's last great war against its western enemies, twenty years before. Forty thousand men, on both sides, were slain by a remote mountain lake. General Shen Gao himself has died recently, having spoken to his son in later years about his sadness in the matter of this terrible battle.

To honour his father's memory, Tai spends two years in official mourning alone at the battle site by the blue waters of Kuala Nor. Each day he digs graves in hard ground to bury the bones of the dead. At night he can hear the ghosts moan and stir, terrifying voices of anger and lament. Sometimes he realizes that a given voice has ceased its crying, and he knows that is one he has laid to rest.
The dead by the lake are equally Kitan and their Taguran foes; there is no way to tell the bones apart, and he buries them all with honour.

It is during a routine supply visit led by a Taguran officer who has reluctantly come to befriend him that Tai learns that others, much more powerful, have taken note of his vigil. The White Jade Princess Cheng-wan, 17th daughter of the Emperor of Kitai, presents him with two hundred and fifty Sardian horses. They are being given in royal recognition of his courage and piety, and the honour he has done the dead.

You gave a man one of the famed Sardian horses to reward him greatly. You gave him four or five to exalt him above his fellows, propel him towards rank, and earn him jealousy, possibly mortal jealousy. Two hundred and fifty is an unthinkable gift, a gift to overwhelm an emperor.
Tai is in deep waters. He needs to get himself back to court and his own emperor, alive. Riding the first of the Sardian horses, and bringing news of the rest, he starts east towards the glittering, dangerous capital of Kitai, and the Ta-Ming Palace – and gathers his wits for a return from solitude by a mountain lake to his own forever-altered life.
And that's it from us! What books are you looking forward to?