Today we have another author spotlight on The Book Smugglers (two in one week! Go figure!). Today's guest is the fantastic Urban Fantasy author Laura Bickle.
Laura is the author of the brand spankin' new Anya Kalinczyk series, whose series title character is, of all things, an arson investigator. A psychic arson investigator, of the paranormal. The first book in the series, titled Embers hit shelves this month – with impressive praise from the likes of Elizabeth Bear. (And, just so you know, we Smugglers will have a review of Embers up in the near future…) Here's a bit more about the books of Laura Bickle: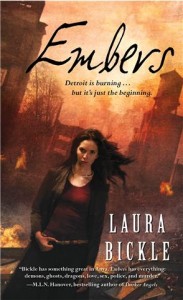 Unemployment, despair, anger–visible and invisible unrest feed the undercurrent of Detroit's unease. A city increasingly invaded by phantoms now faces a malevolent force that further stokes fear and chaos throughout the city.

Anya Kalinczyk spends her days as an arson investigator with the Detroit Fire Department, and her nights pursuing malicious spirits with a team of eccentric ghost hunters. Anya–who is the rarest type of psychic medium, a Lantern–suspects a supernatural arsonist is setting blazes to summon a fiery ancient entity that will leave the city in cinders. By Devil's Night, the spell will be complete, unless Anya–with the help of her salamander familiar and the paranormal investigating team –can stop it.

Anya's accustomed to danger and believes herself inured to loneliness and loss. But this time she's risking everything: her city, her soul, and a man who sees and accepts her for everything she is. Keeping all three safe will be the biggest challenge she's ever faced.

The second book in the series, Sparks will be released in September. Check out the purdy cover: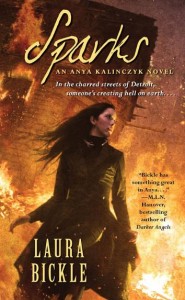 To celebrate the release of Embers, we are having the lovely Ms. Bickle over for an interactive Q&A and a chance to win her books! We have TEN AUTOGRAPHED COPIES of Embers up for grabs. Entry is easy and simple, as usual – just leave a comment here asking Laura a question (about her series, her alter-ego, her writing process, her flirtation with pyromania, etc!). The contest is open to residents of the US and Canada ONLY, and will run until Saturday, April 25th at 11:59PM (PST). ONLY ONE ENTRY PER PERSON, please! Multiple comments will be disqualified. Good luck, and let the questions begin.
Please and give it up for Laura Bickle!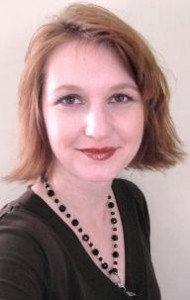 Hi, folks! Thanks so much for having me. I'm excited to answer your questions about EMBERS and the sequel (SPARKS, out September 2010), or what my alter ego Alayna Williams is scribbling away on. We can chat about myths in storytelling, why fire salamanders love chewing on electrical cords, my favorite deck of Tarot cards, bad writing habits, things that go bump in the night, comic books, secret identities, why I'm held prisoner in my house by a posse of barely-reformed feral cats…it's all fair game.
Looking forward to chatting with you!
Laura Bickle has worked in the unholy trinity of politics, criminology, and technology for several years. She and her chief muse live in the Midwest, owned by four mostly-reformed feral cats.
Her work has been published in Midnight Times, Down in the Cellar, MicroHorror, Theaker's Quarterly Fiction, Ballista, Byzarium, New Myths, a Blog-O-Novella office soap opera for True Office Confessions, and Aoife's Kiss. Her most recent project is the Embers series of urban fantasy novels for Juno-Pocket Books.
She also writes urban fantasy as Alayna Williams. Check out her other novels at www.alaynawilliams.com.
She can be e-mailed at: laura@salamanderstales.com. She's blogging on writing at: www.salamanderstales.blogspot.com.