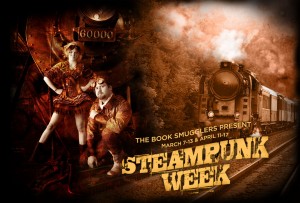 It's here! It is finally here! We have talked about holding a Steampunk week ever since we started the blog, more than two years ago. For one reason or another, we always ended up postponing it until we set our feet down and said NO MORE: let's do it! The time is now.
But as with all things Book Smugglers, it just so happens that when we came to organise the schedule, we realised we had too many things we wanted to do, too many books we wanted to read – and so, we decided we needed two weeks instead of one to fully appreciate the dirigible-laden subgenre that is Steampunk. Hence, the two separate dates for our event (and the two posters above) – we'll have one week in March and then one week in April. This calendar is for the first week only, and here is what we have in store for you:
On Monday, we kick off the week with an intro post in which we examine the sub-genre, listing some required, essential reading, and provide links to some pretty cool Steampunk-ish sites and events (such as the coinciding The Nova Albion Steampunk Convention):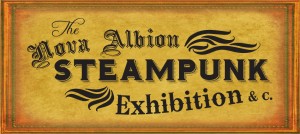 And we follow that with Ana's review of what many consider to be a precursor of the genre: The Warlord of the Air by Michael Moorcok.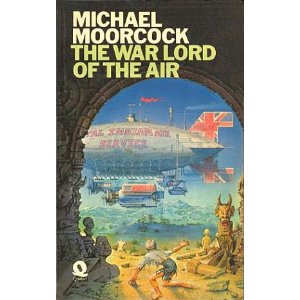 On Tuesday, we have invited a few bloggers to answer one pressing question: What Do You Think Steampunk Is? We can tell you right now that the answers have been pretty great…and diverse. (We'll of course include our own definitions in the mix) Then, we follow the post with Thea's review of acclaimed novel The Windup Girl by Paolo Bacigalupi.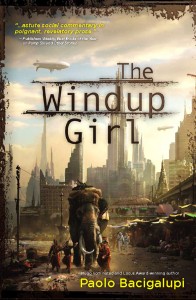 On Wednesday Ana does her own "From Page to the Screen" feature for The League of Extraordinary Gentlemen tackling both the Alan Moore classic Graphic Novel…and the (totally lamentable) Movie. Thea takes a look at Airborn by Kenneth Oppel.
On Thursday, Thea tackles an indie published, illustrated novel Arcadia Snips and the Steamwork Consortium by Robert Rodgers and illustrated by Tod Wills. Meanwhile, Ana reviews another classic with The Difference Engine by William Gibson and Bruce Sterling.
On Friday we do a joint review of Boneshaker by Cherie Priest.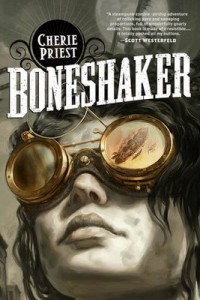 Finally, on Saturday, Kenda from Lurv a la Mode, the designer behind our awesome poster guests blogs on Steampunk Art and Design.
And we declare the week officially open! We hope you enjoy it!
~ Your friendly neighborhood book smugglers