Today we bring you another very special author spotlight on The Book Smugglers – this time with the delightful paranormal/sexy/urban fantasy author Stacia Kane!
Stacia is the author of the Megan Chase books, which follows radio call show host and psychologist Megan Crew as she promises to slay callers' personal demons. This series encompasses three titles, Personal Demons, Demon Inside, and the newest novel, Demon Possessed. Check out her books: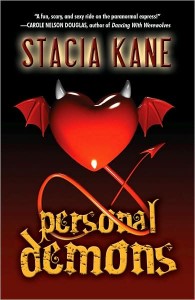 Megan promises listeners to her new radio call-in show that she'll "slay their personal demons," and they believe her. So do the personal demons… although she doesn't know it, Megan is the only human without a demon on her shoulder! Megan and her allies – a demon lover who both protects and seduces her with devilish intensity, a witch with poor social skills, and three cockney guard demons – have to deal not only with the personal demons, but a soul-sucker, ghosts of Megan's past, and a reporter who threatens to destroy Megan's career!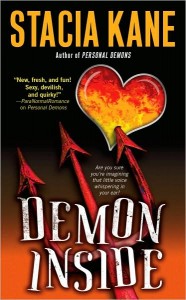 Hanging out with demons can be hell….

It's been three months since psychologist Megan Chase made the stunning discovery that the world is filled with demons, and once more the situation is too hot to handle. Ironically, Megan — the only person in the world without a little personal demon sitting on her shoulder — has become the leader of a demon "family," but now some unknown arcane power is offing her demons in a particularly unpleasant fashion. And while her demon lover Greyson Dante is still driving her wild with desire, he's also acting strangely evasive. Then there's the truth about Megan's past — the truth she's never known. Caught between personal problems and personal demons, Megan is having one hell of a hard time. Will the help of her Cockney guard demons and her witch friend Tera be enough so that Megan can finally resolve the past, survive the present, and face the future?
Excerpt online HERE.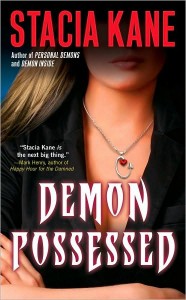 Psychologist and psychic Megan Chase has grown remarkably comfortable hanging out with demons. The demon "family" she leads is happy, her solo practice is stabilizing, and she and her steamy demon lover, Greyson Dante, are closer than ever. But when the couple books a week at a luxury hotel to attend a meeting of demon leaders, some unanticipated problems appear. An FBI agent with an unhealthy interest in less-than-legitimate demon business practices shows up; the demon community is urging Megan to undergo the rite that will make her a real demon; and a slightly shady minister is holding one of his wildly popular "weekend exorcisms" just down the road. And oh, yes, someone with scary magical abilities is attempting to kill her. Then, just when it seems as if things couldn't possibly get any worse, a secret comes to light that could jeopardize Megan and Greyson's future — if Megan manages to live that long. With things heating up, it's becoming difficult for her to keep a cool head…
Excerpt online HERE.

To celebrate the release of Demon Possessed, we are having the lovely Stacia Kane over for an interactive Q&A and a chance to win her books! We have TWO sets of Megan Chase books (Personal Demons, Demon Inside, and Demon Possessed) up for grabs. Entry is easy and simple, per usual – just leave a comment here asking Stacia a question (about her series, her writing process, her favorite demons, etc). The contest is open to all, and will run until Saturday, March 6th at 11:59PM (PST). Good luck, and let the questions begin.
Please and give it up for Stacia Kane!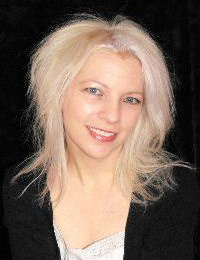 Thanks so much for having me as a guest here at The Book Smugglers! Hanging out with readers is one of the best things about writing. I write the Megan Chase "Demons" series for Juno/Pocket books, and the upcoming Downside series as well. I'm happy to talk about both of them, or about anything else you can possibly imagine, so please ask as many questions as you like! (Just give me a little extra time if you want to talk about math, because that's not my best subject.) Fire away!
Stacia Kane has been a phone psychic, a customer service representative, a bartender, and a movie theatre usher. Writing is more fun than all of them combined. She wears a lot of black, still makes great cocktails, likes to play music loud in the car, and thinks Die Hard is one of the greatest movies ever made. She believes in dragons and the divine right of kings, and is a fervent Ricardian. She lives outside Atlanta with her husband and their two little girls.
You can read more about Stacia online at her website HERE, her blog HERE, and on occasion over at The League of Reluctant Adults.