"Inspirations and Influences" is a new series of articles in which we invite authors to write guest posts talking about their…well, Inspirations and Influences. The cool thing is that the writers are given free reign so they can go wild and write about anything they want. It can be about their new book, series or about their career as a whole.
We are delighted to welcome Sean Cummings, Canadian UF writer as our guest for the day. His debut novel Shade Fright is coming out next week and it features a female protagonist who can see the preternatural world and whose job is to locate other people who can too, for the Government. She will do that with the help of her best (zombie) friend and the ghost of former Canadian Prime Minister William Lyon Mackenzie King. Sean is here today to talk about his inspirations for writing the novel.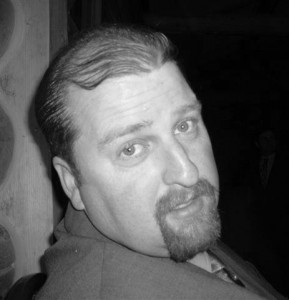 Ladies and Gents, Sean:
*********
First off, I'm really very grateful to The Book Smugglers for joining my blog tour and doing a giveaway, good luck to everyone who enters.
What inspired me to write Shade Fright ?
1. Comic books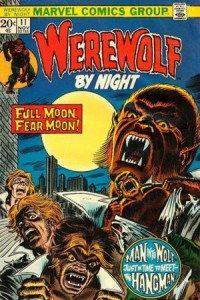 From an early age, I developed a passionate love affair with comic books and in particular, a series of comics Marvel put out in the 70's called "Werewolf by Night". It was, and still is the starting point for urban fantasy in my eyes. Think about it for minute – it's 1977, you're ten years old and there's a second hand comic book store on the way home from school. I collected pop bottles and delivered flyers to make enough to replenish my supply of comics and while I loved Batman and Spidey, I was completely blown away by a character named Jack Russell who could turn into a werewolf any freaking time he wanted – forget about the full moon. He lived in an urban setting and he battled all kinds of supernatural baddies, so you can imagine, I was hooked! Voila! Urban Fantasy!!
2. Canada, eh? Why the heck not?
A second inspiration for Shade Fright and one that is featured throughout the novel is that it takes place in Calgary Alberta Canada as opposed to Chicago or New York or Paris or some other world class city. (Not that Calgary isn't world class – I mean we did have a winter Olympics there twenty-two years ago. Holy crap! Has it really been that long?)
I wanted to write an urban fantasy that was uniquely Canadian because I think hey, why the heck shouldn't there be a Canadian ass-kicking female protagonist who throws magic at supernatural bad guys? Shade Fright is inspired by Jim Butcher's bestselling series, The Dresden Files. There's a splash of Simon R. Green, a sprinkle of Tanya Huff and a smattering of Kelley Armstrong. It's a uniquely Canadian take on urban fantasy and it's chock-full of little known facts about Canada and how we look at the world.
3. My final inspiration: Writing a book in three days! What are you nuts?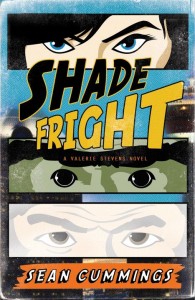 I wrote the first draft for Shade Fright on Labour Day weekend 2007. I'd entered the 3-Day Novel Contest to see if I could actually pull it off and after 72 hours of coffee, typing, retyping, swearing and banging my head against the desk, Valerie Stevens emerged as my main character and the ghost of Canadian Prime Minister William Lyon Mackenzie King (who in life was a big time occultist) showed up to help Valerie solve a mystery that threatened to kill everyone in the city. After revising the crap out of the story, and doing a full rewrite, I started submitting it to publishers and agents in the fall of 2008. In May 2009 I received an offer from award winning independent publisher Snowbooks so I decided to jump at the opportunity.
Since then I've completed the second volume in the series, Funeral Pallor, and I've introduced some new characters not to mention a few surprises that speak to the entire story arc. (I have six books outlined.)
I'm kind of pinching myself because I've been writing for more than twenty years with the goal of one day getting a book in print. Some of the stuff I put out two decades ago should have been burned and buried instead of submitted to publishers in a self addressed stamped envelope – oh those poor editors! My writing was so bad it probably made their eyes bleed! But you know what? I kept at it because I believed in myself – that's really my advice to any fledgling author. Keep at it, learn the craft, make mistakes, take your lumps, take NOTHING personally because writing is entirely subjective.
I do hope readers get a kick out of my debut novel. Oh – and if you're wondering whether it was difficult for me to write a female protagonist in first person POV given that I'm a guy, all I can say is that Valerie is an amalgam of all the women I served with in the military. She's not overly feminine, she's definitely not butch. She's got a soft spot for Greek food and she has a hate-on for evildoers.
Enjoy!
About the author: Sean Cummings is a comic book geek of the highest order and self-described nerd. He's been writing since 1978 (as a means of liberating his "inner nerd") He's a huge fan of the television series Being Human and asserts that if urban fantasy happened in the real world, Being Human is as close to real as you can get. His interests include speculative and science fiction, the borg, cats with extra toes, east Indian cuisine and quality sci-fi movies/television. He lives in Saskatoon, Canada. You can read a great review of Shade Fright here.
*********
Thank you, Sean!!!
GIVEAWAY DETAILS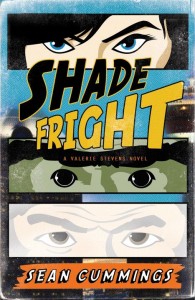 "I fell into this job quite by accident, when I discovered that I possessed the ability to see the preternatural world. There are a handful of people with similar abilities, and part of my job is to locate them, since Government Services and Infrastructure Canada likes to keep track of these things. Don't ask me why."

There's a malevolent force in town, and it's quite literally Valerie Stevens' job to determine who's behind it and why they want to destroy the world, starting with Calgary.

She'll have help, in the form of her best friend (now more or less a zombie, unfortunately), a powerful dwarf troll, and the ghost of former Canadian Prime Minister William Lyon Mackenzie King (but he goes by 'Bill' these days). But that's not all – Valerie has some tricks up her sleeve and, she hopes, luck on her side. Oh, and her boyfriend, Dave. He drives a dump truck.
We have one copy of Shade Fright courtesy of the author to giveaway. In order to enter, leave a comment on this post telling us which is your favorite movie or book set in Canada. Contest is open for residents of UK, US and Canada ONLY and will run till Saturday February 27th 11:59pm (PST). We will announce the winner next Sunday in our weekly stash! Good luck!