Angry Robot is the new UK-based imprint of HarperCollins, devoted to SF, F, and WTF?! Publishing worldwide, as books, eBooks and downloadable audio, its mission is to bring a contemporary edge to traditional genre fiction.
Angry Robot launches in the UK in July 2009, and in the US and the rest of the world from September. Ebook editions will be available worldwide from July.
AND we are proud to announce that Angry Robot is holding a competition! See this angry dude?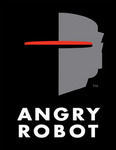 Well, Angry Robot is inviting readers to give him a name! All you need to do is jump on over to the contest entry page:
http://angryrobotbooks.com/name-that-droid/
Here's the official breakdown:
The closing date for entries is 6th May, 2009.

A winner will be chosen by the Angry Robot editorial staff, and announced on this site on 16th June, 2009. The judges' decision is final, and no correspondence will be entered into.

The winner will be notified by email on this date, and the prize will be shipped within 1 week of the books becoming available from our printer. Note: this means that the prize delivery will be staggered – 2 books (and a surprise gift) in July, 2 books in August, and 3 books in September.
The winner will receive a copy of all 7 launch titles for the imprint! And, if you name us as your referrer, we could win something cool too. Make sure to check out the website, take a look at some of the very cool forthcoming titles, and give that robot a name!