Today we bring you Jen Nadol – debut author of young adult speculative fiction title, The Mark. We were very impressed with her first book, so we were thrilled when Jen agreed to have a chat with us.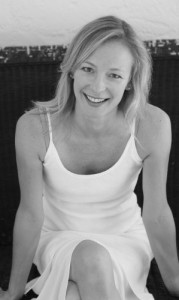 Ladies and gents, please give it up for the talented Jen Nadol!

The Book Smugglers: First and foremost, thanks for taking the time to "chat" with us! The Mark is your debut novel, about a sixteen-year-old girl that can see a person's imminent death. Can you tell us a bit about your book, and what the impetus was for you to write about a girl being able to "see" the time of a person's death?
Jen: The idea of knowing it was someone's last day just kind of came to me when I was trying to think of a story idea. There's so much conflict and possibility inherent in a "gift" like that and so many directions it can take you …it really got my brain churning. Enough that I knew I could write a book – or more! – about it.
The Book Smugglers: If you had Cassie's power and saw a stranger with the mark, would you tell them that they are going to die within the day?
Jen: I really don't know. I think I'd struggle with it, much as Cassie does. There are so many ways it can go wrong and so many it can go right. It's almost an impossible question.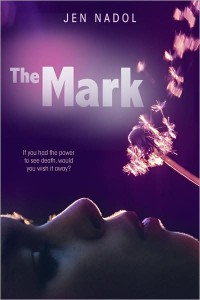 The Book Smugglers: You graduated from university and started an everyday job, and years later decided to write a young adult novel. Why or what made you decide to write a book? Have you always been a writer?
Jen: I've always wanted to be a writer, but for most of my life wrote only when the mood struck which meant I could – and did – go long periods without writing at all. I think that's how, in the years working my everyday job, I actually forgot I'd meant to write. It just kind of slipped away. Then, I stopped working to stay home with kids and, in the shock of not having a "job", remembered I had this buried thing that I'd never really given a fair try. I couldn't believe I'd honestly forgotten it. But I had. I'm stubborn enough that, once I'd decided to try writing a book, I wasn't going to quit until I'd done it. That's how I learned that, to be a writer, you can't wait until the mood strikes. You just sit down and write.
The Book Smugglers: The YA genre is one that seems impervious to economic/publisher hardships, and has been experiencing a pretty crazy boom in popularity and crossover appeal over the past few years. Why did you choose to write a young adult novel? Do you have any favorite YA authors or books you admire?
Jen: I didn't even realize I was writing YA. When I was growing up, the genre didn't really exist so I'd never read it. It was only after the book was done and on submission to agents that one of them told me that she didn't think it was an adult novel at all – which is how I was submitting it – but YA. Wow, I realized. It is! And so is everything else I want to write. Duh!
YA is pretty much all I read now. Some of the books I've loved: The Hunger Games, After by Amy Efaw, Dirty Little Secrets by CJ Omololu, Life As We Knew It, anything by Scott Westerfeld, Wake by Lisa McMann…should I stop now?
The Book Smugglers: The idea of "the mark" is an intriguing one, and you draw on numerous philosophies in your book (Aristotle, Socrates and Kierkegaard, to name a few). Did you do a lot of research to flesh out the mythology of this power? Perhaps attend any philosophy classes, as Cassie does in your book?
Jen: I took Philosophy in college and remember the class pretty well because it was hard. I didn't need to re-immerse myself in the setting, but definitely in the material. I read a LOT of philosophy – waaaayyy more than made it into The Mark. And, I did a bunch of research on the mythology as well.
The Book Smugglers: What writing projects do you have on the horizon? Will there be a sequel to The Mark (pretty pretty PLEASE!)?
Jen: Yes, there is a sequel that I'm just starting edits on with Bloomsbury. It will be out sometime in 2011. And I have three other YA novels in early stages, patiently waiting their turn.
The Book Smugglers: The world is about to end, and you can save ONE book, ONE movie, and ONE TV show. QUICK! What are they?
Jen: Where am I going with these things if the world is ending? Won't I die too? Or am I getting on a spaceship like in that Bruce Willis movie where the oil riggers blow up the asteroid? And no, that would not be the movie I save.
Irl, I'd save things that would help me survive, but since I don't know where I'm going, I'll save the most comprehensive Thesaurus I can find, Fletch and Lost.
The Book Smugglers: We Book Smugglers are faced with constant threats and criticisms from our significant others concerning the sheer volume of books we purchase and read – hence, we have resorted to 'smuggling books' home to escape scrutinizing eyes. Have you ever had to smuggle books?
Jen: Okay, this is terrible, but I was staying at a friend's house over some break or other in college and started reading a book that was on their parents' bookshelf, but I didn't get through it and smuggled it out in my bag so I could finish. Isn't that awful? Why didn't I just ask if I could borrow it? And it was some trashy paperback mystery to boot.
My books seem to go missing all the time, though, so I think karma's come back around…

About Jen Nadol: I grew up in Reading, Pennsylvania, hometown of Taylor Swift, John Updike and A.S. King.
This is me in high school. I liked to dye my hair, shop at thrift stores and listen to a lot of Depeche Mode, The Cure, and Erasure. My favorite book was The Stand.
I went to college at American University in Washington DC and graduated with a Lit degree which spent the next twelve years collecting dust while I worked in human resources for a national retail chain.
Now I live north of NYC in an old farmhouse with my husband and three young sons. I still love thrift stores, listen to just about anything from Mozart to My Chemical Romance, and have way too many favorite books to name.
THE MARK is my first novel.
We'd like to send out a huge Book Smuggler THANK YOU to Jen for the interview! You can read more about Jen and The Mark online at her official website, or on her blog, From the Desk of Jen Nadol.