Hi-yo! Another weekend, another stash. First, a few announcements…
Giveaway Winner: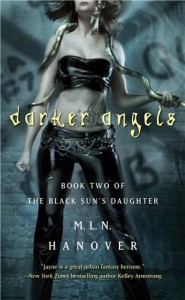 The lucky winner of a copy of M.L.N. Hanover's Darker Angels, book 2 in The Black Sun's Daughter series, is…
LoriT! (Comment #23)
Congratulations! You know the drill – send an email to contact AT the book smugglers DOT com with your snail mail address, and we'll get your winnings out to you as soon as possible! Thanks to all that entered, and if you didn't win this time, don't worry. There's plenty more where that came from.
Smugglerific Announcements:
Well, folks, it is official! You are now looking at the two newest bloggers for the fabulous Tor.com – home of Science Fiction, Fantasy, The Universe, and Related Subjects!

We are honored and thrilled to be part of the Tor blogging family, and are diligently working on our very first post there (which will be about Brandon Sanderson's completely awesome Mistborn Trilogy). We'll keep you up-to-date on our progress, and let you know once our inaugural post hits the site.
And in another big announcement, it's nearly December…which means it's almost time for Smugglivus! We have a number of fabulous guests lined up for this year's event, and a shiny new poster in the works (thanks to the lovely KMont of Lurv a la Mode). Here's a little teaser: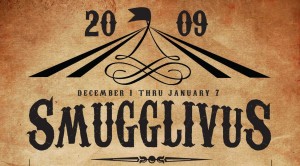 For those new to the site, Smugglivus (based on the non-denominational holiday, Festivus) is a monthlong celebration in which we invite our favorite authors and bloggers to post about their favorite books of the year, what they're looking forward to in 2010, and what projects they have on the horizon. And of course, we end the celebration with the official rites – Airing of Grievances, Feats of Strength, and our very own Best of lists for the year, all culminating in our second year blogoversary.
Around the Internets: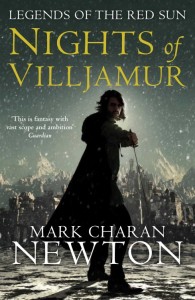 Aidan Moher, prolific fantasy blogger that runs A Dribble of Ink posted last week about the irritations of repetitive fantasy covers, citing the art for Brent Weeks' new title. This week, the debate concerning fantasy covers – innovation versus familiarity – rages on, in this thought-provoking discussion provoked by the upcoming cover of Mark Charan Newton's Nights of Villjamur. We highly recommend checking out the comments – there are great points made on both sides of the cover argument.
In other news, we'd like to direct your attention to a new website, called The 5th Shelf. At first glance it looks a little like Shelfari and GoodReads had a lovechild – which isn't too far off base. The 5th Shelf is a new website that is devoted to creating a "modern" version of the Harvard Classics (a 51-volume anthology of classic literature, compiled and edited by Harvard University president Charles W. Eliot in 1909). You can set up a free account on The 5th Shelf, and, as with GoodReads or other book networking sites, add your very own authoritative shelf of classics. The definitive list will be composed form the consensus of all members – which is pretty damn cool. We've signed up – you can check out the beginnings of our shelf HERE. And we hope others will sign up too!
This Week on The Book Smugglers:
On Monday, Thea reviews the highly anticipated new release from Pandemonium author Daryl Gregory, The Devil's Alphabet. Will it live up to expectations, or fizzle flat?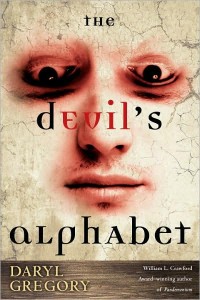 Tuesday, Thea reviews Sarah Beth Durst's newest novel Ice, a retelling of the Norwegian fairy tale East of the Sun and West of the Moon. Then, Ana reviews The Stepsister Scheme, the first in Jim C. Hines' Princess Series.
Wednesday, Thea reviews Tainted by Julie Kenner, a new urban fantasy title, with a giveaway. Ana takes on The Mermaid's Madness the second book from Jim C. Hines' Princess Series.
Thursday, Thea takes a break and eats far too much Turkey while Ana reviews Madam Xanadu Volume 1: Disenchanted from Matt Wagner.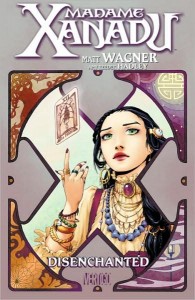 Friday, we close out the week with a joint review of the much lauded new release from Lev Grossman, The Magicians.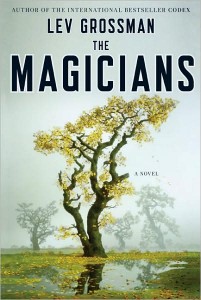 It's another busy week here at The Book Smugglers, and we invite you to pull up a chair, enjoy some delicious Thanksgiving food, and relax.
Until tomorrow!
~ Your friendly neighborhood Book Smugglers