Welcome, dearies! It has been a whole year since Cryptkeeper!Thea has taken over the blog, but she's back now for…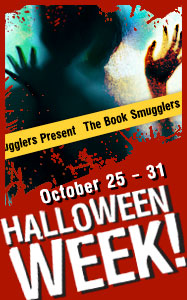 HALLOWEEN WEEK 2009!
Last year, we celebrated Halloween by taking a day by day look at different monsters and subgenres in the Horror pantheon – and we're back, bigger and better for this year's celebration.
We kick off Halloween Week '09 with personal introductions from both Ana and myself – you'll be pleased to hear that Ana has finally come over to the Dark Side (i.e. she gets excited over zombie titles, against her better judgement!). We'll also have a review of Rick Yancey's recent release, The Monstrumologist! Plus, we'll have a giveaway of The Monstrumologist and The Hollow by Jessica Verday which will run all week.
On Monday, Thea takes a look at ghost story The Harrowing by Alexandra Sokoloff. Meanwhile, in celebration of the fiftieth anniversary of The Twilight Zone, Ana has a mini-marathon of episodes…as she had NEVER seen an episode before! Later in the day, Thea will post a list of her favorite John Carpenter films, and we'll also have a guest post from fellow blogger and horror fan, Graeme of Graeme's Fantasy Book Review.
On Tuesday, it's all about BRAAAAAAAINS! Thea does a triple-shot with reviews of zombie novels Patient Zero by Jonathan Maberry and Dying to Live: Life Sentence by Kim Paffenroth, as well as zombie-inspired novel Hater by David Moody. Meanwhile, Ana reviews young adult novel Never Slow Dance With A Zombie by E. Van Lowe, and later has her own continued Romero movie marathon with Land of the Dead and Dawn of the Dead (Zack Snyder's 2004 remake edition). Later in the day we'll have a guest interview post from Harry of Temple Library Reviews.
Wednesday is Science Fiction Horror Day, in which we celebrate all things science fiction horror-y. Thea gives a list of her essentials in the genre, and Ana FINALLY watches Alien and Aliens! We'll also have a guest post from author crush Meljean Brook, who will be taking us down memory lane with an ode to Silver Bullet (yes, that's the '80s film starring Gary Busey and Corey Haim).
On Thursday, both Ana and Thea take a look at some horror anthologies – Thea reviews Fifty-two Stitches and Malpractice, while Ana reviews Taste of Tenderloin. We also take a look at international horror cinema, as Thea gives a list of her international favorites, and Ana watches Dark Water (the original Japanese film). Later in the day we'll have a guest post from Kristen of Fantasy Cafe, as she gives her thoughts on a young adult horror novel that to this day remains one of Thea's absolute favorite books of all time, Whisper of Death by Christopher Pike.
On Friday, we celebrate a small but favorite niche in the horror market – it's Women Who Kick Ass In Horror Day. Thea will have a list of some great horror movies starring awesome leading ladies that do more than scream and look pretty. Ana will take a look at one of these films in particular, the fairly recent all women ensemble cast film The Descent. AND we'll have a fabulous guest post from authors Diana Peterfreund and Carrie Ryan about a common childhood love – the glorious, imaginative, incredible Christopher Pike.
Saturday is Halloween itself, and we'll close out the week with a list of our favorite horror movies so far in 2009, and, of course, a giveaway. Stay tuned folks! We've got a busy week ahead…