Title: The Infinite Instant
Author: Danielle L. Parker
Genre: Sci Fi/ Thriller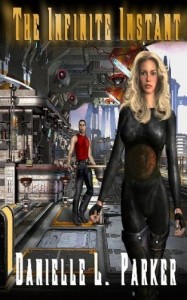 Publisher: Lachesis Publishing
Publishing Date: September 2, 2008
Paperback: 290 pages
Stand Alone or series: Can be read as stand alone but there is a sequel in the works
Why did I read the book: We were offered a review copy back in *gasp* DECEMBER 2008. I can't believe it took me this long to read the book. Mea culpa, mea culpa.
Summary: : In this near-future thriller, Ms. Minuet James, proprietor of a Paranormal Services Agency, finds herself in hot water. Minuet has a past she'd like to forget, but too many people seem to know all about her guilty secret. When Minuet finds herself framed for a triple murder by a mysterious gangster called "Mr. X", she's forced to cooperate with a hostile police liaison, Alexander Ferguson, and help hunt down the mystery man. It doesn't help that her would-be lover, Tomeso Lulliano, has seamy criminal connections of his own. She's even less happy that her vengeful and ruthless client, Drago Navigator, would like nothing better than to see her in the clink forever. Minuet has a far worse problem. "Mr. X" has the same guilty secret she does
Review:
Minuet James' Paranormal Services Agency is going through a dry spell. Regular clients are dropping their requests, new clients are rare and all signs point to the agency being blacklisted. When Minuet starts to investigate what is keeping her clients at bay she gets involved with some unsavoury characters and then she is framed for 3 murders and arrested.
Once under custody she is made an offer she can't refuse – one of the most powerful business men in the world, one Mr Drago Navigator offers to arrange for her release if she helps him finding out who attacked one of his spaceships and wiped the mind of the pilot, who happens to be his cousin. The culprit is suspected of being a rogue telepath of "X" denomination and the same person who committed the murders she has been framed for. It turns out, Minuet is the only one that can help because she is an "X" telepath herself, a fact she has been trying to hide for 3 years and now her secret is back to haunt her. X telepaths are extremely powerful and potentially dangerous as they can expel a person from their own body and take over – there are only 10 known X Telepaths in the world and only one in the lose, if you don't count Minuet. But now that they do know she exists and they also know just how her powers first became an issue, she is afraid that this is going to be her last job and she will be locked up for good. But things turn out to be more complicated and Minuet finds herself in a rollercoaster all the way to the surprising ending.
Infinite Instant is a Sci-fi slash Detective Novel and even though it is set in the future (undisclosed date – but California is out of the map and there are interspatial travel and robots , and mafia business are now legit) and there are enough scifi elements to justify the choice of genre, I still felt like I was reading an old time noir detective novel. For most part I felt that the sci-fi elements were under-used and the story could have been set at any given time.
Having said that, the plotting is pretty tight and interesting and I enjoyed not only the progression of the story but also the atmosphere. As for the characters, I felt the secondary characters were pretty conventional from the villain to the sidekick (who disappeared and was sorely missed by me), to the love interest. But, the main character, Minuet was a star and I loved her voice, courtesy of Danielle Parker's writing.
At first, she too may come across as conventional and too good to be true. Minuet James (gotta love that name by the way) is the tough-as- nails protagonist: she is snarky, strong-willed, perfectly capable of taking care of herself and her business. She is also gorgeous, extremely intelligent with a PHD in cybernetics and one of the most powerful telepaths in the world – on paper she is almost too perfect. But she has the added vulnerability of having lost a lot, of having committed an act that she feels immense guilt for. She walks a fine line between her own perceived notions of right and wrong when she starts to fall for the son of a Mafia Boss or when she uses her powers to uncover thoughts closed to her. It is when walking in this grey area that Minuet comes to life as full-fledged character and one that I cared about.
The last thing to recommend The Infinite Instant is the strong, solid writing, without being too flourished. Although I, most humbly suggest that the use of italics to express the character's emphasis on what they are saying is exercised with more caution in future endeavours. But that is maybe an editing issue that is easily fixed.
Two last comments: I think the book deserved a better cover that it got; and the way the story ends was enough to close this one storyline, at the same time that it opens up a myriad of possibilities. Kudos to the writer.
Notable Quotes/ Parts: Minuet lived in California when the Big Quake happened and she lost everything and I really like this passage:
No doubt there comes a point in the existence of any immigrant when he or she realises home is now here and not there. I'd never felt it. What had once been home was now an unearhtly city beneath the sea, the fall and ruin of the world, carrying with it not only mother and father and the dark-haired young man I meant to marry, but all of the dreams I had yet cherished in my life. Where I meant to help I had hurt, and where I fled to was not a home, but only a lair to hide in. Drago Navigator, and an unseen man whose fury and hunger had reached for me like a claw, had vomited me forth onto the streets, and the small space I had fleetingly called my own was as lost to me now as my pastel city with its sunken golden gate. Sic transit mundi!"
Additional thoughts: Infinite Instant just won the EPPIE award, for Best Electronically Published Book of the Year, in its category.
And you can read an excerpt of the book on the publisher's website .
Verdict: Good writing, griping plot and an interesting protagonist make this a solid debut.
Rating: 6 Good (leaning towards a 7).
Reading Next: Goodness. I don't know!