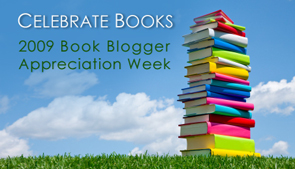 Welcome to the second day of Book Blogger Appreciation Week! Today's topic is Blogger Interview Swaps! We are extremely happy that were paired up with Sheri from A Novel Menagerie, which was a new-to-us blog and now is a regular in our lineup of must-read sites.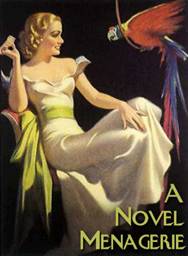 A Novel Menagerie is a blog with not only book and entertainment reviews, but also great features such as the "Monday's Movie". And we so love her special banners for each section like this one for the Monday's Movie feature: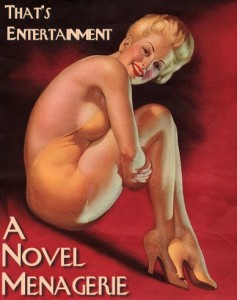 Isn't it cute? We have banner envy. It's such a great idea. But we digress. We had a great chat with Sheri and here is what she has to say:
Ana and Thea: Hi Sheri, it is great to have you here!
Sheri: I'm thrilled to be here! Really… I am! I recently discovered your blog through BBAW and I just can't believe that I've been under a rock so long. How could I have not known about your blog? But, now that The Book Smugglers are added to my Google Reader, it's safe to say that I will be visiting here much more often.
Ana and Thea: Can you please tell us a bit more about you, The Person Behind The Blog?
Sheri: Now, that's a scary question!
In my "real life," I am a single mom of twin 12-year old daughters. We have a house filled with way too many animals: 2 dogs (Tori & Claire), 3 cats (Tommy, Oliver & Dante), and 3 fish aquariums… hence, my menagerie! "A nearing-40-year-old soccer mom with an addiction to key lime martinis," can also adequately describe me. For those who know me, they would agree that I'm a complete nerd, an animal lover, and can most times be found with my nose in a book as I try to escape the unrelenting hormones of my tweenie-daughters.
Ana and Thea: The Origin: How and why did you decide to become a blogger?
Sheri: I'm a fairly new blogger and have been doing it for just a tad over a year now. If you can believe it, I didn't even know what a blog was in July 2008. How sad is that? I became a blogger after meeting the fabulous Lisa of Books On The Brain/TLC Book Tours. Ever since I started blogging, the person that I am has changed considerably. Instead of being tethered to my computer for work, I'm married to it because of my passion for reading and writing. All of this came out of losing my professional career in 2008. I am currently enrolled in school and working towards my college degree.
Ana and Thea: You review mostly Literary Fiction – Is it safe to say that it is your favourite genre? Do you read other genres as well?
Sheri: You noticed! ("My name is Sheri and I'm addicted to novels." )
Due to J. Kaye's 100+ Reading Challenge, I have read soooo much in the past year. I used to mainly read ChickLit & women's fiction. But, in the past year, I have read everything from historical fiction to mysteries to "How-To's" to YA. It has changed me as a reader. I found that I really do enjoy all kinds of books. Being a member of a book club has also forced me to read some books that I would have otherwise said "no" to.
All of this reading, I hope, has helped me to become a more well-rounded reader. I'm finding that I have a passion for memoirs in addition to fiction. My readers will get to read about some non-fiction this fall, as well as some cookbooks.
Ana and Thea : How do you approach your reviews? Like for example: how do you pick the books for review? Do you have a reviewing process?
Sheri: When I first started blogging my book reviews, I only reviewed what I purchased. There's a certain amount of ownership you tend to take when you are picking out books, you know? In my beginning months as a blogger my mentor, Lisa, helped me to discover the world of reviewing for publishers and authors. Over time, I have built my relationships with the publishing community and I do review provided books more than 50% of the time. I still make my monthly purchases from Amazon.com (love love love Amazon.com) and check out books from the local library. Oh, and I do review books for TLC Book Tours and a few select book tour groups.
When the books arrive at the doorstep (*oh, don't you just love those days?*), I enter them all into a spreadsheet. I enter when they were received, their date of publish, and whether or not they are for a book tour. I keep my spreadsheet updated when I write my Sunday Salon post on Sundays. This color-coded sheet helps to keep me up-to-date on cross posting my reviews on Amazon.com and The Library Thing. It serves as a great database that I can sort by type, author, rating, date, and origin. With the use of this spreadsheet, I try to use it as a tool to force me to read the books in date order (by when it was received or when it is being published). But, every now and again… I cheat. There are just some books that come in that are too hard to resist!
When I review, there are some things that are very important to me:
Reading the entire book… even if I want to put it down. I've only "partially read" one book that I've reviewed. I feel good about this because I've reviewed over 150 books in the past year. I have found that some books get really good after you're ½ way through with them. Give the book a chance. Give the author a chance.
Find the good in every book… I'm such a "wanna-be" writer. I truly am! I've started writing "my great novel," but who knows if and when it will ever be finished. My hat goes off to anybody who can write and publish a book. That's such an accomplishment of mind and heart. I want to try to honor authors by always saying something positive about their book. And, my "positives" are always honest!
Write honest reviews… If I was not true to my readers, and myself for that matter, the reviews would not come across as authentic and true. If I didn't love a book that everybody else did… so be it. That's okay. And, vice versa! It's totally okay in my book to love-love-love a light-weight ChickLit escape book.
Ana and Thea: We are very nosy like that so we would like to ask: are you happy with the way things are for your blog? You stats? Your readership? Would you wish to change anything if you could?
Sheri: That's totally not nosy! Man, your questions are freakin' awesome… you're killing me!
Am I happy? Well, I get bored with the look of my blog frequently. I think it's because I am looking at it too much. I'm considering a re-design… partially in-thanks to you guys! I love your design and artwork!
My stats… yes… and no. I have changed URL's 3 times over the course of 1 year. Because of this, I've lost readers. However, I'm totally set and will never change my URL ever again! I see that my stats are high Sunday-Wednesday. I don't know what happens to my readers, but they go away Thursday through Saturday. I always wonder why. Of course, we all want higher stats… but, I'm thrilled to have received as many visitors as I have.
My readers… I love my readers! But, you know… you only really get to know your readers through their comments. I can't thank my readers enough for their comments! I make and effort to spend the time reciprocating on as many blogs as I can.
Ana and Thea: You are quite the prolific blogger: you post book and movie reviews and you take part in several challenges, plus you have children and several assorted pets: how do you keep up with all that? Would you say you are one of us – Obsessive Bloggers Anonymous?
Sheri: The thing is, as a woman, I love to be entertained. I love juicy gossip on movies, tv, and books. When I go to play Bunko with my girlfriends or talk to moms on the soccer team, these are the things that I like to talk about. Why not blog about them? I decided earlier in the year that my goal was to provide my readers with an overall "entertainment review" blog. Therefore, my focus became to provide movie reviews, television reviews, music reviews, and book reviews. I also throw in juicy current headlines when I can. My passion is my series called The Writer's Block in which I write personal articles about my life. What I hope is that I can appeal to a range of readers…
All of that being said… you want to know how I manage to keep up such an active blog? Well, I'm an insomniac. I also have not been working 80 hours a week, like I used to. When I go through some life changes this fall with full-time work and school, I'm sure that my blogging activity will suffer. I will try to pre-post as much as I can on the weekends or nights when I can't sleep. Also, my kids are older… they hang in the same room as me and watch tv or play games while I pound away at the keyboard. We're all in the same room… I'm just not watching tv with them. I do make it a point to take the dogs and girls to the park, beach, and out and about.
But, in all truth, I do belong to your club. I'm a most Obsessive Blogger! Only, now I'm not anonymous.
Ana and Thea: A Novel Menagerie has been around for just about one year – looking back at your first year, did it work well for you? Do you have any regrets?
Sheri: I hope y'all are still reading this. I feel so long-winded… SORRY!
My first year was probably typical to what most bloggers encounter… it was a learning curve year. I mean… I didn't even know what CSS or HTML were a year ago! (Let alone a RSS feed…). I blew up my blog… I fixed my blog. I messed up my URLs… I fixed my URLs. I've stuck my foot in my mouth plenty of times. But, I also made friends. In the past year… I've made new friends. That's amazing to me. No regrets.

Ana and Thea: What do you think is the best thing about blogging?
Sheri: OMG! The best thing? It's a tie. For me, it's the creative release that blogging provides and the people. By people, I mean other bloggers in the community and the readers. On the creative release… I should share that my creative side had been stifled and completely hibernating for over a decade. It feels great to play with art, design, and to write! Oh… to write! I love it!
Ana and Thea: If there was a zombie apocalypse and you could only save 5 books and 5 movies – which would they be?
Sheri: If there were a zombie apocalypse, I'd cal l you guys. You'd know exactly what to do!
After that… the books I'd save: Gone With the Wind, Life of Pi, The Holy Bible, The Glass Castle, and Snow Flower & The Secret Fan.
The movies I'd save: Gone With The Wind, The Notebook, Forrest Gump, Always, and Kingpin.
Ana and Thea: And finally A Very Important Question: you know how we are so obsessed with books and keep buying and buying them and then had to resort to have them delivered to our offices so that we could smuggle them home undetected in order to escape admonishment from our Significant Others? Did you ever suffer similar plight? Come on, share with us: Are YOU a book smuggler?
Sheri: I wish I could be a smuggler. I don't have a S.O. I would like to have a S.O., but just can't find a silver-haired hottie! Do you guys know anybody 41-48 in Orange County, California? I would dig some romance in my life!
But, the minute that I become a smuggler, I'm totally going to tell you guys. The thing is… once I find romance, will there be time to read?
________
Our reply to Sheri is…hell yes! There is ALWAYS time to read. And thanks Sheri for the great chat!
Now, make sure to stop by her place to see our answers to her fabulous questions!
Also, check on the BBAW website to see more Blog Interview Swaps!