Title: The Corinthian
Author: Georgette Heyer
Genre Romance: Regency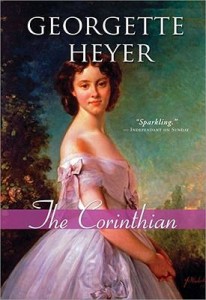 Publisher: Sourcebooks Casablanca
Publishing Date: June 1 2009
Paperback: 272 pages
Stand alone or series: Stand Alone
Summary: Walking home at dawn, quite drunk, Sir Richard Wyndham encounters heiress Penelope Creed climbing out her window. She is running away from a dreaded marriage to her fish-lipped cousin, while Sir Richard himself is contemplating a loveless marriage with a woman his friends have compared to a cold poultice. Sir Richard can't allow her to careen about the countryside unchaperoned, even in the guise of a boy, so he pretends to be her tutor and takes her on a fine adventure. When their stagecoach overturns, they find themselves embroiled with thieves, at the center of a murder investigation, and finally, in love.
Why did I read the book: I was offered a copy by the lovely people at Sourcebooks Casablanca.
Review:
Sir Richard Wyndham, is a 29 year old Corinthian – a bon vivant – but according to his family it is about time he left this self-serving life behind and settled down with a wife. All the hopes are that he would marry a family friend. The thing about Richard is that he may be a rake but he actually believes in true love and the prospect of marrying the cold and unloving girl makes him depressed. Still, he's gotta do what he's gotta do but not before getting totally drunk.
On his way home after his last night of freedom, he stumbles upon a surprising scene: a young lad coming down from a window. He helps the little person and then realises the boy is a girl who is attempting to escape a fate not unlike his own. She too has a family who wishes she would marry someone she finds unsuitable. Miss Pen Creed is fleeing so that she can marry her own childhood sweetheart. Richard, even drunk as he is, realises he can't let the 17 year old girl go traipsing around the country on her own and decides to join her and their adventure begins.
She masquerades as a boy, they take a coach to Kent and in the three ensuing days, end up involved in a robbery, a murder, a star-crossed romance between two youngsters and their own hearts get inevitably connected.
I am at a loss on how to approach this book. I understand that Georgette Heyer writes regency romances but plot- wise, this reads more like a cross-dressing- road- trip- adventure-romp. In that vein, I cannot fault the story. It is fun and entertaining and Georgette Heyer's clever writing shines through.
Things get more complicated when we get to talk about the romance: it is obvious that Richard and Pen are meant to fall in love. But the romance is very, very subtle , so subtle one needs to be really attentive as to not miss the whole falling in love part of the romance. One moment they are having funny conversations, then Richard is looking at Pen and thinking. WHAT he is thinking, we do not know exactly but we are meant to understand that his gazing at her means he is falling in love. I don't mind subtle romance but I can't help but to feel there is something missing here – something more emotional , a deeper connection between the characters and therefore between the book and the reader. Maybe I am spoilt by romance novels written now where wonderful character-driven plots abound.
Plus, Pen is SO young. And it is not simply a matter of age difference as I can appreciate May-December romances. It is just a matter of behaviour. She behaves like a child for most of the book and he behaves like an uncle. It is all for propriety of course, but I can't get over the fact that she spent the book calling him "sir" and he spent the book calling her "child" or "brat" .
The Corinthian is just so…uneven – there were parts that were immensely fun, like the repartee between the Richard and Pen or Pen's antics and approach to life. I could keep reading those non-stop. Other parts, like the secondary mystery plotline with the murder, the stolen necklace and whatnots drove me out. Of.My.Mind. with boredom.
This is my third Georgette Heyer and it is not a bad book as the writing is good, the subtle romance is sweet, the adventure is fun. To me, it falls somewhere in between Frederica, which I really did like (perhaps because the heroine was older and much more mature) and recommend as a starter if you wish to read this author's work and The Convenient Marriage which was a DNF for me (the heroine was so very immature) . Overall, I liked the experience of reading these classic regencies but I think it is time to acknowledge that perhaps these are really not for me and move on.
Notable Quotes/ parts: an example of the clever writing
'That settles it,' said Sir Richard. ' I will not set you a foot on your way until I have the whole story from you. It's my belief you are a dangerous criminal.'
'I am not!' said the fugitive indignantly.' Anyone with the veriest speck of sensibility would feel for my plight! I am escaping from the most odious persecution.'
'Fortunate child!,' said Sir Richard, taking her bundle from her.'I wish I might do the same. Let us remove from this neighbourhood. I have seldom seen a street that depressed me more. I can't think how I came here. Do you feel that our agreeable encounter would be improved by an exchange of names, or are you travelling incognita?'
Verdict: Old-time Adventure and Romance in one. Not exactly to my liking but this is far from being a bad book. It is just not a Book For Ana.
Rating: 5 – meh
Reading Next: Surrender of a Siren by Tessa Dare