Title: Zombie Blondes
Author: Brian James
Genre: Horror, Young Adult, Zombies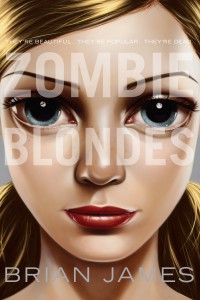 Publisher: Feiwel and Friends
Publication Date: June 2008
Paperback: 240 pages
Stand alone or series: From what I can tell, this appears to be a stand alone novel (though there is arguably room for a sequel).
Why did I read this book: I picked up Zombie Blondes on a whim in the bookstore recently. The cover caught my eye – freaky barbie doll – as did the wonderfully cheesetastic tagline ("They're beautiful. They're blonde. They're dead."), and then I read the blurb. Cheerleaders. Blondes. ZOMBIES. How could I possibly refuse? It was – if you'll pardon the pun – a no brainer. *Nom nom nom* BRAAAAAAAAAAINS!
Summary: (from amazon.com)
From the moment Hannah Sanders arrived in town, she felt there was something wrong.
A lot of houses were for sale, and the town seemed infected by an unearthly quiet. And then, on Hannah's first day of classes, she ran into a group of cheerleaders—the most popular girls in school.
The odd thing was that they were nearly identical in appearance: blonde, beautiful, and deathly pale.
But Hannah wants desperately to fit in—regardless of what her friend Lukas is telling her: if she doesn't watch her back, she's going to be blonde and popular and dead—just like all the other zombies in this town…
Review:
Hannah Sanders hates her life. She hates moving around, yanked from town to town and school to school every couple of months. Her father used to be a police officer in Brooklyn, but when he snitched on a couple of crooked cops in the system, life became hell for him and his daughter. After suffering harassment from angry policemen who take it out on her father for being a rat, the Sanders' move away, attempting to start anew. Unfortunately, the fresh starts never seem to last very long, as their past continues to follow them – and unable to hold a steady job, creditors join the hunt. Hannah has learned to expect that her new homes are always going to be temporary, and she is resentful of her father's flittiness – though she does love him as they are all each other has, and she understands that he is doing his best. When Hannah and her father pull into Maplecrest, Hannah notices that this small town is a little different from any other she's lived in over the past six years. For one thing, even for a small town Maplecrest feels strangely empty. While they drive around looking for their newly rented house, Hannah notices a suspicious amount of "For Sale" signs and abandoned homes – and with such a small town, Hannah starts to think that she might have a chance to fit in with the popular crowd at school.
But when she starts high school the next day, Hannah discovers Maplecrest is just like any other school she has ever attended – she's a social pariah as the new girl (even though she's pretty enough), for some reason she attracts weirdo guys to her (a strange one named Lukas, spouting conspiracy theories that the town is full of zombies, won't leave her alone), and the popular crowd doesn't even notice she's alive. Hannah is desperate to fit in with the group beautiful blonde cheerleaders, for once shedding her role as perpetual outsider and transcending the social hierarchy into "cool" territory…and when she finally gets a chance to tryout for the cheer squad and fit in with the ethereally beautiful people, Hannah seizes the opportunity.
Though Hannah does get a nagging feeling that Lukas might be right. Something stinks in the town of Maplecrest. But no sane person could believe that these beautiful, delicate blonde cheerleaders are zombies…could they?
I think I fell in love with Zombie Blondes from first sight. There's something delightfully campy, in the best B-movie sense, with the title, cover and premise of this novel – and Mr. James manages to live up to this promise. In essence, all of the teen horror genre staples are here: Cruelly superior Jocks and cheerleaders – check. Obligatory horror geek sidekick to reluctant hero character – check. Everytown, USA overrun by unspeakable evil – check. Zombie Blondes is like returning to a cult horror favorite, like, say Night of the Creeps – it's kitschy and familiar, but it's also brilliant in using horror tropes to create something new in the genre.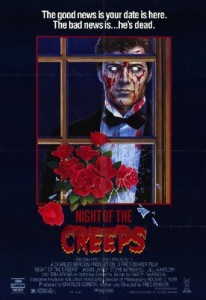 In Mapleville, people are disappearing quietly and zombies have already instituted themselves in positions of power and dominance. As most are afraid (or are unfortunate flesh-hungry zombies themselves) only the wise and geeky Lukas stands up to the ravenous undead posing as townspeople and psychopathic cheerleaders, desperate to befriend and warn the fresh meat — Hannah. It's Hannah's sharp first person narration and her odd, quick friendship with Lukas that truly drives Zombie Blondes, and sets it apart as a memorable novel in that stands on its own, just as it pays homage to the horror genre classics. Hannah is a surprisingly sympathetic character in her unfulfilled desire for acceptance and normalcy. One thing Mr. James really nails is the awkwardness of constant moving from school to school, and how complicated high school social life can be – and though he chooses cheerleaders as his popular genre of choice, he has a good handle on the realities of high school "cool" and how it changes from school to school (and as a teen that went to 3 different high schools, I can attest to the truth of the sentiment):
I can usually pick out the popular kids soon after setting foot into a new school. The girls, anyway. They wear popularity like a uniform for everyone to see…The boys are a little trickier.

Their looks have only a small part to play in deciding their place in the social order of things. What they're into is just as important as how they look. Depends on what kind of school it is, too. There are as many different kinds of high schools as there are different kinds of cliques in each one. There's the artsy sort of schools where the skinny, mysterious boys are the ones who get all the attention. Then there's the college-prep kind of schools where class rank and GPA go hand in hand with a boy's cute looks to determine where he stands with the girls. At thug schools and drug schools, the more damaged or dangerous a boy is makes all the difference. Last, but not least, there're the jock schools like Maplecrest where all that really counts is how good a guy is at sports. Even if he's zit faced and moronic, a boy can be popular here, so it could take some time to figure it all out.

But with girls it doesn't matter so much what kind of school it is.
Hannah's overwhelming desire to fit in, for stability, for popularity sounds shallow – but her honest, forthright narration is a moving thing and makes her seem less like a typical Mean Girls airhead, and more of a young girl struggling for normalcy. I loved the insights to Hannah's memories and childhood at the beginning of chapters, making her more solid and real as a character. Also Lukas, in his schoolboy crush on Hannah and his unyielding belief in the evil that lurks beneath the surface of Maplecrest also is incredibly compelling in his earnestness.
Of course, deep characters are all fine and good, but what's a book like Zombie Blondes without action, gristle and gore? I'm happy to report that on that front, Zombie Blondes also excels. There's murder, action, an obligatory explosion scene, and a classic horror movie ending. What is not to love?
Zombie Blondes rocks.
Notable Quotes/Parts: I love Lukas and Hannah's first conversation:
He's about to walk away but stops. Turns to me and opens his mouth and starts to stutter like he's not sure if he should say what he wants to. Then finally deciding to go ahead and say it, but refusing to take his eyes off the floor when he does. "It's just . . . you're kind of pretty . . . and she might try to turn you into one of them . . . one of her clones," he says. "I don't want to see that happen to you, that's all."

I tuck my lip under my top teeth.

"Is that supposed to be a compliment?" I ask.

"Nope," he says. "Just a warning."

I stare at him in silence and he stares back. Stares into my eyes for the first time since coming over to me. Something blank in his expression that doesn't make sense to me. He's either the most socially challenged boy I've ever met, or one of the cleverest. Whichever it is, he's by far the most interesting thing about this town so far.

He takes a step away before stopping. Makes a gesture like he forgot something and comes back. "My name's Lukas, by the way," he says.

"You know, you're really supposed to do that before you start pestering strange girls," I say.

"Yeah? Well, this is Maplecrest," he says.

"What does that have to do with anything?" I ask.

"You'll see," he says. "A lot of things in Maplecrest are done differently."

He starts to drift away again and this time I stop him. "Don't you want to know my name?" I ask him.

"It's Hannah," he says. Then he smiles for the first time. And I'm a little surprised, but he actually has kind of a sweet smile. "I was paying attention in class when the teacher called your name," he explains.

"Oh. Right," I say, remembering third period for the second time. "Well, thanks for the warning," I say with just enough attitude for him to know I'm not being completely serious.

"Do yourself a favor and stay away from them," he says with just enough attitude to let me know he's being deadly serious. Then he disappears into the crowd of faces, leaving me alone to listen to the million fragments of conversations happening all around me until the bell rings.
Additional Thoughts:
Zombie Blondes puts me in the mood for some good ol' teen horror flicks. Such as the aforementioned Night of the Creeps (ok, technically college kids as opposed to high school, but close enough!), there's also the more recent excellent zombie horror comedy Dance of the Dead, or the sightly older but still ridiculously good fun The Faculty. Bliss.
Verdict: Absolutely wonderful novel that pays homage to genre tropes, and yet manages to challenge readers with its deep characters and surprising original voice. Zombie Blondes is a truly delicious treat. Highly recommended!
Rating: 8 Excellent
Reading Next: Exodus by Julie Bertagna