Title: Rewriting Monday
Author: Jodi Thomas
Genre: Mainstream Fiction (Romance with a bit of Suspense on the side.)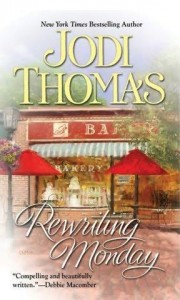 Publisher: Berkley
Publishing Date: April 7th 2009
Paperback: 352 pages
Stand Alone or Series: Stand Alone
Summary: Reporter Pepper Malone moved to Bailey, Texas, after a news story nearly got her killed. Now she wants to be left alone to do her job in relative peace and quiet. But when the newspaper's staff is targeted by a madman with a grudge against the media, Pepper is drawn back into the public eye—and into the arms of the paper's handsome owner.
Why Did I Read the Book: I received an ARC from the author.
Review:
Do you know when you open a book by a new author to you, when you have no expectations, no idea what you going to find inside and then you start reading and you then have a Forrest Gump moment? "Life is like a box of chocolates, you never know what you gonna get" can be easily transplanted to reading experiences as well. So, if reading a new book is like opening a of box chocolates, then I got the one with cherry inside – my favourite – when I read Rewriting Monday.
Bailee is a small town in Texas , the sort that has only one traffic light and everybody knows each other. Mike McCulloch own sthe local newspaper, the Bailee Bugle and there is not a day gone by without he wishing he could rewrite his life; much like Mondays in his newspaper in which people call with the mistakes they made ("my husband was buried in an oak casket, not pine") and ask for a rewrite. Mike took over his family's century old newspaper as editor when both his father and his older brother died within a short period of time of each other and he had to quit his dreams of being a teacher and come back to town to take over the paper and to raise his niece Morgan (their relationship is utterly sweet). Mike is one of those fabulous beta heroes – the shy, gentle, quietly strong character that hides inner turmoil and who everybody takes for granted, who was the second son no one cared about because the older brother was both a Football legend and later, a War Hero. He lives his life full of regrets for things he didn't do, things he didn't say, things he DID say – if you can call his, a life. In that sense he reminded me so much of George Bailey, from It's a Wonderful Life – the guy that HAD to do things in life he didn't want and didn't realise ho much they mattered until it was almost too late.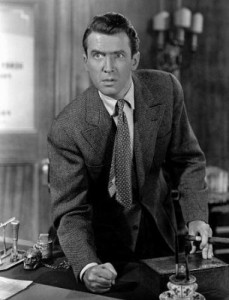 George Bailey
Then Pepper Malone walks into his office and it's like a breath of fresh air in a stagnant room.
Pepper Malone is a big town reporter who "slept with a story" and lost her reputation and had to leave. With only but her car, her laptop and a few dollars she stops in Bailee to see about an inheritance from her supposedly late aunt Wilma and decides to stay for a while, living in a trailer with a one-eyed cat called Herbert. She learns the Bailee Bugle is hiring and she waltz into the office of the its owner and gets the job, low pay and all. It is only temporary, after all she is not the type of person to create roots and she is a big city girl who needs her three shots of Starbucks a day.
Pepper has quite the eye for a story which makes her attuned to things others don't see and it's through her eyes and first person narrative that we first get a glimpse of Bailee and its inhabitants. And one of the first things she notices is how in such a caring town, where people obviously took care of their own, no one seemed to worry about Mike – he was like a homegrown outsider. Which of course worked fine for Michael as one of his journal entries say: "loss hurts more than loneliness".
But Pepper can't help feeling attracted to the not so handsome Mike – with his hair out of order, wrinkled mismatched clothes that makes him so utterly adorable. Nor can he help falling for Pepper and the thing is, this is not the type of romance that burn easy and fast (there is no sex in the book for example). This is the kind that is slow burning, where the couple first become friends (late night talks on the phone) in a very heart-warming romance.
It also helps that the every single one of the town's inhabitant matters in this story and there is not one you don't want to learn more about. Especially Lorie, the bakery-café owner who is like mother hen to the people in the town, who is Mike's friends and who becomes Pepper's friend as well. It is hers, the secondary love story with her estranged husband Heath that is so moving it had me in tears.
But not all is peace and quiet in Bailee and there is someone attacking the newspaper and putting their lives in danger – and the added suspense of this storyline really works too, by bringing people together and being another matter to shake the cobwebs of Mike's life.
Rewriting Monday is a different book from what I am used to reading and it reminded me quite a lot of those small, quiet movies that I love so much. It has an unusual narrative as well – part of it is narrated in first person by Pepper and then you have Mike, Lorie's and Heath's third person point of view in what seemed at first, an odd structural choice but which actually worked.
This is quite a rich story with touching characters that seem real and behave like real people. To the point where in the end, despite the obvious HEA, one wonders if things will actually work between such different people but the thing is: they know. They know they are taking chances as we all realise that life and love don't come with assurances of happiness unless there is compromise and work. The only this that is certain is: they are going to try and because of that they will never ever have to wonder about rewriting this "Monday".
Notable Quotes/ Parts:
I'm not a forever kind of person Michael, so don't go believing there is more to me than meets the eye".
He grinned and raked his fingers through his hair. "I'm not a one-night stand kind of guy, Malone and I'll believe anything I choose. "
"So we're opposites" I whispered. "We'd might as well face-off and fight, because we'd never blend."
"Fair enough" He stood but didn't move close to me. "We fight. Winner takes all"
This wasn't the kind of flirting talk I'd ever heard. He sounded as if he were challenging me not to care about him.
And not spoiling it but there is one phone call from the Mike to Pepper near the end that made me cry, it was so adorable. I hugged the book then and sighed – always a good sign.
Additional Thoughts: We invited Jodi Thomas to write a guest post for us talking about Inspirations and Influences and we will post it tomorrow. She will be graciously offering a signed copy of Rewriting Monday and a tote bad so be sure to stop by.
Verdict: A Heart-warming romance full of interesting characters and an intriguing mystery to boot. I loved it.
Rating: 8 – Excellent
Reading Next: Blue Diablo by Ann Aguirre