Title: Intertwined
Author: Gena Showalter
Genre: YA (Fantasy)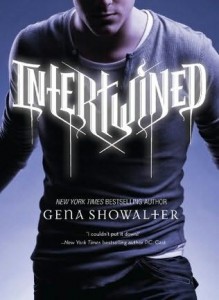 Publisher: Harlequin Teen
Publishing Date: September 1, 2009
Hardcover: 448 pages
Stand Alone or series: book 1 in a planned series
Summary: Most sixteen-year-olds have friends. Aden Stone has four human souls living inside him:
One can time-travel.
One can raise the dead.
One can tell the future.
And one can possess another human.
With no other family and a life spent in and out of institutions, Aden and the souls have become friends. But now they're causing him all kinds of trouble. Like, he'll blink and suddenly he's a younger Aden, reliving the past. One wrong move, and he'll change the future. Or he'll walk past a total stranger and know how and when she's going to die.
He's so over it. All he wants is peace.
And then he meets a girl who quiets the voices. Well, as long as he's near her. Why? Mary Ann Gray is his total opposite. He's a loner; she has friends. He doesn't care what anyone thinks; she tries to make everyone happy. And while he attracts the paranormal, she repels it. For her sake, he should stay away. But it's too late….
Somehow, they share an inexplicable bond of friendship. A bond about to be tested by a werewolf shape-shifter who wants Mary Ann for his own, and a vampire princess Aden can't resist.
Two romances, both forbidden. Still, the four will enter a dark underworld of intrigue and danger but not everyone will come out alive…
Why did I read the book: I had seen the cover and the blurb and was dying to read it. Then, the Book Fairy (AKA Katiebabs) surprised me by sending me a copy she snatched over at BEA. Yay!
Review:
Crossroads, Oklahoma
16 year old Aden Stone is new in town, having recently being transferred to the D and M Ranch, house for wayward teens. Whilst out exploring the place, listening to his iPod, he suddenly realises that his absent-minded steps have taken him to the cemetery. Big Mistake. Zombies are coming out of their graves and what starts as a quiet walk around the town, ends up being just another dangerous day in the life of Aden – a day when he has to fight zombies, kill them, probably get hurt in the process. The usual.
Except that there is nothing usual about Aden. He is a boy with four souls trapped inside him:
Julian wakes the dead (hence the cemeteries being a no-no place to visit )
Elijah can predict the death of anyone who passed him by and sometimes the future
Eve can travel in time, often taking them to a younger version of himself which can result in dramatic changes of the present time
Caleb can force him to possess someone else's body.
They have been inside Aden ever since he can remember and that is the problem with Aden's life: never being able to settle down with foster families because the voices are ALWAYS there leading to the predictable result: he is constantly talking to himself and that has landed him in several mental institutions throughout this life. Now, a little bit older and mature, he is able to control his response to the voices and this has provided some stability to his life as he joins the Ranch. But the abilities he gains from these souls have a high cost: with Elijah's power he has seen his impending death and with the clock ticking he must find a way to free these souls before they die with him.
He doesn't know where to start though. He thinks they are trapped souls – but they may be something else. Maybe they are to go away after all, move on. Or maybe they can be transferred to dead bodies. Who knows? The only thing that he does know is that he needs peace. He needs to be alone with his own thoughts, he needs to feel normal. His loneliness is extremely poignant and a paradox, because he is never, ever alone. He shares this body with the souls in a complex, symbiotic relationship where he both wishes he was alone but maybe not, because he really does love the guys (and girl). The piercing sense of isolation is maximized by the fact that he knows he is going to die – but also because of another vision he had, that of a beautiful girl kissing him, something that he has never been able to do.
Back to the cemetery though, Aden has just dispatched the zombies when he sees her. A girl. (Maybe his girl?).Then something weird happens: a blast of sound and then nothing else – silence, no movements, time stops. Aden realises he feels peace for the first time, because this girl, can stop the voices. And then another blast of sounds, noise returns and then a gust of wind knocks them both off their feet. She runs away (and the voices return) and he follows her desperately.
The girl is called Mary Ann. A high school girl, who lives with her father after the death of her mother, in childbirth. She is very responsible and has a 15 year plan to become a psychiatrist, like her dad. When Aden follows her to this café, she thinks it weird because she too, can feel the wind. Oddly, the only thing they can think off when they are around each other, is this powerful need to hug tenderly and then…run. And that fraternal feeling makes them become steadfast friends.
And this is only the start: soon, Aden meets his girl, Victoria and finds out she is responding to his call (his call? What call?). Also, she is a vampire princess. Mary Ann starts being followed by a wolf who can talk to her. Lo and behold, a paranormal world neither thought existed all of sudden burst into existence:witches, goblins, vampires, werewolves, ghosts, fairies all turn up at Crossroads following a tremendous burst of energy emitted unwittingly by Aden ever since he met Mary Ann: that day at the cemetery is ground zero for everything that happens in this book and there is a LOT.
How to free his souls? Why is all this happening? What is the nature of the odd thing between Mary Ann and Aden? Why can she negate his powers? Why can the werewolf she becomes entangled to, negate the negation? Why are the vampires here? And the other beings as well? Will Aden die soon? But can he at least kiss Victoria first?
Some of these questions are answered here but some are left to be discovered. Plot-wise the book is really interesting and I was left guessing at every turn. But truly, the greatest aspect of Intertwined is the characters and the complex relationship they have with each other. Their lives become, and you will have to excuse the inevitable pun, intertwined: all of them, including the souls, have a part to play and that made for seriously good reading. Every time I thought Aden or Mary Ann (the story alternates the point of view between these two) would behave in a way, they did something else. In that sense the story was entirely unpredictable. And I can't wait to see it all unraveling (the next book is quite appropriately titles Unraveled so yeah, that was another lame pun).
My favourite characters were Mary Ann and Aden, the two humans. It was with some degree of sadness that I saw the author going the standard way and pairing Aden with the hawt/mysterious vampire and Mary Ann with the hawt/mysterious werewolf and I couldn't help but to look at the equation (Human guy + Vampire girl) + (Human girl + Werewolf Boy) = Intertwined and to sort of wish that the vampire and wolf would be removed so that the humans would hook up with each other. (The fact that Victoria seems to be the Only Good Vampire in the middle of Very Bad ones is also a cliché I am not really fond of. Because really. Why? Why is she the only good one? Why are ALL the others bloodsucking EVIIIIILs except for her?) .
I really did love Aden and Mary Ann and thought they were both very down-to-earth characters, completely commited to finding out what the heck was happening, except for when they were with their respective love interests: then it was all very intense and overwhelming. I do understand that teenage love can be deeply felt but part of me wondered if the dramatic element didn't come from the Supernatural nature of these relationships – with the immortality and forbiddance and all that. Although, if I am going to be honest, I do have to say that I totally get the werewolf attraction and I may have sighed once (or twice) when the werewolf (I am not saying his name because the mystery behind his identify is another cool thing about the book) growled in protectiveness and possessiveness towards Mary Ann. Sometimes one cannot deny the allure of an Alpha bent of protecting the girl.
This is really my only quibble with an otherwise truly excellent novel. Bring on the next.
Notable Quotes/ Parts: I have to say, the opening chapters with Aden and the zombies and the souls and meeting Mary Ann were very effective in introducing the characters and setting up the story. I never looked back.
Verdict: great plot, great characters with a slow executed supernatural mystery and some romance: what is not to like? Harlequin Teen has a good thing going with their YA series and you should check it out.
Rating: 8 – Excellent
Reading Next: Monster by Christopher Pike