As we hit (and passed) the half year mark AND our 18 month blog-o-versary (yay us!) , we decided to take a look at what we read so far this year and list our current favourites (Note: this is a work in progress, subject to be revised when the year ends) .
The verdict? 2009 has been a most awesome year for reading.
So here it goes: Ana and Thea's Most Excellent (Half-Year Mark) Reads of 2009.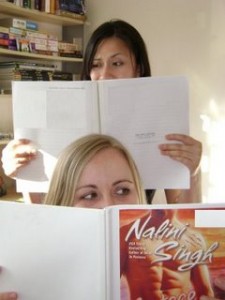 Ana's List:
I kick start my list with the best of the best. Two fantasy books that knocked my socks-off and are hands down, two of the best books I read, ever. Unfortunately, they will not make my top 10 of 2009 because they were published some years ago but they do get Hors Concours Status. They are Daughter of the Forest by Juliet Mariellier and The Name of the Wind by Patrick Rothfuss.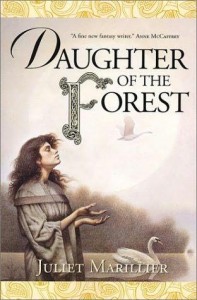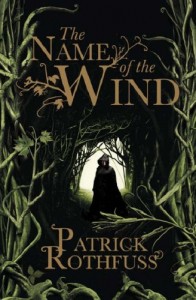 Both books have amazing stories and amazing protagonists : the former is a take on The Six Swans fairytale and the second a Hero's Quest and Coming of Age story that is equal parts epic fantasy and the satire of an epic fantasy. Abso-frickin'-lutely brilliant. Another thing that both have in common? The beautiful writing, to the point where reading these books felt like Reading Beauty (tm Kris) (thank you, Kris!) . I was so touched by The Name of The Wind that now I consider my reading and reviewing to be dated Pre-Patrick Rothfuss and Post-Patrick Rothfuss.
Now that I got Hors Concours out of the way, what else rocked my world?
Favourites of 2009 (so far) – (Published, read and reviewed in 2009) (in no particular order)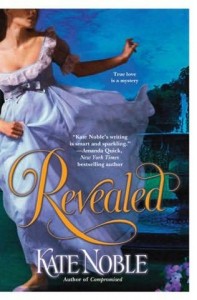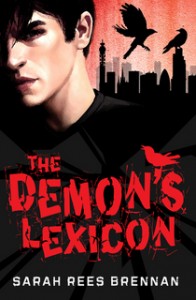 1.Scandal by Carolyn Jewel , 9, Historical Romance
2.Angels' Blood by Nalini Singh, 10, Paranormal Romance
3.Revealed by Kate Noble, 9, Historical Romance
4.Fragile Eternity by Melissa Marr, 9 YA
5.The Demon's Lexicon by Sarah Rees Brennan, 8, YA
6.Eyes Like Stars by Lisa Mantchev, YA
7.Branded by Fire by Nalini Singh, 9, Paranormal Romance
8. What Happens in London by Julia Quinn, 8, Historical Romance
9. Bound by Your Touch by Meredith Duran, 8, Historical Romance
10. Don't Tempt Me by Loretta Chase, 8, Historical Romance
11. Practice Makes Perfect by Julie James, 8, Contemporary Romance
12. The Sinful Life of Lucy Burns by Elizabeth Leiknes, 8 , Fiction
13. Blue Diablo by Ann Aguirre, 7, UF
Total of Books reviewed in 2009 so far: 58
Reviews By genre:
Romance: 26
Graphic Novel/Manga: 6
Fantasy: 8
Urban Fantasy: 8
YA: 6
Horror: 2
Sci-fi: 1
Fiction: 1
Reviews By rating:
10 Rated Books: 4
9 Rated Books: 4
8 Rated Books: 15
7 Rated Books: 16
6 Rated Books: 10
5 Rated Books: 4
4 Rated Books: 2
3 Rated Books: 0
2 Rated Books: 1
1 Rated Books:1
DNF: 1
Thea's List:
I have to concur with Ana – thus far, 2009 has been a pretty good year for reading. (And hey, I'm always happy to see that my reading suggestions *cough*Sevenwaters*cough* make Ana happy)
Here's my rundown, a little different than Ana's as I've split my books into two lists: Honorable Mentions for 2009, and Favorites for 2009. I should also note that the books on this list are ONLY those which I have reviewed here on The Book Smugglers. I'm kinda a cheater in that I don't always review the books I read (most notably for graphic novels/comics and some older books), so technically this is my "Books Reviewed in 2009" list. With that in mind, here we go!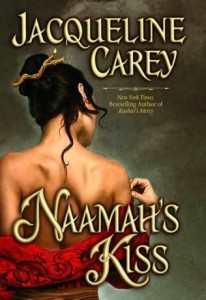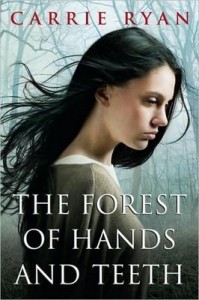 Favorites of 2009 (so far):
Namaah's Kiss by Jacqueline Carey, 9, Fantasy
Slights by Kaaron Warren, 9, Horror
The Forest of Hands and Teeth by Carrie Ryan, 9, YA (SF)
The Magicians and Mrs. Quent by Galen Beckett, 9, Fantasy (Classic)
Magic Strikes by Ilona Andrews, 9, UF
Drood by Dan Simmons, 8, Mystery (Classic, Historical)
Goth by Otsuichi, 9, Horror (Lightbook)
Flood by Stephen Baxter, 8, SF (Apocalypse)
Bone Crossed by Patricia Briggs, 8, UF
Eon: Dragoneye Reborn by Alison Goodman, 8, YA (Fantasy)
Fragile Eternity* by Melissa Marr, 9, YA (Fantasy)
Hunger by Michael Grant, 8, YA (Horror)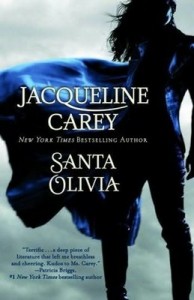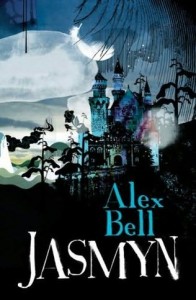 Honorable Mentions 2009:
Santa Olivia by Jacqueline Carey, 8, Fantasy (UF)
Jasmyn by Alex Bell, 8, Fantasy
Angels' Blood* by Nalini Singh, 8, Romance (Paranormal)
In Her Name* by Michael Hicks, 8, Science Fiction (Fantasy)
Generation Dead by Daniel Waters, 8, YA (Horror)
Gone by Michael Grant, 8, YA (Horror)
Zombie Haiku* by Ryan Mecum, 7, Horror (Comedy)
Secret Society Girl by Diana Peterfreund, 7, Literary Fiction (Contemporary)
Total Books Reviewed in 2009: 58
Reviews By Genre:
Fantasy: 11
Horror: 6
Literary Fiction: 2
Mystery: 3
Romance: 3
Science Fiction: 3
Speculative Fiction: 2
Thriller: 1
Urban Fantasy: 10
Young Adult: 17
Fantasy: 7
Horror: 3
SF (Speculative/Science Fiction): 5
Urban Fantasy: 2
Reviews by Rating:
10 Rated Books: 0
9 Rated Books: 7
8 Rated Books: 20
7 Rated Books: 18
6 Rated Books: 10
5 Rated Books: 2
4 Rated Books: 1
3 Rated Books: 0
2 Rated Books: 0
1 Rated Books: 0
DNF: 1
Interesting Trends and Analysis:
Thea: I remarked to Ana in an email that before we'd taken the time to compile a database of all the books we had reviewed this year, I had no concept of how much romance Ana read! Even the UF/Fantasy titles have a romantic bend, which I suppose is rather dense of me (considering we are a Romance and Speculative Fiction reviewing blog). Still, it took me by surprise! Also interesting was how many Young Adult novels I have read this year! Of the staggering 17 YA titles I have read, all of them fall under the speculative fiction umbrella. Craziness! Urban Fantasy has taken a pretty significant decline in books I've read this year, with traditional fantasy and horror gaining a larger share. Verrrrry interesting.
Ana: I find it so interesting that this is how you see it Thea – I was surprised to see how little romance I read so far this year especially compared to last year! If you add the number of other genres , they surpass my romance reading. So, first interesting trend is that I am reading less romance and expanding to other genres. I had NO IDEA I had read 8 UF and I honestly thought I had read more YA. Verrrrrrry interesting indeed. I am curious to see how the rest of the year goes.
So there you have it! Our midway mark, best of 2009. What books are we missing out on? Which titles are your favorites for the year so far?