Title: The French Mistress: A Novel of the Duchess of Portsmouth and King Charles II
Author: Susan Holloway Scott
Genre: Historical Fiction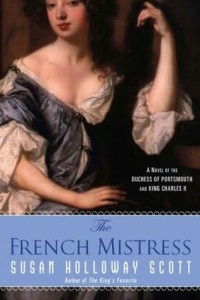 Publisher: NAL Trade
Publication Date: July 2009
Trade Paperback: 400 pages
Stand Alone or Series: Can be read as a stand alone novel, but is the fourth in a series of books following the different women in the court of Charles II.
Why did I read this book: Last year, I read and loved The King's Favorite, Susan Holloway Scott's previous novel. So this year, when Susan offered up an ARC of The French Mistress it was a no brainer!
Summary: (from SusanHollowayScott.com)
The acclaimed author of The King's Favorite returns to the decadent court of King Charles II to follow the dazzling life of Louise de Keroualle, a shy maid of honor who would rise to become one of the wealthiest and most powerful women of her time.
1668: The daughter of a poor nobleman, Louise leaves the French countryside for the glittering court of the legendary King Louis XIV. As a baby-faced maid of honor, the innocent Louise attracts little notice––until she catches the eye of the visiting English king, Charles II. Before long, she is sent by the scheming Louis to London as a royal "gift" for Charles. There she is expected not only to please the tastes of the jaded English king, but to serve as a spy for France.
Alone in a foreign land with few friends, many rivals, and ever-shifting loyalties, Louise soon learns the perils of her new role. Yet she is too clever—and too ambitious—to be merely a pawn in the intrigues of others. With the promise of riches, power, and even the love of a king, Louise dares to create her own destiny in a dangerous dance of intrigue between two kings—and two countries.
Review:
As Louise de Keroualle bids her family farewell and travels to Paris to become a maid of honor, she never suspects her pivotal role in the courts of kings. Louise's mission is to secure a husband to bolster her family's standing and dwindling fortune, but she finds herself and her particular brand of innocent beauty out of fashion in the jaded court of Louis XIV – and unwilling to participate in games and affairs of the nobility, Louise is overlooked. Because of her innocence and fresh-faced honesty, however, Louise quickly becomes Madame's – Henriette-Anne, Duchess of d'Orleans and sister of King Charles II of England – closest and most trusted maid, friend, and confidante. Madame yearns for her brother and for her homeland, and works tirelessly at bringing France and England together despite the cruelty and disdain of her husband, King Louis's brother. When Madame finally is granted her dearest wish to visit England with King Louis's blessing, her first in ten years, the dependable Louise is by her Madame's side. Almost instantly, King Charles is taken with Louise, as much for her beauty and innocence as for his sister's high esteem. As for Louise, she had already slowly idealized Charles from her Lady's stories and letters, and the infatuation quickly progresses to love in Charles's dashing presence. Though Charles attempts to keep Louise for his own, Madame intervenes and refuses to leave her friend in England, for the good of Louise and for her brother. However, after the sudden death of Madame upon their return to Paris, Louise has a singular opportunity offered to her by King Louis: return to England as Charles's mistress with the best interests of France in mind, assuming the late Henriette's role as liaison between the two countries. And Louise, already in love and yearning for a future of her own, accepts and becomes Charles's French mistress, rising above the cruelty of the English court and becoming one of the most powerful and rich women in the nation.
I have to admit that I started Louise's story with strong bias – I had fallen in love with the witty Nell Gwyn from The King's Favorite, Louise's bitter rival. As such, when I began The French Mistress I found myself criticizing Louise with Nell's mocking voice in my head. However, once I forced myself to give Louise a fair shot and to relinquish my scorn, I found her story captivating, and her narration (though not nearly so fun and sparkling as Nelly's) strong in its own right. The French Mistress is Ms. Scott's gift to the memory of Louise de Keroualle; a chance for the French mistress of the English King to tell her story, against the malicious rumors and prejudice against her and which indeed remain in historical memory. And though Nell will always be my favorite, Louise holds her own.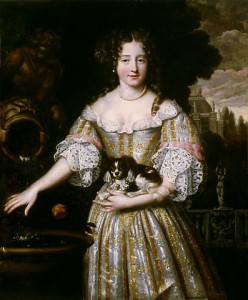 Louise de Keroualle, Duchess of Portsmouth
The French Mistress paints Louise de Keroualle in a sympathetic light; and her aloofness at court and unpopularity are explained by her natural shyness, her different upbringing as a virgin and innocent out of place with the bawdy humor of the English court, and her background as a devout Catholic in a country loathsome of "popish" tendencies. For all Nell's wit and charm, Louise is of noble blood and birth, and unlike Nell achieves the rank of Duchess despite her unpopularity and the barbs directed at her from Nell and others (such as Nell's good friend and major character in the previous book, the Earl of Rochester).
As with her prior book, Ms. Scott excels in creating a distinct voice for Louise, allowing readers a glimpse of who the woman the Duchess of Portsmouth may have been, weaving a believable and engrossing story from historical fact. One thing I took away from The French Mistress in particular was the sense of deep-seated loneliness Louise felt – in Paris, and even more pronounced in London. And, though Charles Stuart will never rank highly on my list of admirable heroes, in this respect he and Louise were perfectly matched – both lonely souls finding solace and companionship in each other. Without friends such as Nell had, or means of amusing herself as on the stage which Nell did, Louise's book is more introspective, and against my will I felt for her – such is Ms. Scott's gift for characterization. The other character I felt deeply for in this novel was "Minette," Louise's Madame. The early chapters following Louise's first months in Paris are among my favorites in the novel, and the budding friendship between these two women is truly touching. The abuse the princess suffers at the hands of her cold husband, Minette's dreams of returning to England and most of all Louise's devotion and friendship to Madame are all poignant and well-written.
For the history itself, I confess I am no expert at all when it comes to Restoration era England – but Ms. Scott writes incorporating dates, places, treaties attempted and lost, wars, political climate and carries out a convincing, passionate, and eminently readable story. The landscapes of both France and England are brought to life in this novel, with more detail of the workings of the court than in the preceding book. Though I will say I missed the rowdiness of Covent Garden and the theater, Louise's more somber world is enlightening in its own manner.
The French Mistress is a different story than Nell's, more quiet, more lonely, but every bit as engrossing. Ultimately, I highly enjoyed The French Mistress, and certainly recommend it to fans of not only historical fiction, but a well-written and beautifully crafted story.
Notable Quotes/Parts: I loved seeing exchanges between Louise and Nell, but this time from Louise's perspective. For example,
But as we neared the door, the impudent small actress popped up before us like a child's jumping jack. I suppose she felt she still merited more of Charles's attention for her vulgar dancing, yet this was astonishingly forward even in the English Court.

What came next, however, was far, far worse.

Tipping her head at a sharp angle, the actress cocked one hand over her head and the other at her waist, an exaggerated mockery of the sarabande's elegant postures, and, of course, of me.

"Parley-voo-hoo-hoo, mon'sir?" she asked in a low English parody of French. "Dance-say a la frog, mon'sir, o-wee, o-wee?"

Others around her laughed and sniggered at her foolishness, but the king did not.

For myself, I was simply too shocked to respond.

"There now, Nelly, enough," Charles warned with more mildness than I thought she deserved. "We've no need of that."

But she wasn't done. Still holding true to her mockery of the sarabande, she took several purposefully clumsy steps, ending so she was facing me. Then she screwed up her face into a terrible grimace, making her eyes into the narrowest of slits.

I gasped as if I'd been struck a blow. In a way, I suppose I had. A with many people, my sight was weak at a distance, and without thinking, I sometimes would squint by way of compensation. Though I'd not been aware of it this evening, I must have done so when surveying the company, long enough for this dreadful woman to have seized upon it as a flaw, and turned it now against me.
Nell's antics, hilarious in her novel (and still colorful in this accounting, earning a snigger or two from me, I will confess) are hurtful in Louise's tale, offering a valuable sense of perspective. Ms. Scott takes on a brave task by writing each book in this series from the perspectives of different women, each rivals for Charles's affections, but somehow she manages to humanize each of them. Absolutely brilliant.
Additional Thoughts: Tomorrow, Susan Holloway Scott will be over talking about her inspirations and influences for The French Mistress and her other work. We will also be giving away TWO copies of The French Mistress, so make sure to stop by!
Verdict: Though Nell remains my favorite of Charles's mistresses, Louise's story is evocative and well-written. Highly recommended for those looking for an engaging novel set against a sweeping historical landscape.
Rating: 7 Very Good
Reading Next: Apocalypse 2012 by Gary Jennings