Title: Cybele's Secret
Author: Juliet Marillier
Genre: Fantasy, Young Adult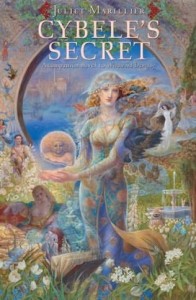 Publisher: Knopf Books
Publication Date: September 2008
Hardcover: 448 Pages
Stand alone or series: Can be read as a stand alone novel, but is the companion book/sequel to Wildwood Dancing.
Why did I read this book: I love Juliet Marillier's writing, and I loved Wildwood Dancing. Naturally, I had to have Cybele's Secret too.
Summary: (from amazon.com)
FOR PAULA, ACCOMPANYING her merchant father on a trading voyage to Istanbul is a dream come true. They have come to this city of trade on a special mission to purchase a most rare artifact—a gift from the ancient goddess, Cybele, to her followers. It's the only remnant of a lost, pagan cult.
But no sooner have they arrived when it becomes clear they may be playing at a dangerous game. A colleague and friend of Paula's father is found murdered. There are rumors of Cybele's cult reviving within the very walls of Istanbul. And most telling of all, signs have begun to appear to Paula, urging her to unlock Cybele's secret.
Meanwhile, Paula doesn't know who she can trust in Istanbul, and finds herself drawn to two very different men. As time begins to run out, Paula realizes they may all be tied up in the destiny of Cybele's Gift, and she must solve the puzzle before unknown but deadly enemies catch up to her. . . .
Review:
Paula, the studious, scholarly sister of Piscul Draculi, begins her own adventure in Cybele's Secret. With all her sisters married and happily situated (besides the youngest, Stela), Paula longs for adventure and a chance to challenge her sharp mind – and with her father's latest merchant charter for an ancient, priceless artifact, Paula finally encounters the adventure she has always longed for. Paula's strong head for languages and numbers and her father's affection secure her a spot on the ship headed for Istanbul to procure the mythical Cybele's Gift, rumored to hold the engraved words from the old Goddess herself and to bestow wisdom and good fortune to any who possess it. Of course, no one has ever seen the artifact but Paula and her father are determined to buy it, for the price they can sell it for will secure the family at Piscul Draculi forever. Although the reemergence of the Gift is supposed to be a secret, many of the best merchants in Istanbul have already heard the news and compete fiercely for the priceless prize, including a ruthless Portuguese pirate. And because of this danger – and the cultural mores that women must adhere to in public – Paula's father hires a young, serious man named Stoyan as their bodyguard. Paula turns to her scholarly talents to research Cybele's Gift, looking to understand its origins in hopes of securing the artifact. But as disappearances of would-be buyers in the city continue and mysterious visions come to Paula in her dreams and in her studies, she knows that her time may finally have come. It is Paula's time to return to the Other Kingdom and complete harrowing tasks set out for her from those of that other ream, if she is brave enough to seize the adventure and love she has always craved.
Though Cybele's Secret is a companion novel/sequel to Wildwood Dancing, these two books could not be more different – but they are both completely enchanting, lush reads. While Wildwood Dancing explores the mist-shrouded woods of Transylvania, Cybele's Secret turns to the heat and exotic colors of Turkey – and the setting itself is a vibrant character in this novel. The descriptions of customs, from Irene's hamam (or Turkish Baths) to haggling over vivid swaths of cloth in the marketplace, are stunning, evocative visuals. I loved it. Also, so many fantasy novels are set in the European Forest, with the same type of supernatural fae and creatures from that pantheon – but Cybele's Secret turns to different pagan Gods from a very different realm. While I do love Ms. Marillier's take on Celtic myths and the cool beauty of the forests of Sevenwaters or those surrounding Piscul Draculi, this departure to an entirely new locale, with an entirely new realm of Gods is truly brilliant.
The characters too are expertly drawn – in this novel, the studious, introverted Paula yearns for adventure and she receives it in spades. Paula is forced to confront her own fears and step outside of her comfortable realm of books and parchment, but she is not without her own stumblings and missteps – which only makes her more believable, more real as a character. Comparing Paula and Jena is an impossible task as these two sisters are completely different people, but both are undeniably wonderful heroines. I loved Paula's intellect and how she sometimes could be too smart for her own good, overlooking the obvious solution for something more complicated – in this sense, Paula is tested far beyond Jena in the prior novel.
In this book we also get a closer look at Teodor Brasov, Paula's father, who is largely missing from Wildwood Dancing. His relationship with Paula, and in fact his closeness with all his daughters, is apparent here and is a touching sentiment, as is his trust in Paula's judgment. Of course, the other stars of this story are Stoyan (Paula's solid, loyal bodyguard) and Duarte (the charming pirate). The relationships that unfold between these three characters may seem to be of the classic love triangle variety – but it's not, really. I won't spoil, but suffice to say that there really is only one choice for Paula. I loved the backstories for both Stoyan, as the Bulgar searching for his stolen brother, and Duarte as the surprisingly noble pirate. The other standout character is Paula's new-made friend in Istanbul, the beautiful Greek scholar Irene. Charismatic, intelligent, and ambitious, the older Irene takes Paula under her wing, along with other women in the city who are barred from men-only libraries and social settings. Irene is complicated, but again another shining character in Ms. Marillier's writing.
As for Cybele's Gift itself – well, suffice to say that there is adventure abound in Cybele's Secret. Paula, Stoyan and Duarte are tested harshly in their quest together with the Gift, undergoing a series of seemingly impossible tasks. I love these sort of quest/Indiana Jones and the Last Crusade type of stories, and Cybele's Secret does it with the best of them.
I absolutely loved this book.
Notable Quotes/Parts: From Chapter 1:
The deck tilted to port, and I tilted with it, grabbing at a rope to keep my balance. One day out from Constanta, the wind had turned contrary and the waters of the Black Sea rose and fell under the Stea de Mare's belly like a testy horse trying to unseat its rider.

"You have excellent sea legs, Paula," my father commented. He stood perfectly balanced, a veteran of more merchant voyages than he could count. This was my first.

The sail crackled in the wind. The crewmen, grim-jawed and narrow-eyed, were struggling to keep the one-master under control. When they glanced my way, their expressions were hostile.

"It unsettles them to have a woman on board," my father said. "Ignore it. It's superstitious nonsense. They know me, and you're my daughter. If the captain doesn't like it, he shouldn't have accepted my silver."

"It doesn't bother me, Father," I said through gritted teeth. Having good sea legs didn't mean I relished the bobbing motion of the boat or the constant drenching in salt spray. Nor did I much care for the sense that if the Stea de Mare sank, these sailors would put the blame on me. "Is this going to delay us, Father?"

"It may, but Salem bin Afazi will wait for us in Istanbul. He understands what this means for me, Paula–the opportunity of a lifetime."

"I know, Father." There was a treasure waiting for us in the great city of the Turks, the kind of piece merchants dream of laying their hands on just once in their lives. Father wouldn't be the only prospective buyer. Fortunately, he was a skillful negotiator, patient and subtle.

When he had first agreed to take me with him, it had been to allow me to broaden my horizons now that I was in my eighteenth year, to let me see the world beyond the isolated valley where we lived and the merchant towns of Transylvania that we sometimes visited.

But things had changed on the journey. Just before we were due to embark, Father's secretary, Gabriel, had tripped coming down a flight of steps in the Black Sea port of Constanta. The resultant broken ankle was now being tended to in the physician's house there while the Stea de Mare bore Father and me on to Istanbul. It was most fortunate that I spoke perfect Greek and several other languages and that I had Father's full trust. While I could not take Gabriel's place as his official assistant, I could, at the very least, be his second set of ears. It would be a challenge. I could hardly wait.

The wind had brought rain, the same drenching spring rain that fell on our mountains back home, flooding streams and soaking fields. It scoured the planks of the deck and wrapped the ship in a curtain of white. From where I stood, I could barely see the sail, let alone the bow cutting its way through choppy seas. The crew must be steering our course blind.

Father was shouting something above the rising voice of the wind, perhaps suggesting we should go below until things calmed down. I pretended not to hear. The tiny cabins we had been allocated were stuffy and claustrophobic. Being enclosed there only emphasized the ship's movement, and one could not lie on the narrow bunk without dwelling on how exactly one would get out should the Stea de Mare decide to sink.

"Get down, Paula!" Father yelled. A moment later a huge, dark form loomed up behind us. A scream died in my throat before I could release it. Another ship–a tall threemaster, so close I screwed my eyes shut, waiting for the sickening crunch of a collision. It towered above us. The moment it hit us, we would begin to go down.

Running steps, shouts, the clank of metal. I opened my eyes to see our crew diving across the deck, snatching implements to fend off the approaching wall of timber. Everyone was yelling. The helmsman and his assistant heaved on the wheel. I clutched on to Father, and the two of us ducked down behind the flimsy protection of a cargo crate, but I couldn't bear not knowing what was happening. I peered over the crate, my heart racing.

Aboard the three-master, a motley collection of sailors was busy hauling on ropes and scrambling up rigging while an equally mixed group had assembled by the rail, long poles extended across and downward in our direction. There were about two arm's lengths between us.

"Poxy pirate!" I heard our captain snarl as he strode past. A shudder went through the bigger ship, as if it were drawing a difficult breath, and then the two vessels slid by one another, a pair of dancers performing a graceful aquatic pavane.

The wind gusted, snatching my red headscarf and tossing it high. As the scrap of scarlet crossed the divide between the boats, I saw a man set a booted foot on the rail of the three-master and swing up with graceful ease to stand balanced on the narrow rim. He took hold of a rope with one casual hand, then leaned out over the churning waters to pluck the scarf from midair while the ship moved on under full sail. The sailor was tall, his skin darker than was usual in my homeland, his features striking in their sculpted strength. As I stared, the fellow tilted himself back with the ship's natural movement and leaped down to the deck, tucking the red scarf into his belt. He did not glance in my direction. The big ship moved away, and I saw its name in gold paint on the side: Esperança.

"Close," muttered Father. "Altogether too close."

Despite my pounding heart, I felt more intrigued than frightened. "Did the captain say pirate?" I asked, unrealistic images of weathered seafarers with exotic birds or monkeys on their shoulders flashing through my mind.

"If he did," Father said, "we must be glad the fellow didn't seize the opportunity to board us. I want to get my goods to Istanbul in one piece. Perhaps he knew all I had was hides and wheat. We'll be more of a prize on the way back."
Additional Thoughts: On covers once more – I love the covers for both Wildwood Dancing and especially this cover for Cybele's Secret. Unlike other covers we've discussed here on The Book Smugglers recently, every nuance, every detailed illustration has something to do with the story. Reading the book, especially the harrowing tasks near the end of the novel, I kept flipping back to the cover to search for the matching picture. One of Paula's studies in Irene's library is over a piece of parchment with illustrations with secret meaning – and the cover of Cybele's Secret is the perfect translation of Paula's efforts.
And speaking of covers…Juliet Marillier returns to Young Adult fiction this September with Heart's Blood – and I cannot wait. Check out the US, UK, and Australian covers, and the synopsis below: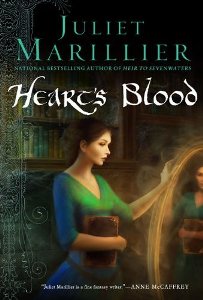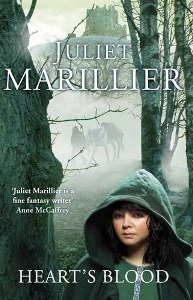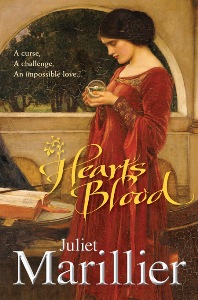 A haunted forest. A cursed castle. A girl running from her past and a man who's more than he seems to be. A tale of love, betrayal and redemption…

Whistling Tor is a place of secrets, a mysterious wooded hill housing the crumbling fortress of a chieftain whose name is spoken throughout the district in tones of revulsion and bitterness. A curse lies over Anluan's family and his people; the woods hold a perilous force whose every whisper threatens doom.

And yet the derelict fortress is a safe haven for Caitrin, the troubled young scribe who is fleeing her own demons. Despite Anluan's tempers and the mysterious secrets housed in the dark corridors, this long-feared place provides the refuge she so desperately needs.

As time passes, Caitrin learns there is more to the broken young man and his unusual household than she realised. It may be only through her love and determination that the curse can be lifted and Anluan and his people set free . . .
The Australian cover wins for me, hands down (though the UK version is beautiful too!). The US cover…not so much.
Verdict: A beautiful, thrilling story. From the vibrant backdrop of Istanbul, to the flawed but very human and touching characters, I loved Cybele's Secret. Another favorite, notable read for 2009, easily. (Though if I were forced to pick between Wildwood Dancing and Cybele's Secret, I would still probably pick Wildwood Dancing as my favorite of the two!)
Rating: 9 Damn Near Perfection
Reading Next: Shiver by Maggie Stiefvater