Title: Starfinder
Author: John Marco
Genre: Fantasy, Young Adult, Steampunk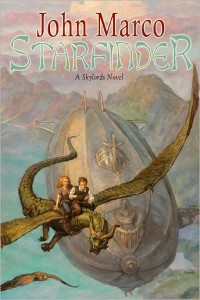 Publisher: Daw
Publication Date: May 2009
Hardcover: 400 pages
Stand alone or series: Can be read on its own; the first book of the planned Skylord series.
Why did we read this book: A while back, John Marco contacted us with a query to review his upcoming new YA book, and we hastily accepted as soon as we read the synopsis. Now, months later, we are thrilled to be able to review Starfinder.
Summary: (from amazon.com)
A new fantasy series from the author of The Sword of Angels.
Steam trains and electricity are rapidly changing the world. Moth of Calio is obsessed with the airships developed by his friend Fiona's grandfather Rendor, and dreams of taking to the air one day like his heroes, the Skyknights.
But not everyone is happy to see humans reach the skies. For thousands of years, the mysterious and powerful race known as the Skylords have jealously guarded their heavenly domain. But Moth and Fiona are about to breach the magical boundary between the world of humans and the world of the Skylords.
REVIEW
First Impressions:
Ana: The premise of Starfinder was completely alluring to me. The combination of Steampunk, YA and Fantasy, three genres that I am becoming increasingly fond of, sounded very promising. Plus having heard good things about the Fantasy books written by John Marco, I was overjoyed at the chance of reading Starfinder. The book proved to be a quick, enjoyable read, and although entertaining enough to an adult such as myself, I think it would be a better fit for its intended audience.
Thea: When John contacted us a while back with the opportunity to read his new young adult novel, Ana and I were absolutely thrilled. YA Fantasy is fast becoming one of my favorite genres, and steampunk is the new black – needless to say, I was excited. And for the most part, Starfinder delivered. Although I think it is primarily a young adult novel written for young adults and has little appeal for older readers, I know that if I were 10 years old and reading this book, I would be in love with Moth and Fiona. A quick, lovely read, definitely suited for its target audience.
On the plot:
Ana: Moth is a young orphaned boy, who lives in Calio and works at the aerodrome where he dreams of flying the machines known as Dragonflies. He is a companion to an elderly former Eldrin Knight named Leroux and his pet bird Lady Esme who tells him great stories about the Reach – the fog swept lands that lay beyond Calio and which no one dares to go to. Surrounded in mystery and legends about the Skylords, the creatures that are Calio's enemies, the Reach is stuff of nightmares.
It is then with a great sense of impending doom that Moth learns, as Leroux lays dying, that Lady Esme is actually a woman and that he needs to undergo a journey to the Reach in order to make her human again and search for Merceron, a wizard that can help him with this task. With his best friend Fiona, the granddaughter of the Governor of Calio as his companion, Moth dares to go where few people have gone before – and then there is the Starfinder the very thing that can be an essential instrument in the war between the Skylords and Calio.
It is with a great sense of wonderment that Fiona and Moth enter the Reach – for in there they find mythological creatures they never thought real : dragons, centaurs, mermaids who they befriend and are helped by in their quest to help Lady Esme and keep the Starfinder from following in the wrong hands. This is a coming of age story for both Moth and Fiona.
Plot-wise, Starfinder is QUITE the non-stop adventure stock filled with great ideas, wonderful creatures and a compelling mixture of mythology and technology that works really well. Although the Steampunk elements and its wondrous machines and the Fantasy elements are not especially original, especially to seasoned readers of both genres, I believe they form an irresistible tale for its intended audience. I can see how YA of around 10-13 years of age would love this book and have great fun reading it – but I don't think this is the best example of YA that could cross-over to an older audience and I believe the reason lies in the writing.
John Marco's penned a novel that clearly IS for a younger audience and this is very obvious as you read the dialogue. The way people talk in the book – youngsters and adults alike – are not articulate enough. I can understand how it would be so with regards to the children but the way John Marco's constructed the adult's speech, it was almost as if, his intention was to make it easy for the younger audience – I tend to think that young people these days are very much capable of understanding and appreciating complex dialogue.
To be completely fair though, the premise and the descriptions of the world have a very evocative, sophisticated writing, most probably stemming from John Marco's regular fantasy books – in which case, Starfinder definitely made me want to read his other books!
Thea: At its heart, Starfinder is a quest and coming of age story, filled with the usual cast of wondrous creatures, namely dragons, mermaids, and centaurs; but also with some fascinating new additions with the cruel, angelic Skylords, their Redeemer slaves, and the integration of fabulous new steampunk-ish flying machines. Moth and Fiona travel by foot and by sky in The Reach, encountering all these different creatures in their quest to carry out Leroux's dying wishes, and drastically change both the human world and the mysterious Reach forever. The plotting of the novel is solid, with never a dull moment and I made hasty time with this book, eager to see where Moth and Fiona's adventures would take them.
That said, I do have to agree that while the overall story is undeniably solid, the writing is decidedly much more simplistic, and designed to appeal to a young target audience. The dialogue is free of subtlety or nuance (i.e. "Merceron glared at him. 'If you want to be like a Skylord, go ahead. Speak Jorion's name. Spy on him.'"; "You're no better than us, Korace. We're just like you, except we don't have wings. We can even fly…that's why you hate us…Because we can fly and you can't!"), and lacks that crossover appeal that many new young adult novels have to older readers. I can hardly fault Mr. Marco for writing specifically for his young adult audience, but I tend to agree with Ana: young readers can handle more complex, nuanced writing. By the time children reach middle school they are already reading and dissecting works such as William Golding's Lord of the Flies and Nathaniel Hawthorne's The Scarlet Letter, so they can handle a little complexity!
So far as the actual story is concerned, I loved the dilemma the indestructible starfinder presents to the inhabitants of the human realm and to the world beyond the Reach, a catalyst for a reignited war all over such a small thing. Moth being able to read the starfinder (when no one else knows how to use it) does feel a little bit like Lyra Belacqua and the Alitheometer from His Dark Materials, but that's not really a bad thing. Most of all, I loved the action and the constant movement of the plot, from the human industrial city of Calio to the mists of the Reach, to the lair of Dragons, the haven of Centaurs, and the moonlit realm of the Skylords themselves. Also, the steampunkish elements presented a very nice contrast to the high magic in the book. I loved the concept of "dragonflies" and zeppelin-like aeroships, and some of the detail Mr. Marco delved into when describing these creations. While Starfinder may be a bit too young for my tastes, I have to appreciate John Marco's writing style and his imaginative world – and my appetite has certainly been whetted for more of his books.
On the characters:
Ana: Moth and Fiona make a good duo of protagonists, partly staple fare (both orphaned with Issues, both optionated, both special in their own way) partly ingenious with Moth being a dreamer and an optimistic and Fiona being quite the pessimist with the much needed realistic voice to counter-balance Moth's. They were both at times immature and prone to rushed utterances and actions but also capable of mature insights – as any YA would be.
As for the other characters – I was happy to read about the dragons , centaurs and Fiona's grandfather (I am proud to say, I totally knew where he stood in the bad x good debacle).
I am pretty sure Thea will say that her favourites are the Centaurs and they really pretty cool but would I come across as too weird if I said that my favourite characters were the villains though? The Skylords were so interesting and their extreme view of who is and who is not entitled to fly and the reasoning behind it, were almost …..biblical. And this comes as no surprise as I usually fall hard for characters that are evil but not so evil (hey, I love Neil Gaiman's Lucifer for example and some of Meljean Brook's demons) and in this case, Artaios is definitely my favourite with his, dare I say it, half-hearted pledge to the Skylords' motto and his friendship with Moth was really, a pleasure to read. Their slaves, known as the Redeemers were horrific though.
Thea: Oh dear Ana, you know me too well! Yes, I have to say that my favorite characters would have to be the Centaurs, in particular Netta and Jorian. I loved the tension Mr. Marco created between the Dragons and Centaurs, while the Centaurs think of the Dragons as cowardly beasts, and the Dragons think of the Centaurs as pigheaded fools (yet, there is a mutual understanding between the two races). The fiercely loyal and brave Centaurs, led by the warrior Jorian and his unique ability to command fire from the heavens, are fascinating. The Dragons too are well done, and put me in a nostalgic mindset for Patricia C. Wrede's Enchanted Forest books. (Again, if I was 10 years old and reading this book, I know I would have been completely enchanted)
But how about those two protagonists, Moth and Fiona? I agree that they are very balanced, with Moth's propensity to dream and Fiona's obstinacy – though they are very standard, run of the mill characterizations. Fiona is the naggy, whiny girl which is something of an annoying stereotype, but she does show some growth by the end of the novel. Moth, on the other hand, is our brave hero, standing up to the Skylords and sticking to his morals. Both characters, as Ana mentions, are orphaned and misunderstood, and hold the fate of the world in their young hands. Standard fodder. Which isn't a bad thing, but it's not particularly groundbreaking. Still, they are fine, if generic, protagonists.
The other standout character for me was the Redeemer Alisaundra. The Skylords and their enslaved, transformed human Reedemers are a darker side to this tale, and Alis's tale is captivating and tragic.
Final Observations, Recommendation and Rating:
Ana: A great adventure that I would heartily recommend to teens, especially 10-13 year olds who would find in Starfinder a great introduction to the Fantasy genre.
Thea: This is a book I will gladly give to my 10 year old sister, and one I wholeheartedly recommend for all young readers. While Starfinder does not pass the adult cross-over test, it is still a fine novel written for a much younger audience.
Notable Quotes/ Parts:
Ana: The final battle, specially the moment when Artious shows up.
Thea: I loved this section:
Usually it was Moth who kept the conversations going, but this time that duty fell to Fiona. With a game smile she kept her tone jolly, embarrassing Moth with her efforts to cheer him. In fact, Moth didn't want to be cheered. He was afraid, and he'd never felt so lone since the day his mother died. Being happy now seemed disrespectful…

Fiona knew she couldn't tell Moth she was afraid. He was only a year younger than her, but it was an important year and he was a boy. Admit it or not, he needed her. For Fiona, that meant keeping a stupid smile plastered on her face and talking when she didn't feel like it…Moth listened to every word and barely spoke at all. Fiona could tell he was rapt.
Rating:
Ana: 6 Good, Recommended with reservations
Thea: 6 Good, Recommended with reservations
Reading Next: The Black Act by Louise Bohmer