Title: Don't Look Twice
Author: Andrew Gross
Genre: Thriller, Mystery, Suspense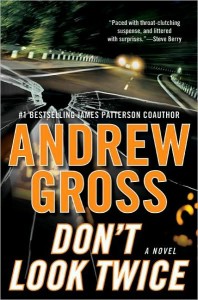 Publisher: William Morrow
Publication Date: March 2009
Hardcover: 384 pages
Stand alone or series: Book 2 following the main character, Lieutenant Ty Hauck; but can be read as a stand alone novel.
Why did I read this book: I haven't really read any thrillers in a while, so when we were offered a review copy of this book, I thought…what the heck! I'm all for reading new things outside of my usual range.
Summary: (from amazon.com)
In this dramatic new novel following the bestselling The Dark Tide, a drive-by shooting rocks the posh suburb of Greenwich, Connecticut, and an innocent bystander is left dead.
Detective Ty Hauck plunges into what seems like a vicious case of retribution and follows the trail to a sinister gambling scheme at an upstate casino. Until Annie Fletcher, a young restaurateur in the midst of rebuilding her life, witnesses something she shouldn't have—and immediately runs to him with what she knows. Suddenly, Hauck is pulled into a rising storm far greater than it first appeared—a storm wide enough to encompass corruption inside Greenwich's circle of wealthy and powerful citizens. And punishing enough to consume Hauck's own family, and tear brothers apart forever . . . if it doesn't kill them first.
Don't Look Twice is a gripping story of profiteering on an international scale and an emotionally resonant domestic thriller from one of the hottest new talents in suspense fiction.
Review:
Lieutenant Detective Ty Hauck plans on sharing a relaxing boat trip weekend in upscale Greenwich with his teenage daughter. While at the local store picking up some last minute replies, a truck pulls up and a young man wearing a red bandana opens fire on the store, killing an innocent man who happened to be standing directly behind Hauck. The victim turns out to be a U.S. Attorney, and soon Hauck is plunged into a full-fledged investigation. What looked like a simple revenge drive-by shooting reveals to be anything but, as layer after layer of conspiracy is uncovered. Hauck finds himself embroiled in a pool of corruption and greed, involving gangs, a local casino, powerful political figures…and even his own family.
As I've said above, I'm not well-versed in the thriller genre. I tend to always think of these sort of murder mysteries/suspense books as "airplane reads" – you know, the ones you pick up at the airport newsstand when you realize you have nothing else to read and really don't want to spend nearly the same amount of money on US Weekly and Cosmo. The last thriller I read was Whiteout by Ken Follett a few years back on a 5 hour flight. I always enjoy these books – truly, some of my favorite Urban Fantasy novels are thrillers with a few supernatural creatures thrown in the mix – so why not try one when I'm not on an airplane? Don't Look Twice was my first foray, and I have to say I enjoyed it.
Don't Look Twice is a solid novel, and it surprised me on a number of levels. I was most pleasantly surprised with the amount of detail and emotion in Mr. Gross's characters. Ty Hauck is, by far, the most detailed of the bunch. He is a detective, a father, a brother, and a divorcee coming off another relationship that looks like it has run its course (with another character from the previous novel, Dark Tide). I was surprised to see that Ty's feelings – from being worried about his teenage daughter growing from gangliness to a young woman, to his own mixed emotions concerning his relationships – were examined in some impressive length here. While Ty does suffer somewhat from Hero syndrome (complete with bad one-liners, always winning the ladies, and an unshakably black and white outlook of morality), Mr. Gross gives him enough emotion an human traits to make him come across as a solid character. The secondary cast is somewhat less sturdy; Annie (Ty's love interest) is probably the best drawn as the chef fighting to get her life back together. Mr. Gross inserts a multitude of new characters into his story, giving them all a few definable traits, but never really exploring any of them so much as he does Ty. Unfortunately this at times leads to some caricaturish, cliched types of scenes – the Hispanic gang members, casino security and sexy employees, etc.
Mr. Gross's greatest strength comes from his fast paced plotting, and his ability to tell a story. This is the first book I have read by this author, and Don't Look Twice is his third solo effort, emerging from the long shadow of James Patterson. Mr. Gross's style is brisk and quick paced; there are 94 chapters in this book, each no longer than a few pages, and each accompanies a shift in character or a new plot twist. While I was reading the book, I found this pacing wholly engaging and raced through the mystery; it was only upon finishing the novel did I sit back and realize that the overall story had a number of holes and was unnecessarily complicated. But, it is testament to Mr. Gross's skill as a storyteller that I was completely distracted by this literary slight-of-hand. The thing I loved the most about this novel, however, was that despite the fact that the direction of the mystery was predictable, the ending was not. In my admittedly limited exposure to thriller novels, there is a standard ending where the mystery is cracked and justice is delivered in some way. In Don't Look Twice, things come to a head, but not in the way I expected – a good thing.
Overall, I enjoyed Don't Look Twice far more than I expected to, and I look forward to trying more of Mr. Gross's work.
Notable Quotes/Parts: From the opening chapter, I had a weakness for Lt. Ty Hauck and his fatherly side:
Hauk reached inside and read the brightly colored label. Megajolt of caffeine. Highest bang for the buck.

"Your mother lets you drink this stuff?" he asked skeptically.

Jessie looked back at him. "Mon's not exactly here, is she?"

"No." Hauck nodded, meeting her gaze. "I guess she's not."

In just the past year, forbidding new curves had sprung up on his daughter's once-childlike body. Bra straps peeking out from under her tank top. Jeans clinging to the hips in an "unnatural" way. Gangly suddenly morphing into something more in the range of troubling. Not to mention the newly mastered repertoire of eye rolls, shrugs, and exaggerated sighs. Hauck wondered if the request for an ankle tattoo or a belly piercing could be far behind. "You don't get to win," a friend who had teenage daughters once warned him. "You only delay."

Jesus, he recalled, it was just a year ago that she liked to get shoulder rides from me.

"Toss it in the basket," he said, acquiescing. "One."

Jessie shrugged without even the slightest smile, failing to grasp the significance of his offering. "Okay."

At the end of the aisle, a man in a green down vest and tortoiseshell glasses reached into the cooler and met Hauck's gaze. His amused, empathetic smile seemed to say, Know exactly what you're going through, man!

Hauck grinned back.
Also, you can take a sneak peek at the first three chapters HERE, and order the book online HERE.
Giveaway Details: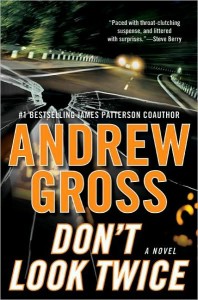 We're giving away one copy of Don't Look Twice! In order to enter, leave a comment here. The contest will run until midnight PST on Sunday, and we will announce the winner in the Sunday Stash. The contest is open to everyone. Good luck!
Verdict: Enjoyable thriller with a solid protagonist and an engaging plot. Definitely recommended for newbies to the genre (like myself), as well as seasoned fans.
Rating: 6 Good, Recommended
Reading Next: The Black Act by Louise Bohmer