Since we didn't really do one of these on Sunday (Superbowl, lo siento!), and since it's release day, we're having a mini-stash. Here's a few upcoming books for February that we are excited for, as well as some giveaway opportunities that you may or may not have heard of!
Books for February: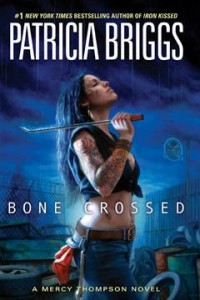 Bone Crossed by Patricia Briggs – February 3
We loved Mercy's fourth installment, and encourage everyone to get out there and start reading this fantastic Urban Fantasy series. Stick around for our interview with Ms. Briggs on Sunday–we'll hold another giveaway with a chance for you to win your very own copy of Bone Crossed!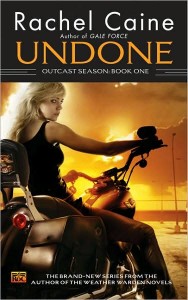 Undone by Rachel Caine – February 3
Once she was Cassiel, a Djinn of limitless power. Now, she has been reshaped in human flesh as punishment for defying her master-and living among the Weather Wardens, whose power she must tap into regularly or she will die. And as she copes with the emotions and frailties of her human condition, a malevolent entity threatens her new existence…
We'll have our review of Undone up tomorrow–suffice to say that Thea loved it. Fans of the Weather Warden series and newcomers alike will enjoy this fast-paced, thrilling novel.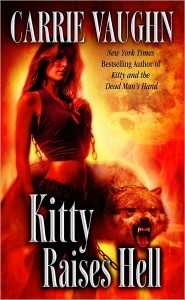 Kitty Raises Hell by Carrie Vaughn – February 24
Sometimes what happens in Vegas doesn't stay in Vegas.

Kitty and Ben flee The City That Never Sleeps, thinking they were finished with the dangers there, but the sadistic cult of lycanthropes and their vampire priestess have laid a curse on Kitty in revenge for her disrupting their rituals. Starting at the next full moon, danger and destruction the form of fire strikes Kitty and the pack of werewolves she's sworn to protect.

She enlists the help of a group of TV paranormal investigators – one of whom has real psychic abilities – to help her get to the bottom of the curse that's been laid on her. Rick, the Master vampire of Denver, believes a deeper plot lies behind the curse, and he and Kitty argue about whether or not to accept the help of a professional demon hunter – and vampire – named Roman, who arrives a little too conveniently in the nick of time.

Unable to rely on Rick, and unwilling to accept Roman's offer of help for a price, Kitty and her band of allies, including Vegas magician Odysseus Grant and Kitty's own radio audience, mount a trap for the supernatural being behind the curse, a destructive force summoned by the vengeful cult, a supernatural being that none of them ever thought to face.
We've read and loved the first two books in the Kitty Norville series, but really need to catch up. There are a couple of great giveaways going on for the Kitty books–check out Drey's Library for a chance to win one of two complete sets of the Kitty Norville books! Also keep an eye out over at The Discriminating Fangirl's site–she'll be giving away a complete set of the Kitty books soon too!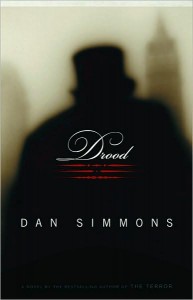 Drood by Dan Simmons – February 9
On June 9, 1865, while traveling by train to London with his secret mistress, 53-year-old Charles Dickens–at the height of his powers and popularity, the most famous and successful novelist in the world and perhaps in the history of the world–hurtled into a disaster that changed his life forever.
Did Dickens begin living a dark double life after the accident? Were his nightly forays into the worst slums of London and his deepening obsession with corpses, crypts, murder, opium dens, the use of lime pits to dissolve bodies, and a hidden subterranean London mere research . . . or something more terrifying?
Just as he did in The Terror, Dan Simmons draws impeccably from history to create a gloriously engaging and terrifying narrative. Based on the historical details of Charles Dickens's life and narrated by Wilkie Collins (Dickens's friend, frequent collaborator, and Salieri-style secret rival), DROOD explores the still-unsolved mysteries of the famous author's last years and may provide the key to Dickens's final, unfinished work: The Mystery of Edwin Drood. Chilling, haunting, and utterly original, DROOD is Dan Simmons at his powerful best.
Thea is a huge Simmons fan and cannot wait to dig into this new volume. Review to follow soon.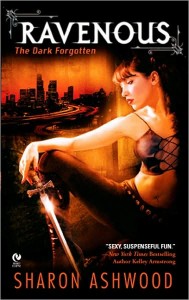 Ravenous by Sharon Ashwood – February 3, 2009
Holly Carver is a witch who sometimes relies on the help of Alessandro Caravelli for her family's preternatural investigations business. Alessandro is the oldest and strongest vampire in Fairview—and he's made no secret of his desire for Holly. But while she aches to succumb to his suggestive wiles, she knows it would be an invitation to trouble.

Then Alessandro's queen, Omara, complicates matters when she turns up in Fairview to enlist his help. Sultry and manipulative, she is jealous of Alessandro's feelings for Holly, and demands he use Holly to trap Geneva—the most evil demon of all.
After reading KMont's review and interview with author Sharon Ashwood, we were ecstatic to get a review copy in the mail, and are definitely looking forward to reading this one.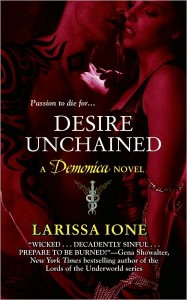 Desire Unchained by Larissa Ione – February 24
Runa Wagner never meant to fall in love with the sexy stranger who seemed to know her every deepest desire. But she couldn't resist the unbelievable passion that burned between them, a passion that died when she discovered his betrayal and found herself forever changed. Now, determined to make Shade pay for the transformation that haunts her, Runa searches for him, only to be taken prisoner by his darkest enemy.

A Seminus demon with a love-curse that threatens him with eternal torment, Shade hoped he'd seen the last of Runa and her irresistible charm. But when he wakes up in a dank dungeon chained next to an enraged and mysteriously powerful Runa, he realizes that her effect on him is more dangerous than ever. As their captor casts a spell that bonds them as lifemates, Shade and Runa must fight for their lives and their hearts—or succumb to a madman's evil plans.
Ana loved Pleasure Unbound, the first book in this series, so it goes without saying she's awaiting this release. KMont also just reviewed an ARC of this novel, and has an interview and an awesome giveaway! Go forth and check it out.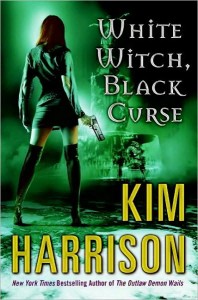 White Witch, Black Curse by Kim Harrison – February 24
Some wounds take time to heal . . . and some scars never fade.

Rachel Morgan, kick-ass witch and bounty hunter, has taken her fair share of hits, and has broken lines she swore she would never cross. But when her lover was murdered, it left a deeper wound than Rachel ever imagined, and now she won't rest until his death is solved . . . and avenged. Whatever the cost.

Yet the road to hell is paved with good intentions, and when a new predator moves to the apex of the Inderlander food chain, Rachel's past comes back to haunt her.

Literally.
This is Thea's most eagerly anticipated book of 2009–it's no surprise she loves Kim Harrison. What Thea wouldn't do for an early copy of this baby…
And Two More Giveaways:
Ilona Andrews needs your help! (Plus, she's giving away an ARC of Magic Strikes to a lucky soul)…Here's the deal:
OpusFest is back! March 13 – 15, 2009 at Red Lion Hotel (I-70 and Quebec) Denver, CO. Come meet Ilona and Gordon Andrews, Gil Bruvel, Stephen Segal, David Boop and many others. Click for more information.
If you post this snippet on your blog and then send Ilona a link via email (ilona at ilonaland dot com) or comment on her blog or livejournal with a link, you will be entered into the ARC giveaway! The deadline is February 10th, so get in now while you still can!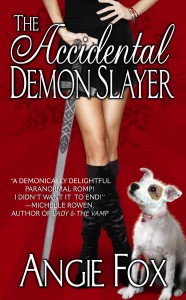 And Angie Fox, NY Times bestselling author of The Accidental Demon Slayer is offering a one-of-a-kind giveaway on her blog! This week, Angie is giving away a signed manuscript of her upcoming novel, The Dangerous Book for Demon Slayers! Here's the novel blurb:
Accidental demon slayer Lizzie Brown and her grandma's coven of biker witches have rolled into Sin City to take out a super-sexy succubus who has her eye on world domination—and worse, Lizzie's man.
Check out the excerpt from the novel here, and go to Angie's blog to enter!
That's about it for now folks. Happy Reading!