Title: Undone
Author: Rachel Caine
Genre: Urban Fantasy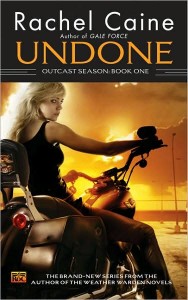 Publisher: Roc
Publication Date: February 2009
Mass Market Paperback: 320 pages
Stand Alone or Series: Book 1 in the new Outcast Season series, but set in the same universe and overlapping with the events of Rachel Caine's Weather Warden books.
Why did I read this novel: Rachel Caine's Weather Warden books are probably my second favorite ongoing Urban Fantasy series, short only to Kim Harrison's The Hollows books. I absolutely love Ms. Caine's fantastic Wardens universe, her break-neck paced writing and tight plotting, and her incredible characters. When I heard she would be starting a new series set in the same universe, I was ecstatic. No brainer.
Summary: (from Amazon.com)
A brand new series from the author of the weather warden NOVEL S, WHO'S AS "Swift, sassy, and sexy as Laurell K. Hamilton." (Mary Jo Putney)
Once she was Cassiel, a Djinn of limitless power. Now, she has been reshaped in human flesh as punishment for defying her master—and living among the Weather Wardens, whose power she must tap into regularly or she will die. And as she copes with the emotions and frailties of her human condition, a malevolent entity threatens her new existence…
Review:
Cassiel is an Old Djinn, or as she would say, a "True" Djinn–one of the originals, born from the Mother herself. After centuries as an all-powerful, coldly indifferent creature, her entire existence changes with one single word.
It only took one word to destroy me, after millennia of living in peace and security, and the word was No.
With her refusal of Ashan (whose spitefulness we are well acquainted with from his large role in the Weather Warden books), Cassiel is torn from her Djinn form and cast asunder. When she awakens, she is weakened and weighed down by heavy flesh and bone–she has become human in form, and a different type of Ifrit. Saved by leader of the New Djinn, David, and his lover Joanne Baldwin (intrepid heroine of the first series), Cassiel settles into human form and discovers that she can only live by the grace of humans. Unable to produce energy of her own, she must draw small amounts from the Wardens. Cassiel is partnered with Manny Rocha, an Earth Warden of medium powers in New Mexico–and both of them are forced to become comfortable and work with each other. When Cassiel meets Manny's wife and daughter, and then later his brother Luis (who you may recall from Gale Force) she begins to understand human relationships and emotions. As she is told later on by a familiar face, Cassiel's banishment is actually a gift–she has the chance to become more than what she was as a Djinn. When her human friends are threatened, Cassiel and Luis will stop at nothing to protect them. A deeper, older danger has awakened, and Cassiel is forced to reconsider where she stands–as an outcast Djinn, or something more.
It's no secret that I go absolutely ga-ga over Rachel Caine's books. Every single volume of the Weather Warden series is a heady blend of intense action, magic and danger. Needless to say, I had very high expectations for this new series–and I'm happy to report that Rachel Caine did not disappoint. Set in the same universe as her previous series, Undone features the same players–Wardens, the Djinn (both Old and New), and the Ma'at. One thing I really love about this Urban Fantasy universe is that there is not a werewolf, fairy, or vampire in sight. Instead, there are humans gifted with power over Weather, Fire or Earth (or in some cases, more than just one element) called the Wardens, who work with the Djinn (that's more or less your traditional genies, except way cooler) to prevent nature from going absolutely crazy and obliterating every living thing on the planet (the natural order of things is: Nature is a bitch, and wants to destroy). It's very innovative, in a kind of Captain Planet on crack way. As always, the worldbuilding is spectacular, from the ground level to the aetheric. The plotting too is fantastic–TONS of twists, and enough great action to keep you reading into the wee hours of the morning (I've tried not to go into too much detail here so that you can be just as thrilled by the twisting story as I was). I love a plot-heavy, action-laden book, and Ms. Caine always delivers…just as she does with her cast of characters.
In the case of Undone, our heroine is not the powerful Warden Joanne Baldwin, but rather a fallen Djinn named Cassiel. I was wary about whether or not I could love another heroine in the same universe even a fraction as much as Joanne Baldwin. True to form, Rachel Caine did not let me down. Undone is an adrenaline-packed treat, with an unusual yet strangely endearing heroine. I loved it. So much of the success of a series, particularly long-running Urban Fantasy type series', depends on the hero or heroine. Jo Baldwin is one of my favorites for her big heart, her tenacity, and her Miu Miu-loving spunk. Cassiel, however, is an entirely different creature. A True Djinn, Cassiel begins the novel as cold and superior–she's not haughty about being better than everyone else, she simply knows she is. As Undone is narrated in the first person, Cassiel's thoughts and interpretations are unfiltered, allowing readers to see her transformation from aloof Djinn to someone more emotional and human. Whereas Joanne is impulsive and empathetic, Cassiel observes and analyzes. I loved her awkwardness and her interpretations of humanity, for example:
Manny and his family lived in Albuquerque, a town of hills and mountains…"It's small, but we like it." He seemed strangely anxious that I like it, too.

I nodded unsure of what to say. It was a box. Walls, floors, ceilings. Cluttered with bright furniture and toys. Angela picked up some and moved them aside, but not as if she were worried about my opinion; she simply did it automatically. Isabel, seeing her mother's actions, imitated her, picking up a doll and carrying it by one arm to drop it into a primary-colored box in the corner of the room.

I wondered if I would be expected to do that, as well.
Some of the things I enjoyed the most in Undone were the interactions between Cassiel and the Rocha family, especially between Cassiel and Manny's daughter Ibby. While it is somewhat cliched that the catalyst for Cassiel's emotional growth lies in her feelings for a child, it was written so well that I could care less. Ibby's open acceptance of "Cassie" (or the woman with the funny hair) rings completely true, and Cassiel's reactions to Ibby's attentions are wonderfully genuine as well. Similarly, the interactions between Cassiel and Manny have a great texture to them. It's an intense, layered bond since neither of them begins on their partnership particularly liking the other–Cassiel sees Manny as a mediocre (hence ignorable) talent, and he sees Cassiel for the bizarre, superior creature she is. Yet both of them are dedicated to making the partnership work and to looking after each other, and with mounting threats on Manny's life, Cassiel realizes she feels a protectiveness of him not just because he is her source of energy, but because he is her friend.
Scott was striding toward our small group, and his hangdog face was mottled red with fury.

I stepped out in front of Manny, taking the focus of his angry eyes, and Scott halted his advance.

"Are you threatening me?" he barked. I didn't respond or move, except for the wind lashing at my white hair around my face. Somehow I knew that my very stillness would be more intimidating than an answer. "Manny! Call her off!"

"I don't own her," Manny said. "She's a person. Talk to her like one."

Scott clearly didn't want to stoop so low, but he nodded stiffly. "Please step aside, Cassiel."

I held my place for long enough to make him uneasy, then moved back, beside Manny.

Once again, I had acted to protect humans. It's self-interest, I told myself. Nothing but that.
And then, there's Manny's brother Luis. As I mentioned before, readers of the Weather Warden books have come across this powerful Earth Warden before in Gale Force. When events take a drastic, tragic turn in Undone, the already distrustful Luis blames Cassiel and does not want to accept her help. Gradually they too begin to trust one another, as they bond over a common goal (if this sounds cryptic, it's because I'm intentionally being vague. I don't want to give up any spoilers!). There's another layer here between Cassiel and Luis that isn't present with Manny–the beginnings of an attraction. The tension and developing feelings between these two characters is a palpable force, but never to the detriment of the story. I really cannot wait to see where these two go next.
As a huge fan of the Weather Warden books, I appreciated seeing more than a few familiar characters. Joanne, David and Lewis all make cameos in Undone and lend some important perspective, timeframe-wise, to the continuity of both series'. Undone begins just as the events of Gale Force (with the inexplicable presence of anti-matter destroying the Djinn) are getting underway. As such, when Cassiel and Luis cause some trouble and discover another sinister plot, there are no Wardens around to stop them, or help them out. I'm a sucker for interrelated series' with continuity that works, so I was very pleased with the overlap between Outcast Season and the Weather Warden books. Hopefully, whatever end that Cassiel and Luis are coming to will similarly affect Joanne and David's problems too. Though Undone can easily be read as a stand alone novel, I think folks might appreciate it more if they also read the stellar Weather Warden series at some point.
In true Rachel Caine fashion, Undone ends with a cliffhanger…and I eagerly await book 2!
Additional Thoughts: As any fan of the Weather Warden books should recognize, Rachel Caine has a thing for cars and the open road. Though Cassiel doesn't share Joanne's passion for American muscle cars, she does have a thing for motorcycles–in particular, her brand new Victory Vision. As someone who doesn't really know much about cars, I do love reading about them, and clearly Ms. Caine knows her stuff.
"You sure you can handle that?" the salesman asked me as I went over the controls. "That's a lot of motorcycle, lady."

Indeed, t was. The motorcycle was a sleekly designed Victory Vision in gray and steel, and it had cost the Wardens quite a bit of money. Still, I felt it was better than buying a car; I was doubtful that I'd want to be trapped in a steel box for hours on end, but this seemed freeing. Powerful.

I started the engine and savored the shivering purr of power. I pressed the throttle and listened to the finely tuned roar, and for the first time in my human life, it felt entirely natural to smile.

"It's perfect," I said. I put on the machine into gear.

The salesman waved good-bye to me in my rearview mirror. I concentrated on operating the motorcycle. It was a complex dance of balance, intuition, and control, and I felt a rush of excitement I had not felt since falling into flesh. This–this was freedom. I was alone, I had escaped my enemies, and for the moment at least, I could simply exist.

I opened the throttle as I left the city limits, and the motorcycle leaped eagerly into action with a deep-throated roar. The vibration rang through me, clear and clean, and there seemed to be nothing ahead of me but empty, open road. The wind pushed at me like a solid wall, seeking entrance to my clothes, my hair, fanning across my neck in a cooling jet.
For those interested in getting into Rachel Caine's books, here's order of the Weather Warden and Outcast Season books:
Ill Wind
Heat Stroke
Chill Factor
Windfall
Firestorm
Thin Air
Gale Force
Undone
Verdict: Undone is a fantastic start to another auto-buy series. Whether a newbie to the world of the Wardens and Djinn, or a veteran of the series, Undone will capture and thrill you. While I still think I prefer the Weather Warden books, Outcast Season looks to be every bit as wonderful, and I eagerly await the next book in this series.
Rating: 8 Excellent
Reading Next: Lament: The Faerie Queen's Deception