Welcome to our first post-Smugglivus stash and the first at our new abode!
Speaking of the new casa:
We have installed a re-direct service from the old blogspot address, so all the old links to individual posts in blogger now redirect the to the corresponding posts in our brand new website! HOWEVER–the redirect for some reason is not compatible with Internet Explorer (yet another reason why IE is a terrible outdated technology, and everyone should migrate over to Firefox or Safari). For folks using IE, you may have been getting a failure message. We would love it if those of you that have us listed in your blogroll would please update the old link (http://thebooksmugglers.blogspot.com) to the new address: http://thebooksmugglers.com to help us with the transition.
We have also migrated our RSS feed via FeedBurner. If you had us in a feed reader like Google Reader or Bloglines, you should not have had to lift a finger with the new transition. If you have had any problems with your feed reader, please let us know (the feed has been working fine for us both in email subscriptions, and in our own Google Reader).
HOWEVER, we have noticed that some of the RSS feeds in blogrolls have not been updating for some bizarre reason. If this is happening to you, we ask you to please check that you are using the proper RSS address: http://feeds.feedburner.com/TheBookSmugglers (Yes, this is the exact same RSS feed we used in blogger, so again, you should not have had to lift a finger).
If everything is working great for you, fantastic! If you have had any problems, please check to make sure you are subscribed to this RSS feed address.
The Preditors & Editors Readers' Poll
The day we celebrated our blog-o-versary (Jan 7th) was also the day we found out we had been nominated for The Preditors & Editors Readers' Poll for best review site! If you like The Book Smugglers and want to show us some love, please VOTE FOR US.
Voting closes Jan 14 at midnight.
This Week:
It is a Manga/Manhwa Appreciation Week!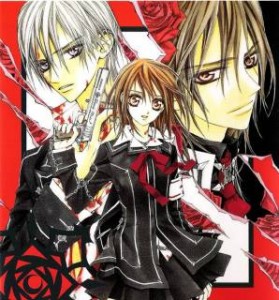 A few months ago our buddy Karen Mahoney hooked us up with Chandra Rooney who wrote a companion novel to the famous Manhwa Tarot Cafe. In order to read the novel we decided to read the series as well and the Manga Appreciation Week was born when we decided to read other titles too. There will be reviews of a few comics, a review of the novel Tarot Café and an interview with Chandra Rooney. Manga is a new genre to us and all is so very exciting – we hope you will enjoy it too!
Other news around the blogsphere:
– Tia of the Fantasy Debut blog has come up with the idea of a convention for Book Bloggers and she is asking for our opinion – this is what she thought so far:
Where? Either Atlanta, Columbia (SC), Jacksonville, Orlando or Tampa. Why one of those places? Because it was my idea, and I need it within driving distance. Pretty please. I have to be able to bring the husband and kid. My daughter is disabled and cannot be separated from me for frivolous reasons. (And yes, this counts as frivolous, at least as far as my daughter is concerned.)

When? Any off-peak convention weekend. We're not going to be able to afford on-peak convention room charges our first year. So this probably means the fall at the earliest, because we'll need time to plan.

Why? To meet each other, to swap ideas, to critique each other's blogs, to listen to New York publishing professionals opinions, etc. And just because it will be fun.
If you like the idea and want to take part just go to her blog to read the rest of the post.
– A few weeks ago John from Grasping for the Wind has come up with the idea of a book reviewer's link-up meme for Sci-fi and Fantasy reviewers. The whole thing was an immense success and took a life of its own. First there was the most awesome song (our blog didn't make the song though – but no matter, it is so cool anyway!) .
Now, the list will become a database for publishers to contact the bloggers with ARCs and Books for review:
Diana Pharaoh Francis , author of the Crosspointe and Path series has offered her time and energy to be the frontman for collecting a database of reviewer information such as names, addresses, and the like.
Francis will collect your information, put it into a database, and send out that database to authors, publishers, editors, and others in the publishing industry. In time, this will become a central repository of such information.
To check out the rules go to Grasping for the Wind.
– Kate of What Kate's Reading plans on reading Anna Karenina this year but doesn't think she can do it alone – wanna join her support book club? Check it out. Thea and I always wanted to read Anna Karenina so we are taking part!
And last but not least:
books registering VERY high in Ana's exciteometer.
Eloisa James' next release in her Desperate Duchesses series – Ana's favorite historical series – is This Duchess of Mine (out May 2009). The cover has been released a few days ago. Honestly: Eloisa James struck gold with her titles and covers. Ana likes it. Ana likes it so very much.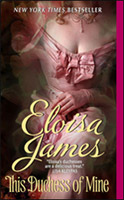 And that is all for now! Have a good Sunday!
ETA: Saw this at Renee's!! The cover for the next Alpha and Omega book by Patricia Briggs! Awesome!