Welcome to Smugglivus 2015! Throughout this month, we will have daily guests – authors and bloggers alike – looking back at their favorite reads of 2015, looking forward to events and upcoming books in 2016, and more.
Who: Fran Wilde, whose short stories have appeared at Tor.com, Beneath Ceaseless Skies, Uncanny Magazine, and in Asimovs' and Nature Magazine. Fran also interviews authors about food in fiction at Cooking the Books, blogs for GeekMom, and occasionally can be found at the Washington Post, Tor.com, Terrible Minds, and SFSignal.
Fran's first novel is Updraft (Tor 2015). Her novella, "A Jewel and Her Lapidary" will be published by Tor.com Publishing in May 2016, and her 2nd novel, Cloudbound (Tor 2016) will follow in the fall.
Please give it up for Fran!

I'm excited to be part of Smugglivus this year! Since I write & podcast about books a bunch over at Cooking the Books, I decided to reveal some of my favorite book-adjacent guilty pleasures of 2015 for Smugglivus. I made a (very pear-shaped) list of ten things I loved this year from ink to tumblrs, checked it about a dozen times, and hope you find it smugglicious…
Thanks to Ana and Thea for providing such a wonderful home on the interwebs for readers and writers and happy 2016 to everyone!
10 SFF Book-Adjacent Guilty (and not-so guilty) Pleasures for 2015
10. Book Plates – ones that look good enough to eat off of.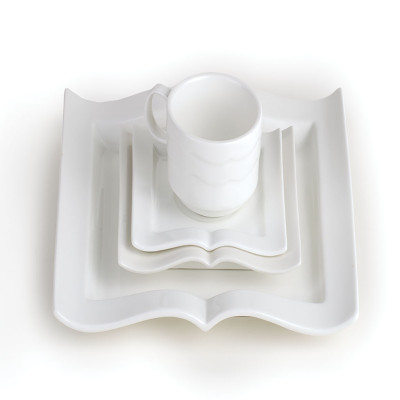 I don't have these, but I covet them. Best book discussion dishes ever, right?
9. Banned Book Socks. Library Socks. All the socks. I am pretty predictable in my sartorial choices (black and white with an occasional blue), but socks in the winter and necklaces year round are a particularly guilty pleasure. My favorites from this year are all from sock dreams with the exception of these banned book socks. Which, being black and white and (defiantly) read all over, win.
8. Ink – Especially this one. And this one. The ink goes in my favorite go-to pen – a TWISBI 580. So here's the thing about writing by hand – it needs to be fun to keep me away from my friends on the twitter and facebook. Inks, good paper, and a great pen help with that. It's also potentially an expensive habit, but I'll tell you the secret: Goulet Pens has an ink-drop subscription that is cheaper than buying by the bottle. And ink lasts a long time.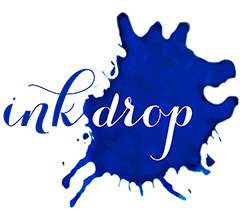 7. This Shawl, & That Bow Tie – My Etsy habits are … a subject of much discussion in the household, although not when the fine folks at Withencroft Co. made me a wing shawl for the debut of Updraft. Turns out they're offering to make more of the beautiful things. Meantime… over at Cyberoptix, I found The Chemist a DNA bow tie for the Philly Geek Awards that made him stop bugging me about how much time I spend trawling Etsy. (Cyberoptix is based in Detroid and has great, durable shawls and scarves too – like this typewriter one.)
6. Short fiction magazine subscriptions. Uncanny, Asimov's, Lightspeed, Beneath Ceaseless Skies, The Book Smugglers, Shimmer, & Clarkesworld for starters… Short fiction, for me, is both an inspiration and an outlet. I love writing and reading it. Even if I don't get to all of it, I love the NEWNESS that comes through my gate every month. And while much short fiction is free to read online, supporting the publishers with subscriptions means it remains free, and new readers can find it. So, those are a few of my subscriptions above — what are yours?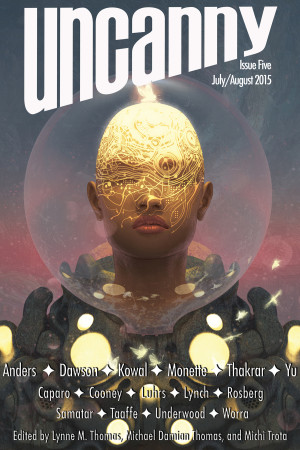 5. Twelfth Planet Press Year's Best YA – I loved the Kaleidescope Diverse YA anthology last year, came out last year, and their annual Year's Best YA Speculative Fiction is among my favorite Year's Best collections. Not quite book adjacent, more like book, but still a regularly-recurring good thing.
4. Ad Astra: The SFWA 50th Anniversary Cookbook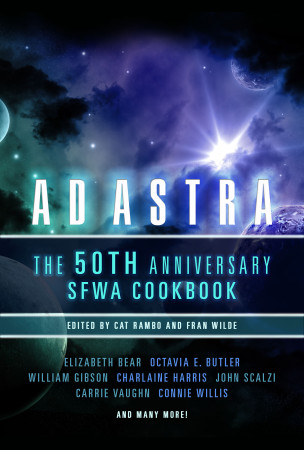 I co-edited this cookbook with Cat Rambo, and it's one of my favorite things of the year. Recipes from almost 150 SFF authors, editors, and agents. Custom honey badger illustrations from Ursula Vernon and MCA Hogarth. And besides containing great recipes and a wealth of sfnal history, the cookbook benefits the SFWA Legal fund, which helps other authors. Also, the first time I read Esther Friesner's "At Mountains of Madness" fruitcake recipe, I sneezed coffee through my nose.
3. Ann Leckie's Peepcillary Justice – Peeps. Ann Leckie. So many things I could say here, but this tumblr peeps for itself with machine-extruded sugary goodness.
2. Genevieve Valentine's Red Carpet Rundowns. When Genevieve talks fashion, it's like watching a train wreck and a space opera happen at the same time. She's (hopefully) gearing up for her Miss Universe coverage, but I love the red carpet rundowns too. (My hands-down favorite this year – the 2015 Met Gala and Genevieve's chronicle of Fan Bing Bing and Janelle Monae running the sartorial competition into the ground.)
1. The Parable of the Sower opera. Toshi Reagon has long been on my favorite vocalist list, but this year I got to watch her and a powerful cast of colleagues set Octavia Butler's Parable of the Sower to music. I know Hamilton is huge right now, and justifiably. But if you have an opportunity to see this one in a small setting on tour, or hear a recording, do.
The Giveaway:
We are giving away a signed copy of Fran Wilde's Updraft. Use the form below to enter: