A fitting, epic end to a delightful middle grade series.
Title: The Last Ever After
Author: Soman Chainani
Genre: Speculative Fiction, Science Fiction, Science Fantasy
Publisher: Harper Collins
Publication Date: July 2015
Paperback: 672 Pages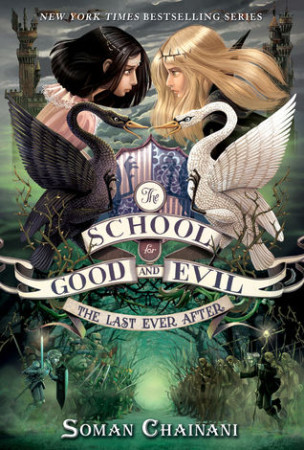 In the epic conclusion to Soman Chainani's New York Times bestselling series, The School for Good and Evil, everything old is new again as Sophie and Agatha fight the past as well as the present to find the perfect end to their story.

As A World Without Princes closed, the end was written and former best friends Sophie and Agatha went their separate ways. Agatha was whisked back to Gavaldon with Tedros and Sophie stayed behind with the beautiful young School Master.

But as they settle into their new lives, their story begs to be re-written, and this time, theirs isn't the only one. With the girls apart, Evil has taken over and the villains of the past have come back to change their tales and turn the world of Good and Evil upside down.

Readers around the world are eagerly awaiting the third book in The School for Good and Evil series, The Last Ever After. This extraordinary conclusion delivers more action, adventure, laughter, romance and fairy tale twists and turns than you could ever dream of!
Stand alone or series: Book 3 in the School for Good and Evil trilogy.
How did I get this book: Bought
Format (e- or p-): Hardcover
Review:
Agatha and Sophie have been best friends since birth. As two young girls growing up in the reader town of Gavaldon, Agatha and Sophie believed different things about themselves and each other. Sophie knew she was intended for bigger things than a small life in a small town; she has always believed she would be taken to the School for Good, where she would meet her prince, and they would share their true love's kiss and live happily Ever After. Agatha, well, she always knew that Sophie would leave, with Agatha left alone–so she tried to play up to the part of the town witch and outcast.
Things didn't go the way either girl planned.
Instead of being sorted into the school for Good, Sophie was placed in the School for Evil. Instead of kissing a handsome prince and riding into a Happily Ever After together, Sophie and Agatha kissed each other and chose each other as their happy ending. Except it didn't end there–and the Storian kept writing. Agatha turned out to be the embodiment of Good, and her true love turned out to be Tedros, heir prince to Camelot–meanwhile Sophie found what she believes to be her true love in the reborn soul of the evil School Master (now a young teenager) named Rafal. The two best friends are torn apart, possibly forever–Agatha with Tedros back in the reader world, Sophie with Rafal back in the School world. And their story isn't over yet…
The School Master will stop at nothing to secure Evil's triumph eternal over good–and with the black-hearted Sophie as his Queen, he is able to resurrect the greatest villains of ALL storybook legends, and set them upon their heroes to rewrite their endings. Meanwhile, Agatha and Tedros must bond together with the League of Thirteen–thirteen of the greatest storybook heroes (now old, sad, and much less good-looking)–to ensure that Good does not fall to eternal night.
And at the heart of this eternal battle, as always, are Sophie and Agatha. Best friends, mortal enemies, sisters of the heart. In order for there to be balance between Good and Evil, the two must come to terms with their past, their dreams, and their friendship–the fate of all the worlds and stories depends on it.
The Last Ever After is the third and final book in the School for Good and Evil trilogy–a series that I first discovered exactly one year ago, and devoured in quick succession. In The School for Good and Evil, readers are introduced to a world where fairytales come true, and graduates of two very important magical schools make their mark on the world. In A World Without Princes, we see the impact that Agatha and Sophie have on their own fairytale as their kiss and choosing each other over a prince means that ALL princes are vilified–and the consequences of prolonging Agatha and Sophie's story. Now, in The Last Ever After, even though the book has supposedly closed twice on the saga of these two young girls, we see that the Storian hasn't quite finished–and Sophie and Agatha must make some important choices that will shape not only their friendship, but their world forever.
There are a lot of things to love about this third book–first, it's action-packed and incredibly bloody. The idea of resurrecting old villains in the form of blood-thirsty zombies, hell-bent on murdering their counterpart heroes is brilliant and soul-chilling. The first time we see these villains, it's Snow White and her dwarves who have been mangled by the evil Queen (who had some desire for payback after she was forced literally to dance until her feet were bloody and she fell down dead–the dwarves and Snow's deaths were fittingly harsh). Agatha and her friends also stumble across the three billy goats gruff, who are turned inside out and smashed on a mountainside by their very angry troll nemesis. There's a zombified Captain Hook out for the blood of Pan and Tink, and two not-so-evil Stepsisters plus one axe-wielding homicidal zombie stepmother who have it out for Cinderella. You get the picture–it's a big, bloody, glorious zombie mess. What's not to love about that? And pulling the strings behind each of these resurrected villains is one cruel School Master, Rafal, whose power and abilities rest in Sophie's hands. Actually, more literally, it rests on Sophie's finger–for it is her love for Rafal that keeps his power alive and in check, and as long as she bears his ring and keeps it safe, he is invincible.
Enter the second wonderful thing about The Last Ever After–the soul-searching questions of what makes a happy ending, and the thematic need to be true to the desires of one's heart. If there's something that doesn't get written about often enough in fairy tale or fantasy fiction, it's the simple truth that not everyone knows what they truly desire–least of all young protagonists under incredible stress, with the weight of kingdoms and worlds on their shoulders. Sophie and Agatha both undergo some serious, heartbreakingly honest soul-searching in this last book–Sophie must come to grips with what she truly desires (is it Rafal? Tedros? Agatha? Or is it the need to feel powerful and independent and live a Great Life beyond what anyone could have planned for her?). So too must Agatha, as she struggles with her own true love, her dearest friend, and the responsibility of becoming a potential Queen–when all she's ever wanted was to be ordinary.
Which brings me to the third thing that I loved so very much about The Last Ever After–the bond of family and of friendship that lies at the heart of the book and the series. Tedros grapples with the truth of his parents Arthur and Guinevere, and his complicated feelings for his mother and Lancelot. Cinderella is haunted by the memory of her sisters and stepmother (their story is NOT WHAT YOU THINK, and it's heartbreaking and beautiful). There's the revelation about Clarissa Dovey and Lady Lesso (in particular, Lady Lesso's story is so tragic and perfect)… and of course, again, there's Sophie and Agatha's own tricky past and unknown family history. I won't spoil it for you, but suffice it to say that theirs is a shocking tale of heartbreak and magic–and, ultimately, of love in unexpected places.
There are, of course, a lot of weaknesses with the book (and with the series overall). The Last Ever After is LONG–nearly 700 pages long! And it is not exactly direct–just trying to write a spoiler-free synopsis of the book (and of the series so far) is pretty tough because the story is quite literally all over the place. Simply put, Sophie and Agatha's story needed some serious fat trimming and focus–
But ultimately, this novel is so much FUN, and there is so much good stuff within these admittedly abundant pages to make it all worth it. The Final Ever After is bloody, and sweet, and morbidly funny. It's true to its own heart, and it gives us a fitting (FINAL) final ever after for characters we've grown to know and love over the course of the trilogy. Most importantly, it closes Agatha and Sophie's story in a way that makes sense and that feels right for these two remarkable heroines.
And what else can you ask for in a fairytale? Absolutely recommended, for readers of all ages.
Notable Quotes/Parts:
She had to blink a few times to make sure what she was seeing was indeed there: the Storian itself doing all that scratching and rustling — the pen that had dimmed the Endless Woods by refusing to write, now… writing.

But how? she thought. The Storian had been stalled over the last page of her and Agatha's storybook for weeks. It hadn't moved an inch when she took the School Master's ring. Which meant it wasn't her ending the pen had been doubting, but rather…

Sophie's heart skittered. Impossible…

Pulling her blankets around her, she tiptoed forward in her saggy black nightdress, afraid the slightest sound might disrupt it. But as Sophie grew closer, she saw the pen wasn't writing at all, but chipping at her storybook like a bricklayer removing bricks, scraping off the last line, letter by letter, until "THE END" was fully gone.

With a red-hot glow, the Storian twirled into the air, like a butterfly freed from its cocoon, and dove back down to the book, continuing the story right where it left off. The steel nib spilled ink onto brand-new pages, filled by dozens of flurried paintings Sophie could hardly follow: walls of emerald flames… guards in black masks… swan-marked tombs… a cadaverous wolf and giant.. until swirls of forest green streaked across a blank sheet.

Two lean bodies came into view, framed by the high, twisting trees of the Woods. Sophie watched the pen fill in the blankness of their faces… a boy's slate-blue eyes and juicy lips… a girl's flat brows and sunken cheeks… It can't be, she thought, waiting for the Storian to slash an errant line. But every stroke made the scene more and more real, as if birthed from her own memory, until Sophie was sure this was all still a dream, for the pen was drawing two people in the Woods — two people who couldn't be in the Woods, because they'd found a happy ending somewhere else. She pinched her arm hard, expecting to wake up in bed, but they only grew clearer: Agatha and Tedros, alive on the page, gazing at her with wide eyes, inviting her in.

They're… back? Sophie gasped, heart swelling. Jealousy and betrayal and pain broke away like a soft eggshell and a warm wave of hope flooded through her before she could keep it down. She caressed her two best friends, looking out of her storybook, and let herself feel what she'd been ashamed of all this time.

I miss you, Aggie.

I miss you, Teddy.

Tears rising, she imagined herself in the empty space on the page between them.

Until the Storian drew Agatha and Tedros' hands intertwined across the gap, the two Evers following a shadow into the darkness of the Woods.

Sophie studied their clasped fingers, no longer any room for her.

"They're coming for you," said a voice behind her.
You can read the full excerpt on MTV.com.
Rating: 7 – Very Good, and a 7 for the series overall
Buy the Book: