Old School Wednesdays presents Thea's epic reread of The Dark Tower Series by Stephen King. May we be well-met, fellow traveler.
Old School Wednesdays is a weekly Book Smugglers feature. We came up with the idea towards the end of 2012, when both Ana and Thea were feeling exhausted from the never-ending inundation of New and Shiny (and often over-hyped) books. What better way to snap out of a reading fugue than to take a mini-vacation into the past?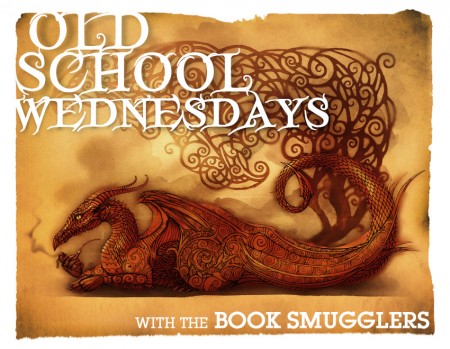 Logo designed by the wonderful KMont
Inspired by the results of our March Old School Wednesdays Idea Poll, starting in March of 2015, Thea is rereading one of her favorite series' of all time: The Dark Tower by Stephen King. Every second Wednesday of the month, the next book in the Dark Tower cycle will be reviewed and discussed here. All readers – those new to the Dark Tower, and those who have traveled the path before – are welcome to join the ka tet!
The journey back to Mid-World and beyond begins here, with The Gunslinger: Book 1.

Author: Stephen King
Genre: Fantasy, Horror, Speculative Fiction
Publisher: Plume (this revised edition)
Publication date: First published in 1982 (this edition 2003)
Paperback: 231 Pages
Beginning with a short story appearing in The Magazine of Fantasy and Science Fiction in 1978, the publication of Stephen King's epic work of fantasy — what he considers to be a single long novel and his magnum opus — has spanned a quarter of a century.

Set in a world of extraordinary circumstances, filled with stunning visual imagery and unforgettable characters, The Dark Tower series is King's most visionary feat of storytelling, a magical mix of science fiction, fantasy, and horror that may well be his crowning achievement.

Book I
In The Gunslinger (originally published in 1982), King introduces his most enigmatic hero, Roland Deschain of Gilead, the Last Gunslinger. He is a haunting, solitary figure at first, on a mysterious quest through a desolate world that eerily mirrors our own. Pursuing the man in black, an evil being who can bring the dead back to life, Roland is a good man who seems to leave nothing but death in his wake.

This new edition of The Gunslinger has been revised and expanded throughout by King, with new story material, in addition to a new introduction and foreword. It also includes four full-color illustrations in the hardcover and trade paperback formats.
Standalone or series: The Dark Tower Book 1
How did I get this book: Bought
Format (e- or p-): Print
Review:
The man in black fled across the desert, and the gunslinger followed.
With what is quite possibly my favorite opening line to any book, ever, Roland Deschain's quest for the Dark Tower begins.
It is a journey that spans thirty years, seven novels (eight, if you count The Wind Through the Keyhole – which we will be reading on this readalong, in its chronological order after Wizard and Glass), a short story, and tie-in graphic novels from Marvel. It is also – all cards on the table – my favorite series of all time. Not because it's the best series of all time, or that it's one without fault – I recognize that the series is deeply flawed (especially where The Gunslinger and books 6 and 7 are concerned). But, as Stephen King says in his afterword to the last, heartbreaking lines of The Dark Tower, this is a series about the journey moreso than the destination.
For some personal context: it is rare that I get to enjoy a re-read of a series. This has become more true over the past seven years, after starting The Book Smugglers, with the daily reading and reviewing schedule that comes with running a book review blog (and going to grad school, and juggling a full-time job, and running a fledgeling publishing house, and… you get the picture). I haven't actually reread the full Dark Tower series in order since that first epic read, many, many harvest moons ago. Sure, I've reread my favorite books (The Drawing of the Three, The Waste Lands, Wizard and Glass, and The Wolves of the Calla) a few times over the years – but I've never dedicated myself to a full, honest, chronological reread of the series. Until this year.
The Gunslinger is a novel that I have read only once before.
It was my introduction to the series when I was a teenager – just nineteen (hiyo!) myself.
I never reread this particular story for good reason: it's the weakest of the series. Stephen King owns up this himself in his introduction "On Being Nineteen" and foreword. The context in which The Gunslinger was written (it was the sixties, Gandalf and Frodo were a Big Deal), the age of King himself, at the very start of his career – it all makes sense when reading The Gunslinger. This is a book loaded with descriptive imagery and flowery adjectives; it tends to be slightly confusing and heavy-handed. Upon rereading the book, this is painfully apparent (in fact, it's much more flowery than I remembered).
And yet…
Despite pulling clunky metaphors and laborious turns of phrase (that are more awkward than poetic), despite being written by a fledgeling nineteen-year-old author trying to write in a writerly, literary style, The Gunslinger is still pretty damn good.
Upon rereading this first novel, I tried to remember what it was like discovering this book for the first time. I remember my confusion at a bunch of the names and some bewilderment at why this series was so beloved. Sure, a post-apocalyptic western with magic is cool and all, but I was expecting more. (If you're a first time visitor to the Dark Tower, tell me what you think, please!)
If I hadn't read the series before, I would be more confused. As it is, coming back to book 1 after all these years, there is much foreshadowing (flashbacking?) that happens in The Gunslinger that I enjoyed (re)discovering, very much. This includes, but is not limited to:
Roland's past and the forgotten line of Eld. I had forgotten about the flashback scenes with Roland and Cuthbert, and their training under the surly Cort. I had also forgotten that this very first book was where Roland toed the line and challenged his teacher – it's the way of gunslingers, you kennit? – with his hawk David. I had forgotten that this was the novel, in which we readers are introduced to the line of Eld, the way of the Light, the gunslingers, and the Arthurian-cum-Western legend that infuses his early life.
Susan Delgado and Sheb and the Charyou Tree. Oh, I remember that particular story very well, but I didn't realize that they were alluded to so early in the series. I also loved reading, at least at a cursory glance, about Cuthbert and Alain, and the insidious Marten.
There's Nineteen and the ruined remains of a world that has moved on. Threaded stock and slow mutants and honky tonks that play Hey Jude (yes, that Hey Jude) and mention of run down subways and sex oracles and demons that haunt way stations.
There is the Man in Black – Randall Flagg, Walter O' Dim, who goes by other names, as well. Roland's quest to find the Man in Black, to kill him, drives him from his adolescence, to over the years as nearly immortal, traveling from In-World, to Mid-World and beyond. The Man in Black in this novel is still a mystery – the relationship between he and Roland is not what one expects (at least, it's not what I expected). The last pivotal scenes, in which Roland and the magician sit by the fire and palaver for a decade is playful, cunning, and bizarre. I remember being mystified by this exchange at first.
And then…
There is Jake Chambers. It's hard not to talk about what ultimately will be for Roland and Jake, but this first adventure, this first and powerful decision that Roland makes when it comes to the first member of his ka tet… oh, it is heartbreaking, isn't it?
I love Jake. The sweet young boy, with true steel running through his veins, a future gunslinger in his own right and who somehow knows what will happen to him under Roland's care. Jake's storyline gives readers a glimpse of the future, of a land outside of the post-apocalyptic wasteland that is Tull and the desert – a place where the world hasn't yet moved on, and seems far more familiar to you and I. In the Mines of Moria passage under the mountains, Jake makes an unwilling sacrifice of sorts and reveals the true character at the heart of this epic quest…
The Gunslinger himself. Roland Deschain is methodical. Dedicated. He's not the smartest, or the most creative; nay, those would be detrimental to his quest. As the Man in Black says to Roland:
"Not your purpose, gunslinger. Your mind. Your slow, prodding, tenacious mind. There has never been one quite like it, in the history of the world. Perhaps in the history of creation."
And it is true. For only Roland could travel centuries upon centuries, searching for The Man in Black, traveling across time and space searching for an ideal (the room at the top of a distant tower at the nexus of time and size) that might not exist.
Roland is not a nice or good man. He's not a hero – certainly not in this novel, with the choices he makes.
But he's a character you want to learn more about, and follow to the end of the world and beyond.
"Go then, there are other worlds than these."
You're damn right there are, Jake. And I cannot wait to walk the lines of the beam again.
Next: The Drawing of the Three on April 8.