This month, we shake up the OSW Readalong poll with 5 new ideas (of the series reread, film, tv, comic book persuasion).
As you probably know by now, Old School Wednesdays is a new weekly Book Smuggler feature. We came up with the idea towards the end of 2012, when we were feeling exhausted from the never-ending inundation of New and Shiny (and often over-hyped) books. What better way to snap out of a reading fugue than to take a mini-vacation into the past, right?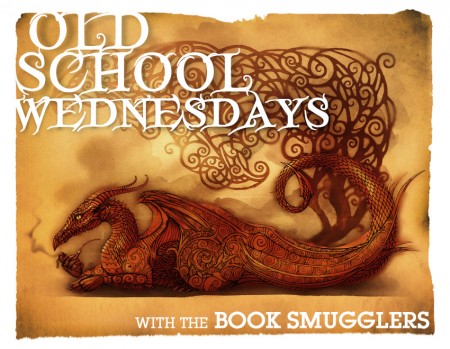 Logo designed by the wonderful KMont
We asked YOU for your favorite old school suggestions – and the response was so overwhelmingly awesome, we decided to compile a goodreads shelf, an ongoing database, AND a monthly readalong/book club. (Note that we've removed books that we have already read, or that we selfishly want to review as solos on Wednesday!)
Our official February readalong, of Naomi Novik's His Majesty's Dragon takes place next Wednesday, February 25, but today we turn our eyes to March.
The March Poll
We want to do something a little bit different this time around with our Old School Wednesdays poll! After having our first annual State of the Union Book Smugglers Parley of 2015 (that is the official term, yes it is), after making Ana watch and cry through Anne of Green Gables the TV miniseries, we had An Idea.
What if we opened up Old School Wednesdays to other media? And extended readalongs to favorite old school series' (not unlike Anne Shirley)?
Thus, this March, we're shaking things up a bit and asking YOU for your input. Take a look at some of our ideas below, and sound off!
IDEA 1: The Dark Tower Series Reread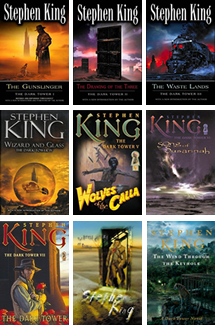 The Dark Tower series tells the story of Roland Deschain, Mid-World's last gunslinger, who is traveling southeast across Mid-World's post-apocalyptic landscape, searching for the powerful but elusive magical edifice known as The Dark Tower. Located in the fey region of End-World, amid a sea of singing red roses, the Dark Tower is the nexus point of the time-space continuum. It is the heart of all worlds, but it is also under threat. Someone, or something, is using the evil technology of the Great Old Ones to destroy it.

In Roland's where and when, the world has already begun to move on. Time and direction are in drift, and the fabric of reality is fraying. However, things are about to get much worse. The six invisible magnetic Beams, which maintain the alignment of time, space, size, and dimension, are weakening. Because of this, the Tower itself is foundering. Unless Roland can find a way to save the Beams and stabilize the Tower, all of reality will blink out of existence.

Inspired in equal parts by Robert Browning's poem, "Childe Roland to the Dark Tower Came," J.R.R. Tolkien's Lord of the Rings, and Sergio Leone's spaghetti Western classics, The Dark Tower series is an epic of Arthurian proportions. It is Stephen King's magnum opus, and is the center of his amazing creative universe.
We know that Tor.com's Suzanne Johnson did an extensive, amazing commentary series for each book in Stephen King's Dark Tower opus from 2011-2014 – and we were very impressed (and also exhausted). This won't be nearly as extensive… but The Dark Tower series is one of Thea's favorites, which she fondly remembers reading over the years in all its flawed, amazing glory. And 2015 is the year that she wants to follow the Beam back to Mid-World and beyond.
Anyone interested in joining the ka-tet and coming with her, starting next month? (And if no one comes with her, she's still making that journey!)
IDEA 2: SFF TV Show Viewalong 2015
So recently, we learned of this amazing sounding show called The Middleman – a shortlived but dearly loved show about a struggling artist recruited by a secret agency to fight against evil forces (and based on the graphic novels of the same name). We are going to watch this show and talk about it here on Old School Wednesdays very soon, but this got us thinking… what other shows could we watch!? Does anyone else want to join in?
Some ideas for the Viewalong: Twin Peaks, The X-Files, LOST (we aren't entirely sure we can handle it all) Firefly, Cowboy Bebop, Dark Shadows, Jericho, The 4400, ROSWELL, Terminator: The Sarah Connor Chronicles, Star Trek DS9… the list goes on! There are plenty of shows on this handy io9 list that we are using as our inspiration – we want to hear if you have any suggestions.
IDEA 3: Comic Book/Graphic Novel/Manga Readalong 2015
Because this year, Thea discovered Sweet Tooth by Jeff Lemire and is loving it so far, and because we Book Smugglers have a soft spot for comics, we are thinking of doing a series readalong in graphic format. Ideas include the aforementioned Sweet Tooth, the Fables series from Bill Willingham, the Sandman series from Neil Gaiman (one of Ana's favorites of all time), A Bride's Story (historical romance manga) by Kaoru Mori… the list goes on.
IDEA 4: Movie Watchalong 2015
Pretty self-explanatory, right? There are so many old school SFF movies that we want to rewatch! Some ideas: The Princess Bride, Legend, 12 Monkeys, E.T., an epic Harry Potter Watchalong (what, that's Old School now technically!), Star Wars Episodes V-VI marathon (followed by a Clone Wars binge), a Lord of the Rings extended edition trilogy viewing, a celebration of 2015 Back to the Future I-III viewing party… You get the idea.
IDEA 5: OTHER…
…because we want to hear your ideas! Is there a beloved book series you want us to read? A short-lived but much cherished TV show of the SFF persuasion? A movie that you wish more people knew about? Do you have an entirely different idea for an Old School Wednesday feature?
LET US KNOW! We are all ears.
[poll id="22″]
We'll announce the winners and plans next week!
Ongoing (Book) Suggestions:
Got a suggestion? Have an amazing book, published at least five years ago, that you would love to nominate for the OSW monthly readalong? Speak up and submit your favorites! (If you have problems with the form below, you can also access it HERE.)