Welcome to Smugglivus 2014! Throughout this month, we will have daily guests – authors and bloggers alike – looking back at their favorite reads of 2014, looking forward to events and upcoming books in 2015, and more.
Who: Susan Jane Bigelow, a Science Fiction writer, whose books are on Ana's keeper shelf. Author of the post-apocalyptic/superheroes/space opera Extrahumans series as well as the Grayline Sisters series whose second book The Seeker Star has been recently released.
Please give it up for Susan, everybody!

I can't believe it: Smugglivus again! Where does the time even go? Thanks so much to the amazing Book Smugglers for having me on again this year.
So what have I been reading? A few urban fantasies and some science fiction, sure, but what I've really been loving this year has been cozy mysteries!
My wife got me into these last year, and I've been greedily devouring them ever since. If you read cozies you know why they're so great. But if you don't, ask yourself this: do you think you'd like books about scrappy, intelligent, mostly female protagonists with adorable jobs who live in cute little towns solving mysteries with their cats? Do you also like books that often have romance elements and light speculative fiction elements mixed in? If so, then cozies may be for you!
Here's a few of the best ones I've read this year.
A Skeleton in the Family (Family Skeleton Mystery #1) by Leigh Perry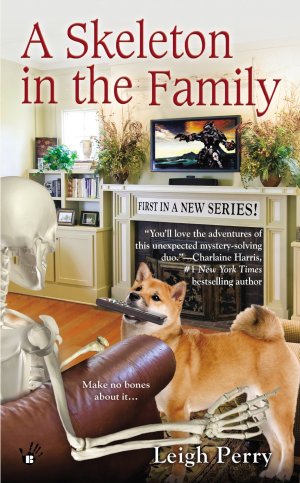 This book has everything. It's the story of Georgia, a roving adjunct professor with a teenage daughter, who moves back to her Western Massachusetts hometown to take an adjunct job at the college where her parents work. She also moves back into their house while they're on sabbatical, where she has time to reacquaint herself with her old friend, Sid, who lives in the attic.
Sid is a walking, talking skeleton. He drops bones when he's sad, says "coccyx!" as a curse word, and makes really bad bone puns.
This is awesome all by itself, obviously. But this book has all kinds of great commentary on the miserable life of an adjunct (which I've been), a fun murder mystery, and well-drawn, sympathetic characters. The relationship between Sid and Georgia is heartwarming and complicated, as is Georgia's relationship with her daughter. A Skeleton in the Family is my favorite read of the year, and I can't wait to read more in this series.
Scandal in Skibbereen (County Cork #2) by Shelia Connolly
This is the second book in a series about a Bostonian who moves to the Ireland her grandmother left behind by the prolific Shelia Connolly. Maura now runs a pub in the little village of Leap, and she's starting to get settled in when a mystery involving a missing painting blows in, and someone winds up murdered. Maura has to use all her wits to solve the crime!
What I like about these books is that while they present a somewhat romanticized view of Ireland, they also do involve a lot of Irish history. I love the characters, and the setting really is a lot of fun. Maura's romance with a local police officer (heroines in cozies always fall for the police officer) is great, too.
Tailing a Tabby (Bookmobile Cat Mystery #2) by Laurie Cass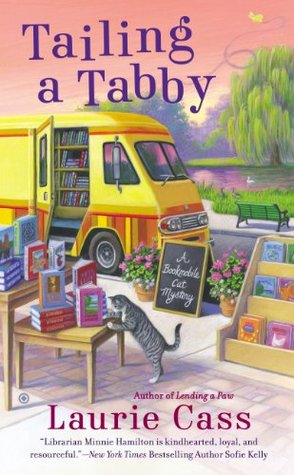 Have you seen the title of this series? Bookmobile cat! BOOKMOBILE CAT. How can you go wrong?
And, in fact, this series doesn't go wrong at all—it's just right. Minnie Hamilton lives on a houseboat in a small town in Michigan (I know! Aww!) with her cat, Eddie. She's also a librarian, and she drives the county library system's bookmobile while Eddie tags along. Everyone on the route loves Eddie! Wouldn't you?
Of course, there's a mystery. Someone turns up dead, and Minnie's friend is accused of the crime. Minnie investigates, and winds up in over her head. She has to solve the mystery: with Eddie's help, of course.
I liked the first book in this series, but this second entry is better in every way. Laurie Cass is finding her voice, and I'm enjoying these characters and this setting immensely. One of the things I especially like about cozy mysteries is how the setting usually becomes a character in its own right.
And Minnie is interested in a handsome doctor, this time, not a police officer! How refreshing!
Final Catcall (Magical Cats #5) by Sofie Kelly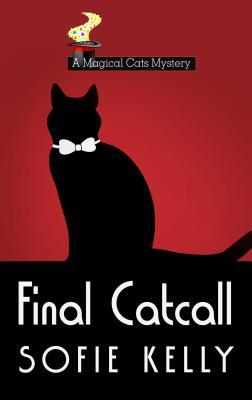 This is the series that got me hooked on cozies. It's about Kathleen Paulson, a librarian who escaped her life in Boston (Boston is apparently a place cozy heroines escape from a lot) to become the director of the library in Mayville Heights, Minnesota—where she adopted two cats with supernatural abilities who help her solve murders.
This time around it's the director of a local theater festival who winds up dead, and Kathleen, against her better judgement, is enlisted to help solve the crime. She also has to juggle her mother, her ex-fiancé, and her sort-of boyfriend (a police officer, of course) along with her duties at the library.
What really makes this series for me isn't the mysteries or even the magical cats themselves, but Kathleen's warm friendships with people in the town. I sometimes lose track of all the many characters, but I've loved watching her relationships with these friendly people blossom over the past five books.
This series is a great way to break into cozies, and I highly recommend it.
Those are some of my favorite cozies from the year. What are yours? Let's share the cozy mystery love!
Thanks again to Ana and Thea for having me back, and to all of you wonderful readers for reading!

Merry Smugglivus, Susan!