Welcome to Smugglivus 2014! Throughout this month, we will have daily guests – authors and bloggers alike – looking back at their favorite reads of 2014, looking forward to events and upcoming books in 2015, and more.
Who: Kate Hall, a speculative fiction writer and graduate of the 2013 Odyssey Writing Workshop. Her fiction has appeared in Fantasy Magazine's "Women Destroy Fantasy!", Crossed Genres and Inscription. She is also the author of The Astronomer Who Met The North Wind, one of Book Smugglers Publishing's short stories this year.
Give a warm welcome to Kate, folks!

Happy Holidays, everyone! Big, polar-bear sized thanks to Ana and Thea for inviting me to take part in this year's Smugglivus, and equally enormous thanks to all the awesome authors out there whose books made me laugh, cry, pace at three in the morning, and flail at my friends while crying, READ THIS!
So, without further ado and in no particular order, here are some of the books I read this year that I recommend!
Shards of Time, by Lynn Flewelling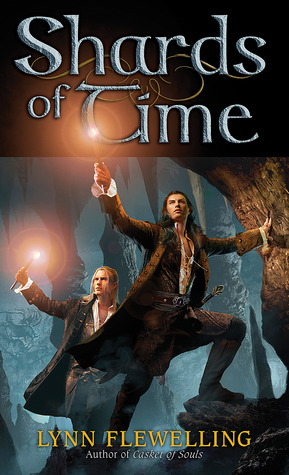 The last book in Flewelling's Nightrunner series, this story (and series!) ticks all the "adventure-fantasy" boxes for me: good dialogue, great world-building, intriguing murder mystery, the undead (and the very dead), and some swashbuckling spies working on behalf of their queen. Flewelling writes beautiful and fully-realized worlds and has a strong ear for dialogue. But the thing I've loved most about her books since the start are her characters and how well she subverts the standard "epic adventure fantasy" trope: from her matrilineal royal line, with the bold but suspicious Queen Phoria and her daughter-successor Elani, to the protagonists, Alec and Seregil, whose intimate relationship is both lovely and realistic, and an integral part of their character arcs. I want to see more LGBTQ representation in fantasy, and Flewelling's books bring those relationships front and center without either trivializing or tragedizing them. It is a really, really good and fun read.
The Hundred Thousand Kingdoms, by N.K. Jemisin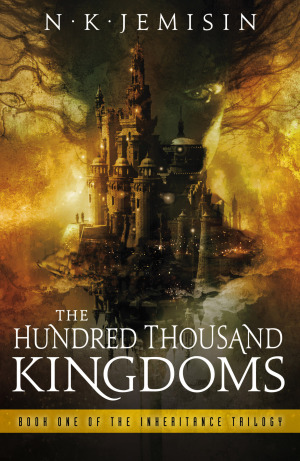 True story: I found this book over the summer while waiting to be interviewed for a job at my local bookstore, and nearly missed said interview because I was so engrossed. Jemisin's writing grabs from you from the opening pages and carries you on a dizzying journey alongside her protagonist, Yeine. Yeine has been summoned to the city of Sky and tossed into a political warzone as one of three heirs to Sky's crown–and dominion over its enslaved gods. This story was both enthralling and discomfiting–I was simultaneously enchanted and freaked out by Sky (very much a character itself), and there were many times where I put the book down to mull over the parallels between Sky and this world. No one is spared in Sky: even the people who seem to have everything–the power, the wealth, the rank–are in their own way hollow, and in turn inflict horror on others in an attempt to fill that hollowness. Yeine is both a powerful leader and heartbreakingly vulnerable (navigating treachery, questions of her own identity, witnessing the suffering of the trapped gods, all while grappling with the grief of losing her mother and home is a lot for one person to bear, and she responds realistically to that terrible weight), and her viewpoint as the outsider in this insular city cuts through the opulence to expose the rot beneath. What this story does is make you think without realizing it, and that's why I want to share it with everyone.
The Ocean at the End of the Lane, by Neil Gaiman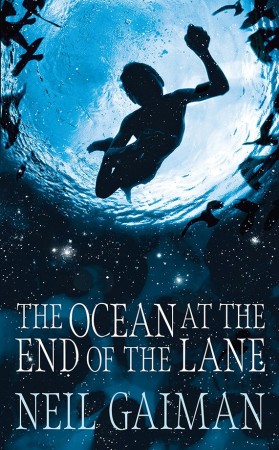 "It was only a duck pond, out at the back of the farm. It wasn't very big." So begins the introduction to this book which can be read in a few hours (it's only about 200 pages) but will leave you ruminating on the nature of childhood and fear long afterward. Gaiman's writing is really on display here in all its vibrancy and gentle melancholy. While it's not his most fast-paced book, it feels precise and deliberate, the blurring between the narrator's world and the world at Lettie Hempstock's farm so quiet you may not at first notice there's magic afoot. Also, the antagonist is so thoroughly creepy, I found myself holding my breath from scene to scene and resisting the urge to look under my bed/in the closet after turning off the lights.
A Stranger in Olondria, by Sofia Samatar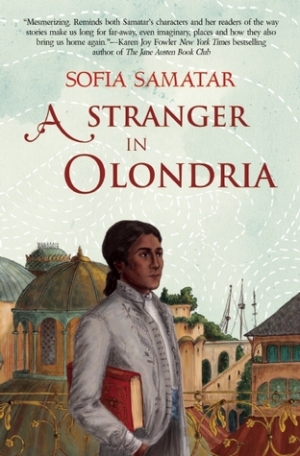 By now, most of you probably know about this novel: it won the World Fantasy Award, at which Ms. Samatar gave an excellent and very necessary speech. But if by chance you haven't read "A Stranger in Olondria", I hope you will go find and read it. Samatar writes with a density and vividness that made for an almost-cinematic reading experience. Her world, its politics and religion, its social structure and prejudices, are done so well that at times the book reads with the strength and authority of one of the histories Jevick devours in his lessons in the early chapters. It feels true, and that is because in many ways it is: it's a story about the complicated relationship between identity and homeland, and the even more complicated relationship we have with books, those things that we use to recreate our homelands for other people. This book is gorgeous. Go read it.
The Night Circus, by Erin Morgenstern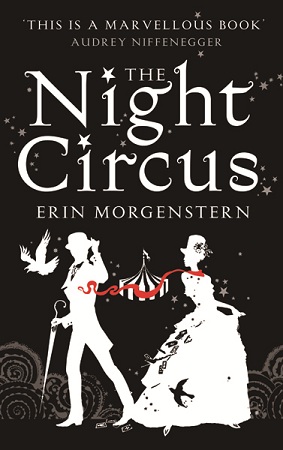 I have read this book before this year. In fact, I have read it several times since it came out in 2011. But The Night Circus is one of those books that I keep coming back to–for the writing, for the world-building, for the characters and their stories–and every time I find something different. In the story, the people who follow the circus are called rêveurs, or "dreamers". I would recommend The Night Circus for the dreamer in anyone's life.
The Coldest Girl in Cold Town, by Holly Black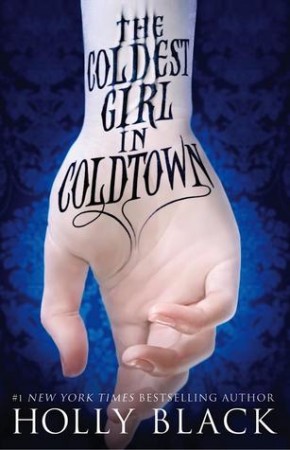 First disclosure: Holly Black was one of the visiting authors at Odyssey Writing Workshop in 2013, when I was a student there. Second disclosure: I read the short story that eventually led to this novel at that same workshop, and when I first read the word "vampires" I was a little skeptical. But this novel totally won me over. Black's vampires, and the fascinating, dangerous Cold Towns in which they are confined, are nothing like anything I'd read before. The story's protagonist, Tana, is a force to be reckoned with–smart, sometimes a bit reckless, and determined as hell–as she ventures into a Cold Town to try and beat a sickness that turns warm-blooded humans into bloodthirsty creatures. What made this story especially intriguing (and eerily similar to the real world) is the 24/7 "reality tv" atmosphere that pervades Cold Town, with feeds streaming the vampires endless parties, their choreographed exploits, over the Internet to be devoured by a human populace as hungry for entertainment as the vampires are for blood. If you're looking for a fresh take on the iconic vampire, this is your book.
Norwegian Wood, by Haruki Murakami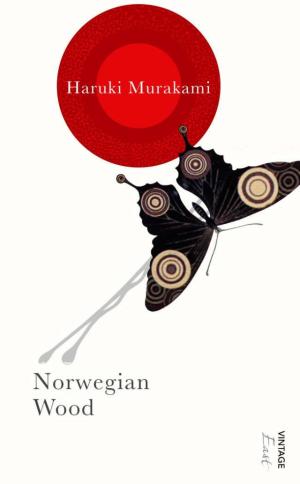 This book isn't classified as science fiction or fantasy, but it has stuck with me for so long after reading it, it bears mentioning. Murakami's prose reads like walking through a dreamscape–vivid and clear one moment, and lost in a world of half-remembered visions the next. The plot–the protagonist Toru, his love Naoko, their beautiful but ultimately troubled romance–at times felt secondary to the greater story happening in Toru's head as he comes of age and comes to grips with the world outside the safe echo chamber of his university campus, a world much larger, more confusing, and more alienating than he had expected. This is a book to be read with someone–a friend, a family member, a colleague–and then discussed, because what one person finds between the lines will almost certainly be different than what someone else finds, and the comparison and exchange that follows will be just as enjoyable, and as fulfilling, as reading the book itself.

Thank you, Kate!