Today we are delighted to unveil the cover for upcoming (April 2015) middle grade historical novel The Detective's Assistant by Kate Hannigan.
Behold: the Smugglerific Cover!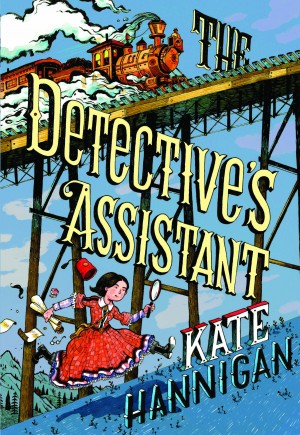 The incredible tale of America's first-ever female detective and her spirited niece!

Eleven-year-old Nell Warne arrives on her aunt's doorstep lugging a heavy sack of sorrows. If her Aunt Kate rejects her, it's the miserable Home for the Friendless. Luckily, canny Nell makes herself indispensable to Aunt Kate . . . and not just by helping out with household chores.

That's because Aunt Kate is the first-ever female detective employed by the legendary Pinkerton Detective Agency. And Nell has a knack for the kind of close listening and bold action that made Pinkerton detectives famous in Civil War-era America. With huge, nation-changing events simmering in the background, Nell uses skills new and old to uncover truths about her past and solve mysteries in the present.

Based on the extraordinary true story of Kate Warne, this fast-paced adventure recounts feats of daring and danger…including saving the life of Abraham Lincoln!

Kate Hannigan on the book
Great big thanks to the Book Smugglers for helping me introduce The Detective's Assistant. I am thrilled to be able to share the book's cover, and I am so grateful to illustrator John Hendrix for doing a bang-up job.
I think John captures the energy and vitality of this book really well. It's the story of eleven-year-old Nell Warne, who has been plunked down on the doorstep of her long-lost aunt, Kate Warne, in Chicago in 1859. Life immediately kicks into high gear for Nell, as her aunt reveals herself to be working as one of Allan Pinkerton's detectives. Let the adventures begin.
The story is inspired by the real-life experiences of Kate Warne, a woman I'd never heard of until I stumbled upon a single sentence about her while researching another book. Pinkerton writes that when Kate Warne walked into his office in downtown Chicago, he assumed she was applying for a secretary job. But Kate Warne convinced Pinkerton of the value in hiring a woman: that she could go where no man could, befriending the wives and girlfriends of the city's criminals and finding out intimate details of their wrongdoings. Pinkerton took to the idea, and Kate Warne was hired on August 23, 1856.
She was one of Pinkerton's most reliable operatives, and in many of his books, he praises her tact, skill, and commitment. Kate Warne was considered a master of disguise, posing as a fortune-teller and other roles, and she helped solve train robberies, murder cases, and more.
Her biggest case came in 1861 as Abraham Lincoln made his way by train from Illinois to Washington, D.C., to be sworn in as president. Tensions were high across the country, and rumors of plots to kill the newly elected president were swirling. In order to reach the White House safely, Lincoln finally agreed to allow Pinkerton to whisk him through the turbulent city of Baltimore in the dark of night, thwarting what has come to be known as the Baltimore Plot. Only two detectives escorted Lincoln on this dangerous train ride: Allan Pinkerton and Kate Warne.
I'm always looking for great heroines in the books I choose. From Karana in Island of the Blue Dolphins to Delphine in One Crazy Summer to Hermione in the Harry Potter series. But so often, like Hermione, the girls are left on the sidelines to tsk-tsk while the boys get to have wild adventures. I wanted to write a book where the girls are right there in the thick of it, having white-knuckle moments of action and adventure and messy thrills the way any boy would. So good-natured Nell joins Kate Warne in her detective work, and we get to see two females have all the fun.
The cover captures that headlong rush toward peril and mayhem that I was going for in writing The Detective's Assistant. I am delighted with John's take on Nell, with her many disguises tumbling behind her as she races on to the next adventure. I can't wait for April, when readers get to meet them both.

About the Author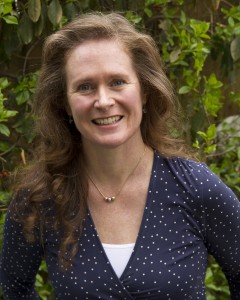 Kate Hannigan lives on the South Side of Chicago, where she writes fiction and non-fiction for children. One of her favorite things to do is research important questions like, Would a train rider in 1860 sit on a bench made of upholstery and springs or one of hard wood? What sort of flowers bloom in Philadelphia in March? Would a kid in 1859 say "cahoots"? Her early middle-grade series Cupcake Cousins is publishing with Disney-Hyperion. Say hello online at http://KateHannigan.com and on Twitter @KateChicago.

The Giveaway
To celebrate the cover reveal, we are giving away three Advanced Reading Copies of The Detective's Assistant! This giveaway is open to addresses in the US and Canada only, and will run until Sunday, August 31 at 12:01am EST. To enter, use the form below!