Today we are delighted to unveil the cover for Signal to Noise, the debut novel by Silvia Moreno-Garcia (coming February 2015)!
Behold: the Smugglerific Cover!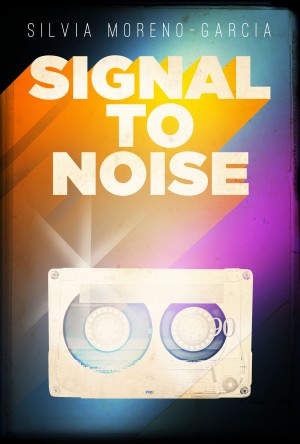 Mexico City, 1988: Long before iTunes or MP3s, you said "I love you" with a mixtape.

Meche, awkward and fifteen, has two equally unhip friends – Sebastian and Daniela – and a whole lot of vinyl records to keep her company. When she discovers how to cast spells using music, the future looks brighter for the trio. The three friends will piece together their broken families, change their status as non-entities, and maybe even find love…

Mexico City, 2009: Two decades after abandoning the metropolis, Meche returns alone for her estranged father's funeral.

It's hard enough to cope with her family, but then she runs into Sebastian, reviving memories from a childhood she thought she buried a long time ago. What really happened back then? What precipitated the bitter falling out with her father? Is there any magic left?

Silvia Moreno-Garcia on the book:
The first line of Signal to Noise used to be "This is not a love story." I changed it because it was a blatant lie. This novel is a story about a love affair with music.
Signal to Noise jumps back and forth in time, from Mexico City 2009 to the late 1980s when three teenage friends discover how to cast spells using vinyl records. But despite the magic this is not a tale of wizard friends saving the world. It's a look at family, friendship, romantic love, with a mention of very many songs. It's intimate.
I remember reuniting with some friends and them telling me how some people we knew are doing. So and so got married, so and so moved away, so and so just had a baby. At one point they were talking about a classmate of ours and my friend paused in the middle of a sentence.
"You know, same old drama as always," he concluded.
And I thought, yes, we dance the same tune over and over again. Signal to Noise is about the capacity or incapacity to change the soundtrack of our lives.

Signal to Noise: A Playlist
1."Dancing with Myself," Billy Idol
2."En Algún Lugar" Duncan Dhu
3."Oh Sherry" Steve Perry
4."Persiana Americana" Soda Stereo
5."Total Eclipse of the Heart" Bonnie Tyler
6."Tu y Yo Somos Uno Mismo" Timbiriche
7."A Whiter Shade Of Pale" Procol Harum
8."La Guerra Acaba" Ritmo Peligroso
9."Heart of Glass" Blondie
10."Nena" Miguel Bosé
11."Love Will Tear Us Apart" Joy Division
12."Perdido En Mi Habitación" Mecano
13."I Can't Fight This Feeling Anymore" REO Speedwagon
14."More than a Feeling" Boston

The Giveaway
To celebrate the cover reveal, we are giving away three copies of Signal to Noise! This giveaway is open to EVERYBODY ANYWHERE, and will run until Sunday, September 7 at 12:01am EST. To enter, use the form below!
(For press enquiries or if you would like to register an interest in receiving a review copy ahead of publication please email Lydia Gittins at press@rebellion.co.uk)