Old School Wednesdays is a weekly Book Smuggler feature. We came up with the idea towards the end of 2012, when both Ana and Thea were feeling exhausted from the never-ending inundation of New and Shiny (and often over-hyped) books. What better way to snap out of a reading fugue than to take a mini-vacation into the past?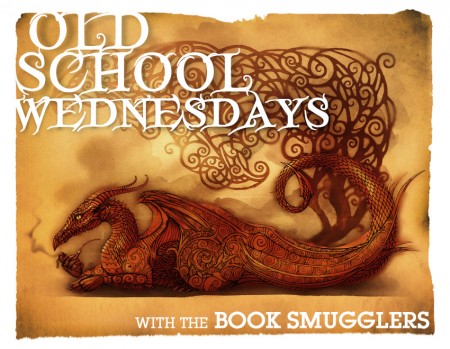 Logo designed by the wonderful KMont
In March 2013, we asked YOU for your favorite old school suggestions – and the response was so overwhelmingly awesome, we decided to compile a goodreads shelf, an ongoing database, AND a monthly readalong/book club.
This month's OSW Readalong pick is Spindle's End by Robin McKinley
For every readalong book, we'll structure this a little bit differently than our usual Joint Review fare – first, we'll give our (brief!) opinions regarding the book, then we'll tackle some discussion questions. Finally, we'll ask YOU to join in.

Title: Spindle's End
Author: Robin McKinley
Genre: Fantasy, Romance, Fairytale retelling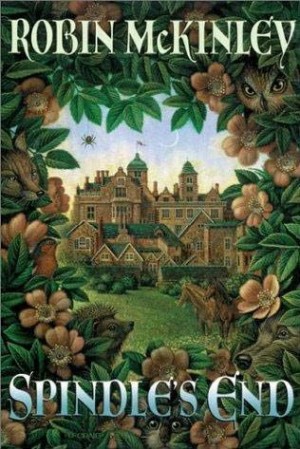 Publisher: Penguin Group
Publication date: First published 2002
Paperback: 432 pages
All the creatures of the forest and field and riverbank knew the infant was special. She was the princess, spirited away from the evil fairy Pernicia on her name-day. But the curse was cast: Rosie was fated to prick her finger on the spindle of a spinning wheel and fall into a poisoned sleep-a slumber from which no one would be able to rouse her.
Stand alone or series: Stand alone novel, but connected to other books by the author.
How did we get this book: Bought
Format (e- or p-): Print + Ebook
REVIEW & DISCUSSION
Ana's Take: I love fairytale retellings and I have enjoyed all the books I've read by Robin McKinley so far. As such I had high hopes for Spindle's End and in many, many ways those hopes were met: I loved the way that magic is something that is less explicated and more…intuited. I loved the female characters very much and the strong relationships between them. But the book as a whole, suffers for its lack of focus, for being too prolonged and for a completely obscure and confusing ending. Ultimately, Spindle's End was a mixed bag for me and it never lived up to its promising start.
Thea's Take: I have a mixed experience with Robin McKinley. Sometimes, her books are utterly amazing, flawless works of fantasy that blow my mind, and sometimes I just don't click with her writing and I'm left underwhelmed. I was tentatively optimistic about Spindle's End because from everything I have heard of the book, it seems that this would be the Robin McKinley I DO like. And… it was. Sort of. I loved many things about Spindle's End – the nature of magic, the discussion of fate and curses, the main characters, especially – but the book was also unnecessarily bloated, and I agree with Ana about the strange ending and lack of focus. I still liked the book, but it could have been great and instead it was just ok.
Discussion Questions:
1. Spindle's End is a retelling of Sleeping Beauty – with a unique magical twist. What did you think of this particular retelling of the fable, and how did it stack up to other iterations you may have read or seen?
Thea: Confession time: Sleeping Beauty is one of my least favorite fairy tales. I think it's because of all the fairy tale princesses, she's the one with the least agency – blessed and cursed from birth, Briar Rose is sheltered, protected, hunted and then rescued by others her entire life. (Conversely, I've always been fascinated with the Evil Fairy in the tale – Maleficent is so much more interesting than Aurora.) That said, I have read a few science fiction adaptations of Sleeping Beauty that I have enjoyed, which play with this concept of agency and give the sleeping young woman a deeper well of character. A Long Long Sleep by Anna Sheehan is one of the best books I've read since starting this blog, and I love this heartbreaking, futuristic story about a young girl and the parents who made her sleep for so long. Similarly, Karen Healey's futuristic YA dystopia When We Wake is another great take on the Sleeping Beauty fable (and author Karen Healey has written some excellent posts about the fairy tale and the big idea behind her book).
Of course, the most obvious Sleeping Beauty (at least in my mind) is the Disney version. It was my introduction to the fairy tale, and a cartoon that I liked for the songs and the pretty dresses, and… MALEFICENT. But Sleeping Beauty is weirdly absent for so much of the movie and doesn't ever become a character in her story; the fairies who watch over her (or the one who curses her) carry the narrative bulk of the movie. Then, there's the actual source fairy tale – which I read when I got a little older – and holy crap, guys. The variation of Sleeping Beauty in which she's awoken by her twins – because she's been raped by her prince charming and has given birth to children who inadvertently lift her sleeping curse – is HORRIFIC.
Given this scattered experience with the Sleeping Beauty story, I wasn't sure what to expect with Spindle's End – but I'm happy to say that this novel is among the good adaptations. Rosie, our princess, is gifted and cursed, but she's also her own savior in this tale. She's also not the bland pretty princess of the Disney version; she is a bold, honest, and brilliant character in her own right.
So… you could say I was a fan of this take on a very disturbing fairy tale.
Ana: To be honest, I can't really recall reading a lot of retellings of Sleeping Beauty apart from Jim Hines' take in his fun Princess series or more recently Karen Healey's dystopian retelling. I do know that I was never not a huge fan of the Disney movie.
I have always felt thought that Sleeping Beauty is a fairytale with a lot of potential for subversion and deep examination of gender roles, of the nature of curses, of agency (or lack of). And I think that in many ways, Spindle's End does examine those themes very well.
2. One of the fascinating things about Spindle's End is the prevalence of magic in this world. What are your thoughts concerning the magical systems in this book – curses, baby-magic, charms, and all?
Thea: Oh, I love the magic in this world! I love that magic is commonplace and accepted by nobles, royals, and commoners alike; I love that fairies live alongside ordinary people, and that their skills are valued and sought out by others. (Incidentally, there are also magicians, who are different from fairies, but they don't really get much screentime in this book – even by the end of the novel, other than one named Ikor, magicians seem largely ancillary to the story.) I also was fascinated with this idea that magic can cling to things – turning mugs into frogs, or sticking to young children in the form of "baby magic" until those children grow up and the magic fades away (or in some instances grows stronger).
I love that Spindle's End gives Rosie her own magical ability – one that has nothing to do with being blessed with cherry lips or teeth like pearls, or golden curls. Rosie's last gift from her protector Kat is the ability to talk to animals, and it's a rare fairy talent that Rosie uses to become a horse-leech, to converse with all of the animals who care to converse with her in The Gig, and befriend those same creatures. Rosie's magical ability is a part of who she is, and by the end of the book, it's something that gets her through her darkest hour and saves her and the people she loves from doom. It's a talent that is so well imagined (animals do not think or communicate in human ways) and so well written.
Also, this is perhaps random, but there's one image in this book that really sticks with me and it is the image of the seeking spell that Pernicia (the evil fairy) weaves to find the erstwhile princess for twenty-one years. Let me just quote the passage because this vision of a tattered, relentless spell is so damn effective:
It is a great shaggy thing by now, spiny as a holly tree with the errors of twenty years' looking; and we have teased and pestered and vexed it as we could – the guarded fortresses were not our only means of confusion – but it has gone on looking. When we found that the spell had settled here, in the Gig – we knew what this meant.
So…consider me a fan of the magic in this book.
Ana: Like Thea, I was a fan of the magic in the book. More to the point, I was a fan of how it was written in the book. If there is one thing I really love about McKinley's writing is the way that the author is able to write magic systems in ways that are intricate without being overly explained. I think a very apt word for the magic in this particular would be "woven" for the writing goes round and round, often meandering but always coming back to the point to elaborate on the way that magic works. One of the best examples I can think of is the way that magic informs the world and deeply affects it. After the events in the beginning when baby Rosie is cursed by the evil fairy Pernicia to prick her finger on a spindle, that curse becomes entangled with the history of that country. Spindles change form, became part of the cultural make-up of that country, entering history and becoming "traditional" and later in the future even changing language in meaningful ways: "sound as a good spindle's end". I just like this very much.
As for beast-speak, Rosie's ability to speak to animals, I agree that it is well-imagined but – at risk of sounding like the Grinch Smuggler – also a bit annoying because then every animal Rosie met would converse with her and it gets to a point where I just couldn't deal with another talking animal.
3. Let's talk about Fate for a second. From her very birth, the Princess Casta Albinia Allegra Dove Minerva Fidelia Aletta Blythe Domnia Delicia Aurelia Grace Isabel Griselda Gwyneth Pearl Ruby Coral Lily Iris Briar-Rose is heaped upon with senseless gifts from twenty-one fairies, and one pernicious curse from the spiteful Pernicia. It would seem that this poor, innocent child's future has been set before she even has the chance to live. But Rosie is hardly the sweet-tempered, beautiful princess that one might think she'd become. Discuss the theme of fate in this book, and your thoughts as it relates to Rosie and all the lives around her.
Ana: In Rosie and the curse that befalls her, I think, is where the book truly shines. From the start, it was clear the author was taking this into an interesting direction as Katriona sat there making fun of the "gifts" bestowed on the baby and how useless they all seem to be. The extent of their usefulness is all down to Rosie as she grows up to be entirely her own person.
Actually, one of the best, funniest moments in Spindle's End is when Peony remarks on Rosie's beautiful eyelashes and Rosies say something like "get dead, I hate my eyelashes".
More than the idea of fate, I think there is another really interesting idea at play here: one that examines those gifts as merely superficial to the point they fail because it will always depend on the person. So in a way, this is more about agency than fate although the latter appears to be all but decided. Similarly, as Rosie grows up and then learns the truth about her origin, she decides what to do and faces it all head-on, with the help of her friends and family.
Thea: I loved Rosie. I loved her. She's certainly no bland Disney Briar Rose; this Rosie is bold, loves working hard, and harbors a rebellious streak. She cares for the animals she works with and befriends, and she'd rather spend time with the taciturn local blacksmith than sit idly. This is in part because Rosie's guardians have been careful to keep her away from activities that could activate her birth-day gifts (such as embroidery or dancing) and they've shorn off her glorious golden curls as a child – but as she grows up, Rosie genuinely doesn't care for a noblewoman's way of life. She keeps her golden hair cut short (it's impractical, otherwise), she refuses to sit still, and when she ultimately does experience the life dictated by her royal birthright, she's frustrated and deeply uncomfortable. When it comes down to the curse and the book's inevitable climax, Rosie needs the help of others to survive and prevail, but she's very much her own heroine, and I love that.
While I loved Rosie very much, I will say that it takes a long while to actually get to know her as a character. The first two parts of the book follow the perspective of Rosie's guardians, the fairy Katriona and her older Aunt, as Rosie is a babe and then a young child. I loved Kat and Aunt very much, but the book's prolonged (extremely prolonged) journey through Rosie's twenty-one years of young life is just too much. But… your mileage may vary.
4. The ending: your thoughts.
Ana: I…..don't know what to say about the ending. That's when the book fell apart for me. It went on for too long and I am not entirely sure I even understand what happened. There was a moment when Rosie jumps on a horse, runs around and next thing I know the villain's castle is destroyed and I am like…what just happened? It all seemed random and without any firm clarification about what was happening – I still don't know for example WHY was Pernicia so obsessed about Rosie and the Queen? I am equally baffled by the choice made in which Rosie and Peony exchanged places – it seemed very hand-wavey? As though the girls were interchangeable?
Beyond the confusion and the lack of answers, I did like Rosie's ending and the May-September romance with Narl (although I was a bit squeaked at first because he kinda brought her up).
Thea: I agree that Spindle's End's achilles heel is its lack of focus – the book is too long and the ending is bizarre and frankly upsetting. SPOILERS AHOY. Can someone please tell me why it's ok that Rosie and Peony switch places permanently – and why it's ok for the Queen (Rosie's poor mother who has been waiting and yearning for her daughter for twenty-one years) to be enchanted and deceived into thinking Peony is her daughter? What?! Why need magic be involved with this at all – couldn't Rosie have simply abdicated, unveiling the truth and letting her brothers rule?
I also agree with Ana that the romance between Narl is very sweet, but also kind of gross as Narl remembers Rosie as a child playing in his yard (at the time he was already an established blacksmith and also an ancient fairy).
5. Have you read any other Robin McKinley books? Will you read more of her work in the future?
Ana: I've read a few: Sunshine, Beauty and Shadows, all of which I liked. Spindle's End is my least favourite of her books so far. I do plan on reading moars.
Thea: Yep, I've read some of the prolific Robin McKinley's work! As I said before, I tend to have two reactions to her writing: OMG AMAZING (The Blue Sword, Deerskin, Beauty), or I DON'T GET IT (Sunshine – I KNOW I'm the one person that doesn't like that book – or Pegasus). Spindle's End is good. It's not my favorite, but I enjoyed it and I'll continue to read through Robin McKinley's work in the future.
Rating:
Ana: 5 – meh. It started off well and veered into confusion and randomness
Thea: 6 – Good. It's overlong, oddly vague, and I can't say I'm a fan of the ending. Still, I liked the book overall.

Now over to you! Please feel free to engage with the questions (and our answers), come up with your own talking points, and/or leave links to your reviews!