"On The Smugglers' Radar" is a feature for books that have caught our eye: books we have heard of via other bloggers, directly from publishers, and/or from our regular incursions into the Amazon jungle. Thus, the Smugglers' Radar was born. Because we want far more books than we can possibly buy or review (what else is new?), we thought we would make the Smugglers' Radar into a weekly feature – so YOU can tell us which books you have on your radar as well!
On Ana's Radar:
Been meaning to read James Smythe's books for a while (The Machine has been making the UK awards circuits). This new one sounds up my alley:
How far would you go to save your family from an invisible threat? A terrifyingly original thriller from the author of The Machine.

ClearVista is used by everyone and can predict anything. It's a daily lifesaver, predicting weather to traffic to who you should befriend. Laurence Walker wants to be the next President of the United States.

ClearVista will predict his chances. It will predict whether he's the right man for the job. It will predict that his son can only survive for 102 seconds underwater. It will predict that Laurence's life is about to collapse in the most unimaginable way.

Another author I keep meaning to read is Robert Jackson Bennett. I might give his upcoming book a try:
A densely atmospheric and intrigue-filled fantasy novel of living spies, dead gods, buried histories, and a mysterious, ever-changing city-from one of America's most acclaimed young SF writers.

Years ago, the city of Bulikov wielded the powers of the Gods to conquer the world. But after its divine protectors were mysteriously killed, the conqueror has become the conquered; the city's proud history has been erased and censored, progress has left it behind, and it is just another colonial outpost of the world's new geopolitical power. Into this musty, backward city steps Shara Divani. Officially, the quiet mousy woman is just another lowly diplomat sent by Bulikov's oppressors. Unofficially, Shara is one of her country's most accomplished spymasters-dispatched to investigate the brutal murder of a seemingly harmless historian. As Shara pursues the mystery through the ever-shifting physical and political geography of the city, she begins to suspect that the beings who once protected Bulikov may not be as dead as they seem-and that her own abilities might be touched by the divine as well.

Been meaning to read Joe Abercrombie's books for a wh…wait a minute. I AM SENSING A THEME HERE. Just joking. I never felt compelled to read Abercrombie's books so far (not usually a fan of grimdark) but he has a Young Adult novel coming out and it makes me really, really curious indeed…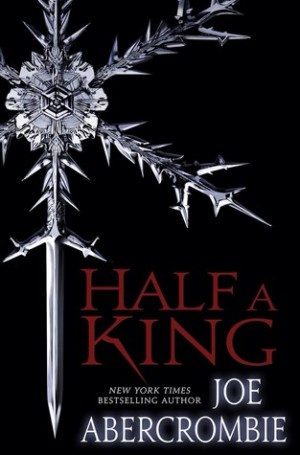 "I swore an oath to avenge the death of my father. I may be half a man, but I swore a whole oath."

Prince Yarvi has vowed to regain a throne he never wanted. But first he must survive cruelty, chains, and the bitter waters of the Shattered Sea. And he must do it all with only one good hand.

The deceived will become the deceiver.

Born a weakling in the eyes of his father, Yarvi is alone in a world where a strong arm and a cold heart rule. He cannot grip a shield or swing an axe, so he must sharpen his mind to a deadly edge.

The betrayed will become the betrayer.

Gathering a strange fellowship of the outcast and the lost, he finds they can do more to help him become the man he needs to be than any court of nobles could.

Will the usurped become the usurper?

But even with loyal friends at his side, Yarvi finds his path may end as it began—in twists, and traps, and tragedy.

This aussie book is finally being published in the US and since I already have a copy due to the generosity of an aussie friend, I will read it very soon: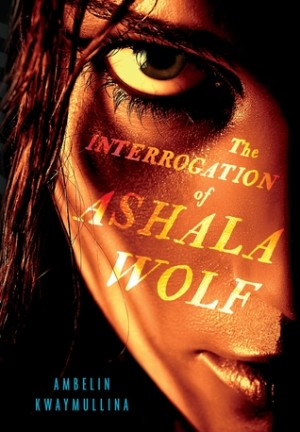 A compelling debut novel asks what happens when children develop inexplicable abilities—and the government sees them as a threat.

They're known as Firestarters. Boomers. Skychangers. The government calls them Illegals — children with inexplicable abilities — and detains them in menacing facilities so that society is kept out of harm's way. Ashala Wolf and her Tribe of fellow Illegals have taken refuge in the Firstwood, a forest eerily conscious of its inhabitants, where they do their best to survive and where they are free to practice their abilities. But when Ashala is compelled to venture outside her territory, she is betrayed by a friend and captured by an enemy. Injured and vulnerable, with her own Sleepwalker ability blocked, Ashala is forced to succumb to a machine that will pull secrets from her mind. It's only a matter of time before the machine ferrets out the location of the Tribe. Her betrayer, Justin Connor, is ever-present, saving her life when she wishes to die and watching her every move. Will the Tribe survive the interrogation of Ashala Wolf?

On Thea's Radar:
First up on my radar, a YA SFF book I just got in the mail that looks promising: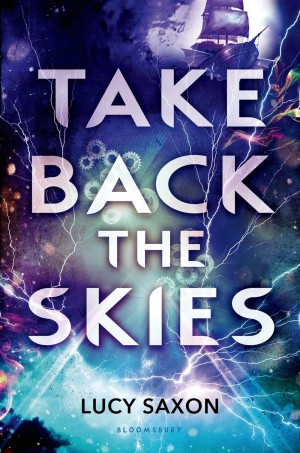 Danger, subterfuge, and a secret romance are the perfect storm in this exciting first book in young new talent Lucy Saxon's epic series

Desperate to escape an arranged marriage and the life her high-ranking government official father planned for her, Cat Hunter does the unthinkable. She runs away from her homeland Tellus, disguises herself as a boy, and stows away on an air ship. She's ready for life in a new land where the general population isn't poverty stricken and at the mercy of the cruel officials. What she isn't quite ready for is meeting Fox, a crew member aboard the Stormdancer—which turns out to be a smugglers' ship. So begins an epic adventure that spans both land and sea.

This explosive debut starts a unique six-book series. Each novel will be set in a different land within the Tellus world, with repeating characters and related, nonlinear storylines that combine to create a one-of-a-kind, addictive reading experience.

And then look at this adorable MG book! Look at it! I just received this one, too: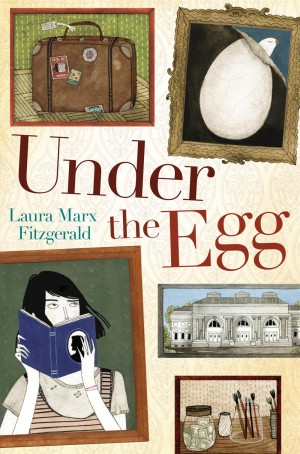 From the Mixed-Up Files of Mrs. Basil E. Frankweiler meets Chasing Vermeer in this smart middle grade debut

When she spills a bottle of rubbing alcohol on her late grandfather's painting, thirteen-year old Theodora Tenpenny wipes it off—and discovers what seems to be an old masterpiece underneath. That's great news for Theo, who's struggling to hang onto her family's fragile town house and support her mother on her grandfather's legacy of $463. There's just one problem: Theo's grandfather was a security guard at the Metropolitan Museum of Art, and she worries the painting may be stolen.

With the help of some unusual new friends, Theo's search for answers takes her all around Manhattan, and introduces her to a side of the city—and her grandfather—that she never knew. To solve the mystery of the painting, she'll have to abandon her hard-won self-reliance and build a community, one serendipitous friendship at a time.

This edition of the radar basically is a recounting of "in Thea's mailbox" – I also received this romantic SF novel from Ann Brashares: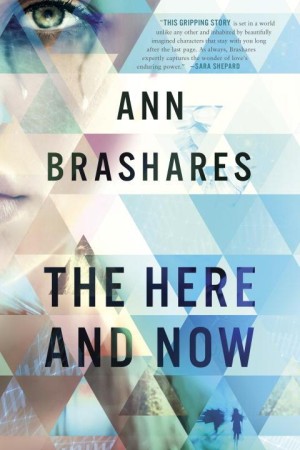 An unforgettable epic romantic thriller about a girl from the future who might be able to save the world…if she lets go of the one thing she's found to hold on to.

Follow the rules. Remember what happened. Never fall in love.

This is the story of seventeen-year-old Prenna James, who immigrated to New York when she was twelve. Except Prenna didn't come from a different country. She came from a different time-a future where a mosquito-borne illness has mutated into a pandemic, killing millions and leaving the world in ruins.

Prenna and the others who escaped to the present day must follow a strict set of rules: never reveal where they're from, never interfere with history, and never, ever be intimate with anyone outside their community. Prenna does as she's told, believing she can help prevent the plague that will one day ravage the earth.

But everything changes when Prenna falls for Ethan Jarves.

From Ann Brashares, the #1 New York Times bestselling author of The Sisterhood of the Traveling Pants series, The Here and Now is thrilling, exhilarating, haunting, and heartbreaking-and a must-read novel of the year.

Doesn't this next hard science fiction book sound fantastic? Brothers, living for millennia, deep space hibernation cycles? Yes please.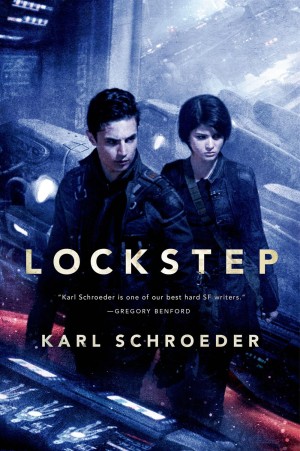 A grand innovation in hard SF space opera—a slower-than-light civilization of planets without stars

When seventeen-year-old Toby McGonigal finds himself lost in space, separated from his family, he expects his next drift into cold sleep to be his last. After all, the planet he's orbiting is frozen and sunless, and the cities are dead. But when Toby wakes again, he's surprised to discover a thriving planet, a strange and prosperous galaxy, and something stranger still—that he's been asleep for 14,000 years.

Welcome to the Lockstep Empire, where civilization is kept alive by careful hibernation. Here cold sleeps can last decades and waking moments mere weeks. Its citizens survive for millenia, traveling asleep on long voyages between worlds. Not only is Lockstep the new center of the galaxy, but Toby is shocked to learn that the Empire is still ruled by its founding family: his own.

Toby's brother Peter has become a terrible tyrant. Suspicious of the return of his long-lost brother, whose rightful inheritance also controls the lockstep hibernation cycles, Peter sees Toby as a threat to his regime. Now, with the help of a lockstep girl named Corva, Toby must survive the forces of this new Empire, outwit his siblings, and save human civilization.

Shallowly, this cover drew me in immediately. On a deeper level, the book sounds like it could be a lot of fun (in the traditional portal to a fantasy world way):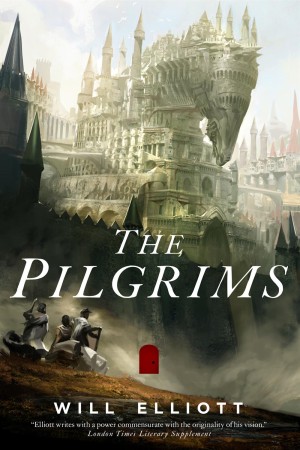 Eric Albright is a twenty-six-year-old journalist living in London. That is to say he would be a journalist if he got off his backside. But this luckless slacker isn't all bad—he has a soft spot for his sometimes friend Stuart Casey, the homeless old drunk who mostly lives under the railway bridge near his flat. Eric is willing to let his life just drift by…until the day a small red door appears on the graffiti-covered wall of the bridge, and a gang of strange-looking people—Eric's pretty sure one of them is a giant—dash out of the door and rob the nearby newsagent. From that day on Eric and Case haunt the arch, waiting for the door to reappear.

When it does, both Eric and Case choose to go through…to the land of Levaal. A place where a mountain-sized dragon with the powers of a god lies sleeping beneath a great white castle. In the castle the sinister Lord Vous rules with an iron fist, and the Project, designed to effect his transformation into an immortal spirit, nears completion. But Vous's growing madness is close to consuming him, together with his fear of an imaginary being named Shadow. And soon Eric may lend substance to that fear. An impossibly vast wall divides Levall, and no one has ever seen what lies beyond. Eric and Casey are called Pilgrims, and may have powers that no one in either world yet understands, and soon the wall may be broken. What will enter from the other side?

And that's it from us! What books do you have on YOUR radar?