As you probably know by now, we are the editors of the 2013 edition of Speculative Fiction: The Best Online Reviews, Essays and Commentary – a collection that celebrates the best in online Science Fiction and Fantasy non-fiction. We recently revealed the cover and announced the incredible list of contributors for 2013. Proofs have been edited, cover copy has been written, and publication of SpecFic '13 is rapidly approaching (we cannot believe it)! And, with the 2013 edition's publication thoroughly underway, we move on to the next important duty we have been assigned as editors of the 2013 edition: passing the torch to two new editors for 2014.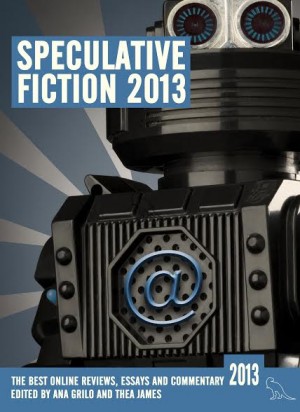 Jared Shurin and Justin Landon, editors of the 2012 edition and of the overall series, have always envisioned Speculative Fiction as an annual publication curated by a new pair of editors each year. Each incumbent pair is also given the weighty task of selecting the next year's editors – a task that we Smugglers agonized over for weeks (ok, actually most of 2013).
Today, we are extremely proud to finally announce the editors of Speculative Fiction 2014: Renay and Shaun Duke!
Renay has been writing SF and fantasy fan fiction, criticism, and commentary since the early 1990s. She serves as staff within the Organization for Transformative Works, co-edits a media criticism blog, Lady Business, and writes columns for speculative fiction magazine Strange Horizons.
Shaun Duke is an SF/F writer, a critic, and a PhD. student at the University of Florida studying science fiction, Caribbean literature, and postcolonialism. He currently blogs at The World in the Satin Bag, and is a host on The Skiffy and Fanty Show, an SF/F podcast which is currently running its World SF Tour.
We selected Renay and Shaun as editors for several reasons that go beyond their awesome bios: namely, we admire their writing and the thoughtful ways that they engage with the speculative fiction community. We've been following Renay's online endeavors for years and it's safe to say that she's been an incredible source of inspiration for The Book Smugglers and the way we engage in criticism. Similarly, Shaun never fails to impress us with his thoughtful, well-researched and articulate take on SFF books, films, and his contributions to important SFF community discussions. Not to mention, we strongly believe that Renay and Shaun's different backgrounds – fandom and academia – can make for a really interesting editorial dynamic.
We cannot think of a better pair of editors for Speculative Fiction, and we are so looking forward to reading their selection of 2014 essays, reviews and online commentary.
And with that said, we are also thrilled to declare that submissions for Speculative Fiction 2014 are open! Submit your 2014 nominations here.